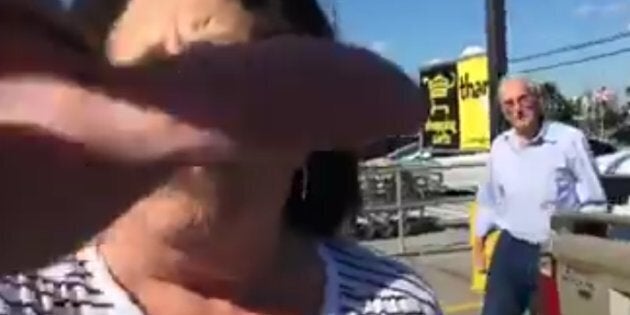 A woman in Ottawa says she has filed a police report after a couple allegedly hit and berated her with racist remarks.
Jenny Dao, the director of sales and events at Ottawa Venues, told HuffPost Canada the incident occurred last week while she was out celebrating her grandmother's 88th birthday.
As she was walking to her car with her mother, grandmother and eight-month-old boy, Dao said she saw a man in a Ford trying to pull up to the spot right next to her car. He started honking his horn impatiently. Dao said she was confused, since there were two other empty spots nearby.
She told him to calm down and wait until she could get into her car.
'I told him I was born here'
"He started shouting racial obscenities to me," she said , "so I shook my head and I crossed my arms. I was just in disbelief that he was shouting racial obscenities at me."
"So at this point he continues driving. He makes contact with my legs, I end up on top of his car and I try to get his attention by hitting his car with my hands, telling him to stop."
Luckily the car was moving slowly, Dao added, so she wasn't injured.
Dao said the man then yelled at her to go back to her country and hurled a racial slur that's directed at people of Chinese descent, as well as other Asians.
"I told him I was born here, and shame on you, I'm with my baby," Dao said.
She said the man's wife then came out of a nearby Giant Tiger and started "chiming in" on the racist comments. Fearing the situation would escalate, she started filming the incident.
She shared a 10-second clip from the confrontation on Facebook, where it's been viewed more than 60,000 times.
The video shows the woman approach Dao, yelling. Dao said she hit her arm while trying to swat her phone away.
"Whether it hurt or not, that is still assault," she said.
Dao said she went into "protection mode" as the couple confronted her, holding her child close to her.
The 33-year-old said she's reported the incident to Ottawa police, and wants an apology from the couple. HuffPost has reached out to police for more information.
Dao said she understands that the couple could have had a "heat of the moment" situation, but she wants people to know that what happened is still unacceptable.
This prejudice, this behaviour is never acceptable and should never be repeated.Jenny Dao
She shared the video to tell anyone who watches that racist incidents can be reduced when they get called out.
"I hope people watching this will know that we can work together to prevent any racial outbursts, whether they be in the heat of the moment, unintentional or intentional, that we can work together and stop this and put them in their place and let me know that it's not OK."
"This prejudice, this behaviour is never acceptable and should never be repeated."