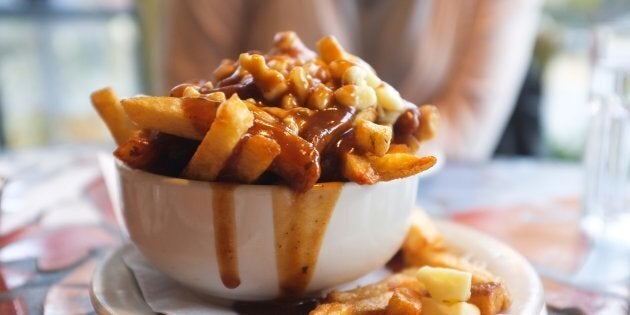 A restaurant in Boisbriand, Que. has come up with an ingenious way to save lives: free poutine.
After cars were left in their parking lot overnight, the team behind the La Belle et La Boeuf Burger Bar posted a letter on Facebook thanking drivers for not getting behind the wheel after a night of drinking.
"We'd like to thank you for leaving your vehicle parked [in our lot] overnight," the letter says in French. "I couldn't say if you'd consumed any alcohol at our restaurant or not, but we'd like to thank you for not drinking and driving. Life is too precious.
"We'd like to pay you back for this good deed. Present this letter to us and you'll receive a small poutine. Perfect for a hangover!"
And it seems as though they had more than a few windshields to decorate.
"With our new DJ and party last night, there are a lot of cars in the parking lot," the English translation of the caption reads. "It's worth a round of poutines!"
Restaurant takes safety seriously
The post has since racked up more than 4,000 likes and 2,000 shares on Facebook, and the attention has caught the restaurant's manager, Pascal Auger, totally off-guard.
"We've often convinced guests to leave their cars and take alternative modes of transportation," he wrote to HuffPost Canada via Facebook chat. "We take pride in making sure people have a good time when with us and get home safe."
The positive feedback inspired Auger to take the initiative one step further: La Belle et La Boeuf will now hand out special coupons to reward conscientious revellers with free poutine on a regular basis.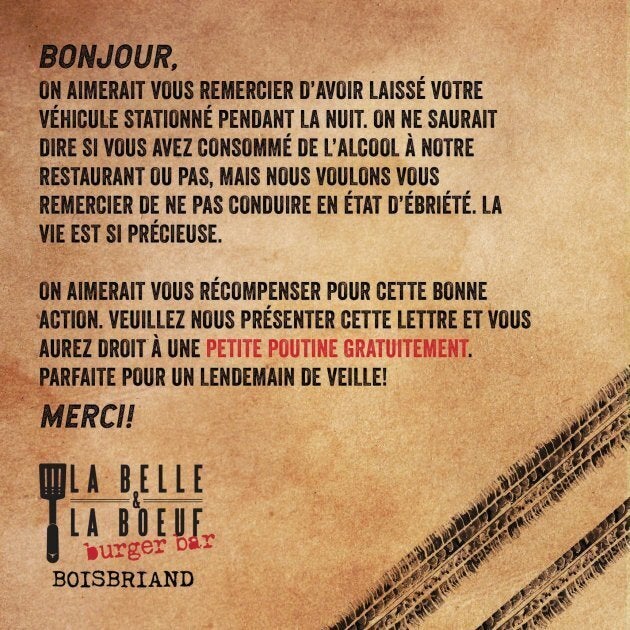 "We'll be putting them on cars on all the busy nights," Auger said. He noted that Thursdays, Friday and Saturdays are the nights when the risk for drinking and driving is the highest, but he's also considering doling out the coupons 'every night.'
"We are not worried about cost," Auger said said. "If it can motivate guests to be careful, life is so much more precious."
Auger says the idea was inspired by Original Joe's, an Edmonton-area restaurant where responsible drinkers are congratulated with a free pound of chicken wings.