Sydney Eatz went online in a search of a hummus recipe last week, but instead found herself on a porn site watching stolen security footage of a woman urinating on the floor of a Toronto mall.
Eatz typed "Toronto chick peas" into Google search. Among the results was a video thumbnail that was obviously not part of a recipe.
She clicked on it out of curiosity and was taken to Pornhub, one the the world's most popular pornography sites, where someone had uploaded security footage from First Canadian Place mall.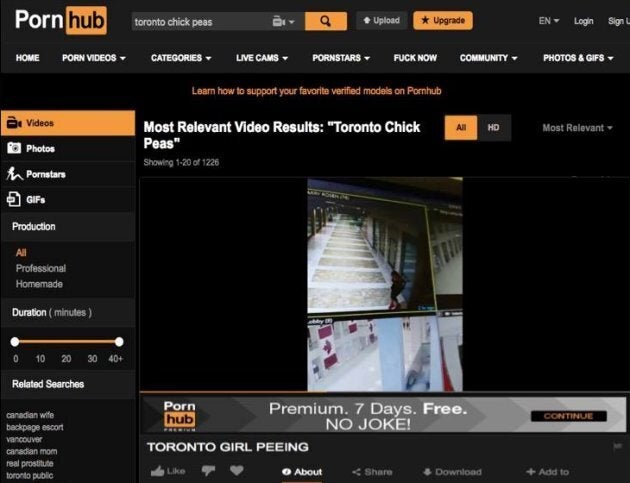 It was clear to Eatz that someone had used a cellphone to capture private surveillance footage of a woman relieving herself in the mall's hallway.
It took a bit of sleuthing on Eatz's part, but using some verification software she developed, she was able to trace the footage to First Canadian Place.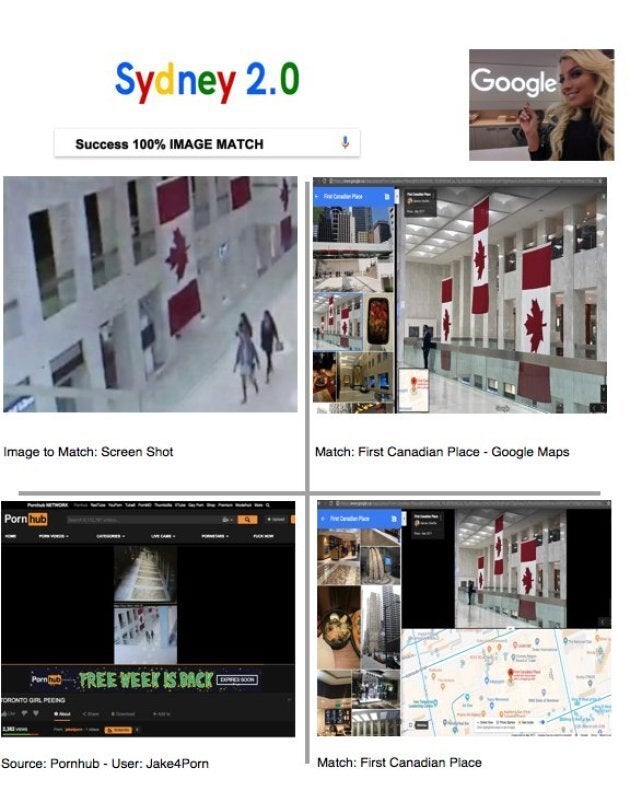 A spokesperson for the mall told HuffPost Canada that after learning of the footage this week, a security guard who worked there was fired.
"We take the confidentiality and privacy of all those who visit our property very seriously. After becoming aware of the video, we took immediate steps to remove it and investigate how it came to be posted," said a statement sent to HuffPost.
"As a result, a security guard from our contracted security provider has been terminated."
Efforts to have video removed unsuccessful
The video, which was uploaded to Pornhub on Aug. 21, has been removed — but not before racking up more than 3,000 views.
Eatz told HuffPost Canada that her efforts to report the video were ignored.
"I called the mall management and they told me to call security. I called security and they told me to call mall management. I reported it to Google. I reported it to the porn site. Nothing happened," she said over email chat. "So I posted on Facebook the story of what happened."
"The girl is unaware she is being recorded while she was peeing. Is she aware someone stole the video from the security surveillance system, then posted it on a porn site?" Eatz wrote in her post.
Eatz said she's become increasingly concerned with online privacy and security after "upskirt" video and photos were captured without her consent or knowledge at a Google event two years ago.
"Only the person who is in the video can request for Google to remove it," she recalls being told when she tried to report that incident to Google.
"And when you recognize yourself, you have to prove to Google it's you — like here is a picture of my vagina for reference."
A spokesperson for Google Canada said there are mechanisms in place for people to flag problematic content that pop up in search results.
"Three years ago we expanded removal policies on search to honour requests from people to remove what's widely known as 'revenge porn,'" Aaron Brindle told HuffPost, providing a link to Google's instructions on how to report unwanted and explicit sexual images.
However, he added, it's important to remember that even if Google removes certain URLs from search results, the content must still be deleted from the hosting website for it to be fully removed from the web.
Voyeurism on the rise
Illegal filming and voyeurism is increasing with the rise of hand-held and surveillance technology.
In Seoul this year, tens of thousands of women have joined "My Life in Not Your Porn" protests after more than 6,000 cases of illegal filming were reported in 2017, reports CNN.