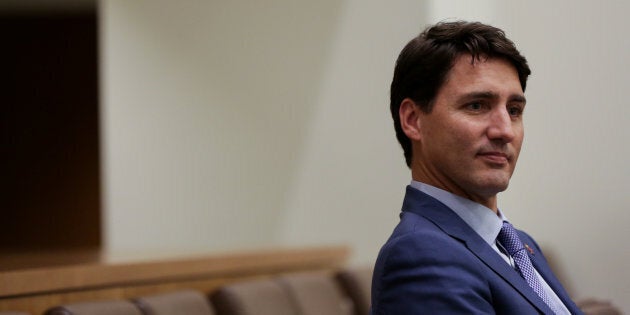 OTTAWA — An NDP MP says U.S. President Donald Trump is using his "bully pulpit" to strong-arm Canada and 129 other countries into committing to a U.S.-led "war on drugs" policy.
NDP health critic Don Davies told HuffPost Canada it was "extremely frustrating" to see the government sign the "Global Call to Action on the World Drug Problem," brokered on the sidelines of the United Nations General Assembly this week.
"Donald Trump is using his bully pulpit right now to compel countries to sign on to this flawed policy because these countries are in vulnerable positions," he said, noting Canada's position negotiating the North American Free Trade Agreement.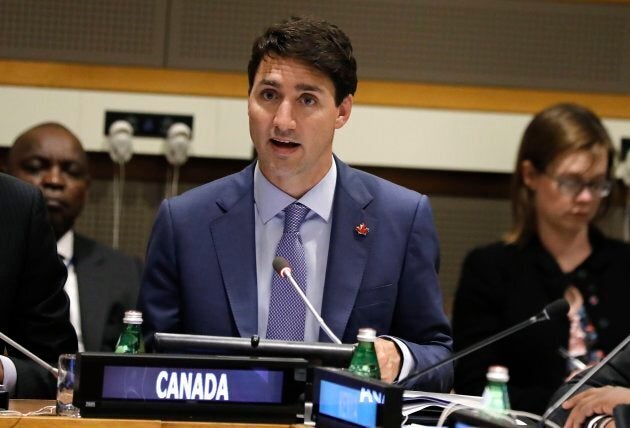 The U.S. co-hosted a high-level UN event to promote the campaign to fight drugs alongside 31 nations that included the Philippines and Russia — two countries with "terrible records" when it comes to drug policy, Davies said.
The declaration asks countries to pledge to a four-pronged strategy to combat drugs. It asks countries to provide updates by March 2019 on their anti-drug education and awareness campaigns; expansions on "treatment efforts to save lives and promote recovery"; judicial and law enforcement strategies; and measures taken to "cut off" the manufacture, supply, and trafficking of "illicit drugs" across borders.
Countries that signed the declaration were promised invitations to a UN-related event with the U.S. president, The Globe and Mail reports. Norway and Germany are among the 63 countries that did not sign the pledge.
A statement from the Global Commission on Drug Policy on Monday criticized the declaration and the U.S. government for advocating it. The Geneva-based a panel of world leaders and experts argued it "signals the continuation of inefficient, costly and harmful policies" such as "punitive law enforcement, militarization, mass incarceration, forced treatment, and broken families and communities."
Story continues after video:
With marijuana legalization less than a month away, the NDP MP said it's "extremely disappointing" that the federal government signed the pledge against the background of an ongoing overdose epidemic.
Though the declaration is non-binding, Davies said signing declarations at the UN level have symbolic value.
"I don't think we can just say we didn't mean anything by it. Either Prime Minister Trudeau is signing onto a failed policy that's going to cost lives or he's playing a very dangerous game," he said, referencing the overdose epidemic linked to the use of opioids.
A government report last week suggests at least 8,000 deaths have been linked to apparent opioid overdoses since January 2016.
Either Prime Minister Trudeau is signing onto a failed policy that's going to cost lives or he's playing a very dangerous game.Don Davies, NDP MP
Canada's signature on the Trump-endorsed anti-drug policy seemingly sends mixed messages about the party's stance. Grassroots Liberal members voted overwhelmingly this spring to adopt the decriminalization of illicit drugs (as a way to address the deadly opioid crisis) as official party policy heading into next year's election.
Health Minister Ginette Petitpas Taylor brushed aside criticism and defended the decision in question period on Tuesday. She called substance abuse an international problem and said being a signatory to the declaration will "help us move forward."
"If we are not at the table, we certainly will not be able to affect change," she said. In French, she acknowledged how countries may hold different positions on drug policy and reiterated it would be "impossible" to make changes if Canada withheld its signature.
But it appears not everyone in the Liberal caucus buys that argument.
Liberal MP Nathaniel Erskine-Smith, who has been advocating for the decriminalization of illicit drugs through a public health approach, took to Twitter Tuesday evening to voice his disapproval in Canada's signature on the U.S.-led pledge.
The Toronto Beaches—East York MP pulled quotes from articles critical of prohibition to reaffirm the message that a war on drugs strategy doesn't work.
On Monday, Trump lauded the countries that signed the declaration, saying that together they would save the lives of "millions and millions of people."
NAFTA timing a factor: former diplomat
The timing of Canada signing onto the pledge reflects the fairweather nature of trade talks, according to one former Canadian diplomat.
Paul Heinbecker, Canada's former permanent representative to the UN, thinks the federal government would not have signed the U.S. declaration to combat drugs if NAFTA were not being renegotiated at the same time.
He called it a "gesture of goodwill" on Canada's part, but added it's ultimately an "American document drafted by the White House" that takes no account of other countries' views except its own.
"That's the world that these people would like to impose upon us," he said.
With a file from Althia Raj