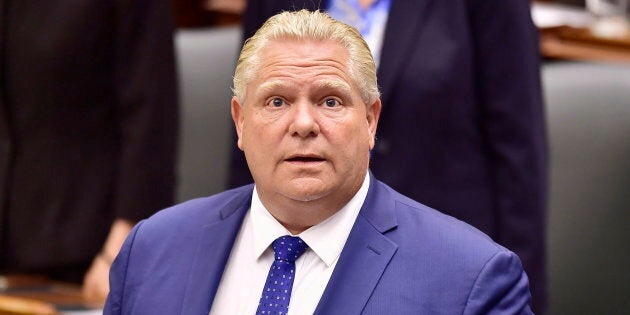 Ontario Premier Doug Ford announced his government will cancel a program requiring drivers to get regular emissions tests for vehicles that are more than seven years old.
"Drive Clean has outlived its usefulness," Ford said at a press conference at an auto body shop in Etobicoke.
Drivers will no longer be required to get Drive Clean tests as of April 1, 2019.
The move will save Ontario drivers a collective $40 million a year, the premier said. HuffPost Canada asked the premier's office, as well as representatives for the ministers of transportation and environment, how the savings was calculated. No one responded in time for publication.
Drive Clean has outlived its usefulness.Doug Ford
More than two million light-duty vehicles are tested under Drive Clean every year, according to the Auditor General. Tests are free when renewing a vehicle's registration; otherwise they cost $30.
On-road emissions aren't as big of a problem as they were when Drive Clean launched in 1999, Minister of the Environment Rod Phillips said at the announcement. Cars are made to stricter standards than they were decades ago, he said.
The government will launch a new program to focus on testing transport trucks and other heavy duty vehicles, instead of personal, non-commercial vehicles.
Video: PCs are taking feds to court over carbon tax. Story continues after video.
Phillips pointed to a University of Toronto study that found an area's emissions level depends on the number of large trucks driving through, not the total number of vehicles.
"Researchers found that air pollution levels right beside a major trucking route within a city were close to levels seen beside Highway 401, despite the road carrying less than one-tenth of the vehicle traffic," the university said in a press release when the study was published.
These emissions can lead to cancer, respiratory problems, cardiac problems and neurodegenerative problems, the university said.
Everything this Premier has done shows he wants more pollution, not less.Mike Schreiner
Green Party Leader Mike Schreiner said he wants to know what this government's priorities are when it comes to the environment.
"I can accept that the Drive Clean program is no longer as relevant as it once was. But when you look at the list of things this government has done on the environment file, all you see are cuts," he said in a statement.
"Everything this Premier has done shows he wants more pollution, not less," Schreiner said, citing the government's cancellation of pollution pricing, renewable energy projects and rebates for electric vehicles.