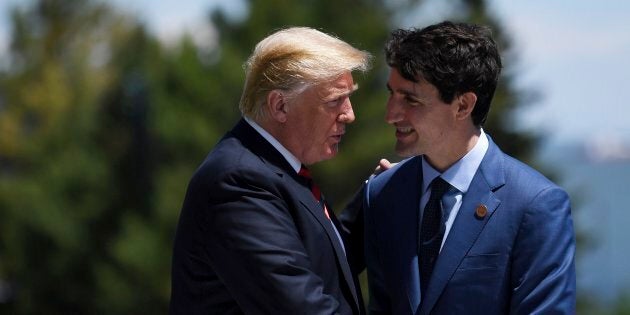 U.S. President Donald Trump says his tensions with Prime Minister Justin Trudeau were put to bed the moment the new U.S.-Mexico-Canada Agreement was struck.
"You know when it ended? About 12 o'clock last night," Trump told reporters at a press conference at the White House Monday.
He denied any personal differences had hampered talks, saying both leaders are "professional." Trudeau is a "good man" who loves Canada, Trump said.
"The only problem with Justin is that he loves his people and he's fighting hard for his people," Trump said. "We've always had, actually, a very good relationship. It got a little bit testy in the last couple of months but that was over this agreement and I understand that.
"I think Justin is a good person who is doing a good job. He felt very committed to his people and that's what he did."
We don't like (Canada's) representative very much.U.S. President Donald Trump
"His tariffs are too high, and he doesn't seem to want to move, and I've told him 'forget about it,'" Trump told reporters then.
"Frankly, we're thinking about just taxing cars coming in from Canada. That's the motherlode, that's the big one," the president threatened, as he slammed the state of negotiations and Canadians trade negotiators.
"We don't like their representative very much," Trump said, in a comment widely believed to be directed as Canada's Foreign Affairs Minister Chrystia Freeland.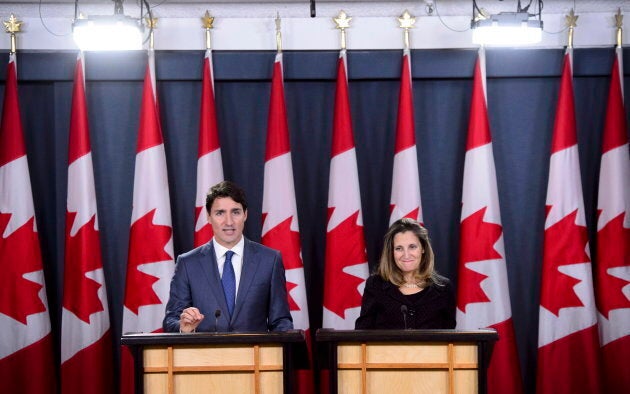 Freeland told reporters Monday that as she had predicted there had been "dramatic moments" during the talks but it had been important not to get overtaken by them and to remain focused.
Trudeau, standing next to Freeland, said he planned to continue to have a "constructive" relationship with the president.
"I had a very positive call with the president this morning. There is no question, that the question of NAFTA and renegotiating NAFTA has been a challenge in conversations with the president, with the administration, over these past 13 months," the prime minister acknowledged.
Canadians 'will not be pushed around': Trudeau
But now that the USMCA is done, he predicted, Canada, the United States and Mexico, will work together to take on the world as a North American market.
Last week, at the UN, Trudeau tried to downplay what looked like a frosty exchange between the two leaders during a luncheon.
The Trump-Trudeau relationship hit the skids in the spring after the U.S. slapped Canada with tariffs on exports of steel and aluminum, under the pretense of national security. Trudeau told reporters after the G7 summit in Charlevoix, Que. that Canada would have no choice but to hit back.
"Canadians are polite, we're reasonable, but we also will not be pushed around," the prime minister said at the time.
Trump and his inner circle responded by accusing the prime minister of stabbing the president in the back ahead of his meeting with the North Korean Leader Kim Jong Un, and of being "weak" and "dishonest."
At his presser Monday, Trump said the tariffs against Canada on steel and aluminum are "staying" where they are now, but suggested they won't be necessary as long as Canada and Mexico honour the terms of the new pact.
With files from Althia Raj and The Canadian Press