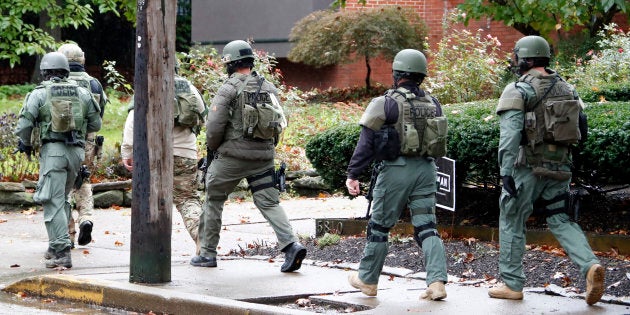 Multiple people are dead after a shooter opened fire Saturday morning at the Tree of Life Congregation, a synagogue in Pittsburgh, Pennsylvania.
The suspect is in police custody, according to local news outlets KDKA and WTAE.
Law enforcement responded to reports of an active shooter at the synagogue, which was crowded for Saturday service in the Squirrel Hill neighborhood, shortly before 10 a.m. Police sources told KDKA that a gunman walked into the synagogue and yelled, "All Jews must die," before opening fire.
Several news outlets reported that multiple people were dead. A police spokesman told reporters late Saturday morning that three officers had been shot but declined to give a specific total number of those dead or injured.
Jeff Finkelstein of the Jewish Federation of Pittsburgh told WHNT that he estimated between 60 and 100 people were inside the building when the shooting occurred.
President Donald Trump tweeted that he was "watching the events unfolding" and urged people to stay safe.
This is a developing news story.
Sara Boboltz contributed reporting.