Skiers in Atlantic Canada have reason to celebrate, if the latest Canadian winter forecast is any indication.
The eastern-most part of the country will be slammed with storms throughout the winter, including lots of rain and snow, Accuweather is predicting.
However, western Canadians may face a shortened season on the slopes, as the agency is calling for a lack of late-season snow.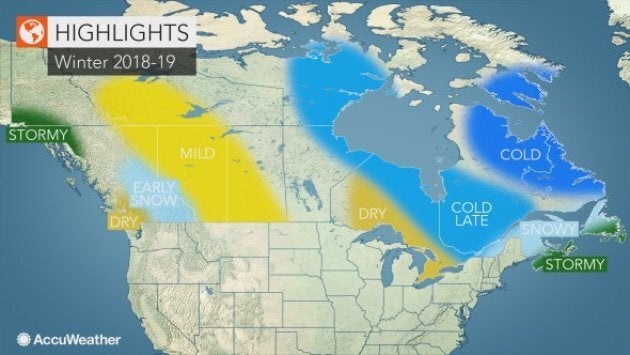 "The main storm track in the east will be directed toward Atlantic Canada with the potential for several large storms from Nova Scotia to Newfoundland this season," Brett Anderson, a senior meteorologist for Accuweather, said in a press release.
Heavier-than-normal snowfall is being predicted for New Brunswick, Nova Scotia, Newfoundland, PEI, and parts of southeastern Quebec, while Ottawa and Toronto can expect some "harsh" cold snaps later in the season.
"The majority of Arctic blasts will be focused into northeastern Canada, but they may shift more toward eastern Ontario and Quebec late in the winter," Anderson said.
A drought in the West
The country's prairie-dwellers can expect to see a milder winter than normal in Alberta and Saskatchewan, while Manitoba will face more freezing temperatures in second half of the season.
Western Canadian snow lovers may be a bit disappointed, however, as Accuweather is predicting "pockets of severe drought" in areas from Edmonton to Winnipeg.
A developing El Niño in the tropical pacific waters means B.C. can expect a warm and dry winter, including Vancouver and the province's ski region of Whistler.
"Although this translates to a healthy start to the winter ski season, the lack of storms later on in the season may cause ski resorts to close earlier than they have in recent years," the press release noted.
Accuweather's winter forecast falls mostly in line with The Weather Network's prediction released earlier this fall, which said the country can expect a steady transition into winter and mild temperatures into December and January.
The agency's predictions, however, go directly against the Farmers' Almanac forecast that said Canadians should brace for "teeth-chattering", below-average temperatures.