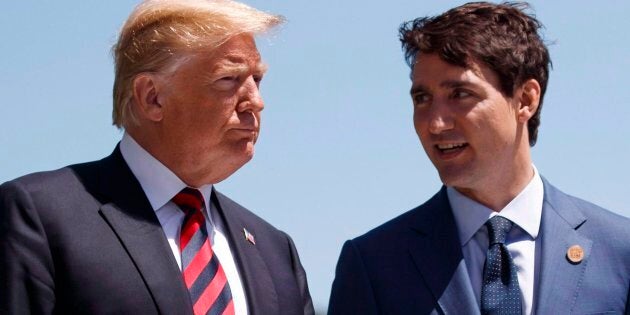 Prime Minister Justin Trudeau was pressed on whether or not he trusts Donald Trump to honour a new North American trade pact in an interview with CNN Monday.
And in a sit-down with Poppy Harlow, Trudeau suggested Canada could ratify the United States-Mexico-Canada Agreement (USMCA) even if the U.S. keeps punishing tariffs on steel and aluminum.
The prime minister told the network he has a "good, constructive working relationship" with Trump, despite public differences.
Harlow noted that Trudeau said in the past that his father, former prime minister Pierre Trudeau, taught him to trust people.
'My approach is to trust Canadians'
"What my father taught me was to trust Canadians," Trudeau said. "It was a way of looking at the electorate and saying, you don't have to dumb it down for them. You don't have to scare them into this or that. You can actually treat people like intelligent, rational actors and they will rise to the occasion."
But Trump is not a Canadian, the reporter noted.
"Do you trust President Trump on these issues?" she asked.
"Every leader has a job of sticking up for their own country and they will do it in their own ways. And I respect the fact that people have different approaches to it," Trudeau responded. "My approach is to trust Canadians and deal in a way that is direct with other leaders."
Trudeau also shrugged off the notion that Trump has seemingly been more critical of him than of Russian President Vladimir Putin and North Korean dictator Kim Jong Un.
"In politics you get called a lot of things by a lot of different people. Most of the time you're just able to shrug it off," Trudeau said. "I've gotten pretty good at that."
Despite reaching the USMCA deal, Trump has not lifted tariffs of 25 per cent on steel produced outside the U.S. and 10 per cent on aluminum. He also has not walked back a threat of 25-per-cent tariffs on autos. Canada fired back over the summer with countermeasures targeting almost $13-billion worth of U.S. goods.
Earlier: Scheer says Trudeau 'backed down' to Trump
Trudeau called the steel and aluminum tariffs a source of "continued frustration," and said Canada will keep pushing to see them lifted.
"But we're not at the point of saying that we wouldn't sign if it wasn't lifted, although we're trying to make that case," Trudeau said.
Asked if Canada might be missing its "moment of leverage" as a new Mexican government is set to be sworn in within weeks, Trudeau said he doesn't negotiate in public but has "strong conversations" in private.
Clips from the interview are airing as U.S. voters cast ballots in crucial midterm elections that could see Democrats take control of the House of Representatives. Trudeau was careful not to weigh in on the vote, saying his government will work with whatever Congress Americans choose to elect.
But Harlow also pressed the prime minister on Trump's "closing argument of fear," particularly the ire directed at a caravan of migrants from Central America. She referenced Trudeau's much-discussed tweet welcoming refugees in the wake of Trump's first travel ban targeting Muslim-majority nations.
"My job is to stand up for Canadian interests and to have a constructive working relationship with whoever Americans choose to elect," Trudeau said.
Asked to comment on how Trump has framed the migrants as "invaders," Trudeau suggested his reluctance to discuss the matter can be traced to lessons from the Quebec independence referendum.
"One of the things that was really important, that all Canadians on either side of the debate agreed on, was it was important that people outside our borders not weigh in on our own decisions," he said.
With a file from The Canadian Press