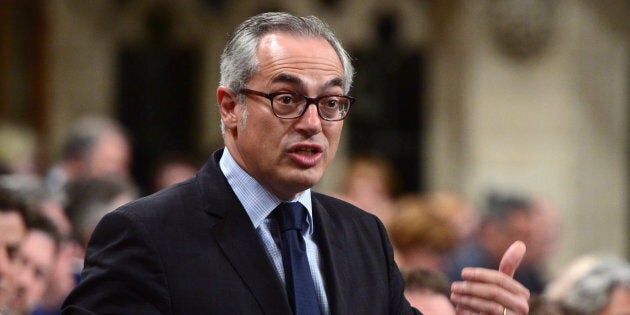 Longtime MP Tory Clement has owned up to another inappropriate exchange with a woman that spurred offers of money for his private information, as well as "acts of infidelity" that have hurt his family and supporters.
Clement made the confession in a lengthy note posted to his website Thursday, one day after he resigned from the Conservative caucus at the request of leader Andrew Scheer.
"During a period of personal difficulty and weakness I engaged in inappropriate exchanges that crossed lines that should never have been crossed," Clement said in the letter addressed to his constituents in the Ontario riding of Parry Sound-Muskoka.
Scheer on 'shock' at hearing of Clement sexting scandal
Clement said that one exchange with a woman led to her being offered money from an anonymous social media account for the release of "intimate and personal information." The MP said he reported that issue to the Ontario Provincial Police last summer.
"Most recently, another inappropriate exchange led to foreign actors attempting to use my indiscretion for financial extortion which, without hesitation or second thought, I immediately reported to the RCMP."
Clement resigned as the Tory justice critic Tuesday after announcing that explicit images and a video he sent in the last three weeks were being used in an extortion plot. Clement said he believed the images were going to a "consenting female."
In the fog of the revelations, several young women came forward to accuse Clement of behaving in ways that made them uncomfortable on social media, including sending private messages at odd hours. One woman told HuffPost Canada that Clement had a well-earned reputation of being "weird on Instagram."
'Pride and vanity got the better of me'
"Pride and vanity got the better of me, and shame held me back from getting back to the path of good," Clement said in the letter. "I apologize to the women with whom the exchanges occurred, and I also apologize to anyone else who felt in any way that I crossed online boundaries that made them feel uncomfortable, even without my knowing. I am deeply sorry."
Clement said that his personal lapses did not interfere in his work as an MP but conceded he failed to meet the standard expected of him. Though he was was one of a small group of MPs and senators who have top-level security clearance as part of the new National Security and Intelligence Committee of Parliamentarians, Public Safety Minister Ralph Goodale says he doesn't believe Clement was targeted because of his place on the committee.
Clement, a 57-year-old father of three, ended his note with an apology to his wife.
"I have failed the most important person in my life, my wife who has been with me through the many ups and downs of public service. She has made many sacrifices along the way in order to build a loving home and a wonderful family," he wrote. "I cannot undo the pain and hurt my actions have caused. All I can do is own up to what I have done and commit myself to rebuilding our trust, however long that may take."
First elected federally in 2006 after a career in provincial politics, Clement has said he is seeking professional help for his issues. When he returns to the House of Commons, he will sit as an Independent.
Clement twice ran for the leadership of the federal Tories and was a key cabinet minister under Stephen Harper, serving at different points as minister of health, industry and Treasury Board president.
Scheer told reporters in Brampton, Ont. Thursday that he only learned about the details in Clement's statement once it was posted online.
"This was a shock to me when I was made aware of the situation," he said.
With a file from Zi-Ann Lum, The Canadian Press