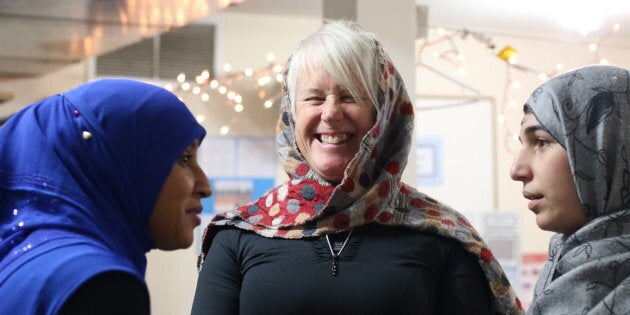 Muslims across Canada invited their neighbours to join them inside their most sacred spaces, a week after joining together to support Jewish worshippers in a moving show of empathy.
Mosques in Halifax, Sussex and Moncton, N.B., Sherbrooke, Que., Montreal, Ottawa, Toronto, Edmonton and Calgary opened their doors Saturday for the second annual Visit My Mosque Day. The event aims to dispel misconceptions, foster an appreciation of the Muslim faith in Canada, and celebrate the philanthropy of the Canadian-Muslim community throughout the year.
The day is organized by The Canadian-Muslim Vote, a non-partisan organization that encourages Muslims to be politically engaged.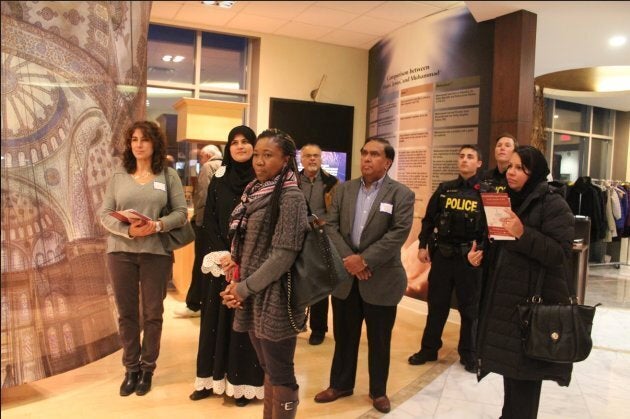 "We have nothing to hide," Shafiq Ebrahim, vice-president of Jaffari Islamic Centre in Thornhill, Ont., told HuffPost Canada by phone. "We aren't a secret society or mysterious in any way. We're law-abiding people who pay taxes and love our neighbourhood and want to build genuine relationships here."
The centre offered tours of worship halls, gave lectures on education and outreach activities and had scholars on standby to answer any theological queries. Stations for women to have their hands painted with traditional henna and learn how to tie a hijab were also available for anyone interested.
"Just being available to talk is key," Ebrahim said. "I'm always surprised by how many great questions people ask, and we are committed to giving proper answers."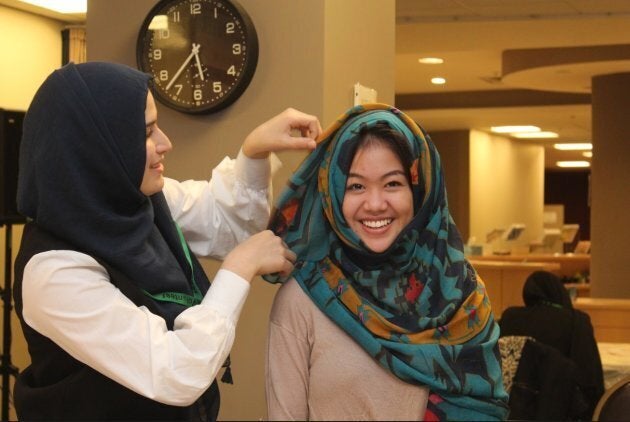 Ebrahim said that some of the questions were philosophical in nature, while others were more focused on where the congregation comes from and how it ended up in Canada. Ebrahim's community was welcomed to Canada in 1972 by then-Prime Minister Pierre Trudeau, following the forcible expulsion of Asians from Uganda.
"We owe so much to Canada and the values on which it was built," he said. "Canada opened its doors and welcomed us. We understood what this country is. What a privilege it is to live by our dear Canadian values, which we now instill in our children."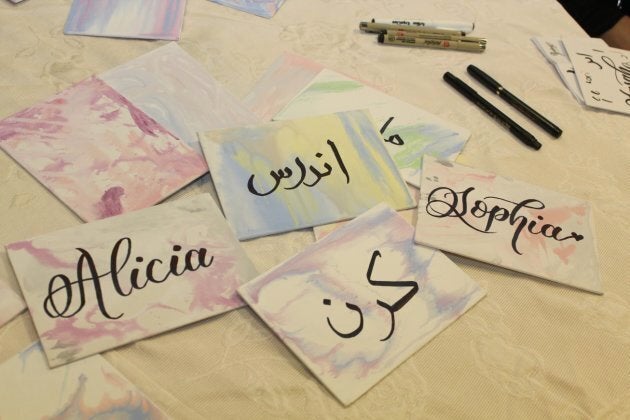 For Jaffari Community Centre, the event was yet another opportunity to invite neighbours to congregate in the space — the centre opens its doors more than 200 times a year for charitable events, talks and tours. It also joins several multi-faith communities to house, feed and clothe the homeless at the peak of winter.
What a privilege it is to live by our dear Canadian values, which we now instill in our children. Shafiq Ebrahim, Jaffari Islamic Centre
Joel Harden, an NDP MPP for Ottawa Centre who toured the Ottawa Mosque, knows that charitable effort well: he recalled how, after powerful tornadoes knocked out power for legions of Ottawa-area residents in September, members of the mosque delivered food to thousands of people.
"They don't brag about it, but they're doing important things to help their neighbours all the time," Harden told HuffPost Canada by phone.
Harden, who calls himself a 'Presbyterian-socialist,' took his 10-year-old daughter, Adele, to the mosque yesterday. As kids do, she asked all the bold questions.
"She asked, 'Why do the women pray separately? Do I have to wear a head covering?'" Harden recounted. But Adele's fearlessness emboldened the adults in the room to open up a dialogue, too, instead of relying on false presumptions.
Watch: "Visit My Mosque" Initiative Gains Traction Overseas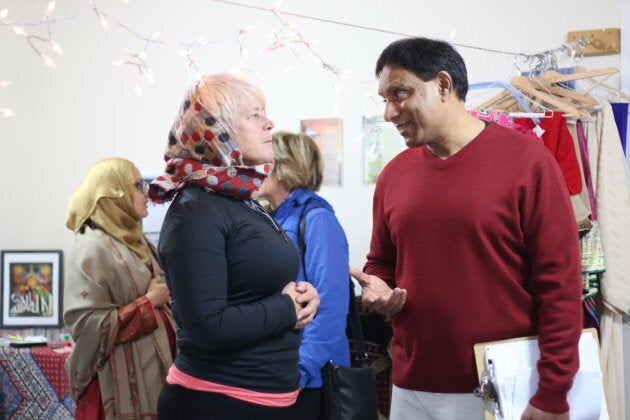 Ali Manek, executive director of The Canadian-Muslim Vote, said that serious threats of mass violence were made to two mosques in the lead-up to the event, one in Sherbrooke, Que. and another in Scarborough, Ont. The person who posted a violent threat to the Sherbrooke mosque eventually removed it and apologized, following police intervention. Manek said that an arrest might be made in the case in Scarborough.
Both of those mosques decided to continue with the event. However, persistent racist messages led two mosques in Montreal to cancel out of fear for the safety of their congregation. One backed out the day before the event.
Manek, a former entrepreneur and non-profit organizer, was heartened by the commenters who swarmed those vitriolic posts with messages of support and encouragement. But as the organizer of an event that involved many vulnerable people in open spaces, he found himself wracked with anxiety as the event grew close. He also worried for the safety of his children, who would be accompanying him throughout the day.
"I didn't anticipate how much of that affected my mental health," he said to HuffPost Canada by phone. "I had to reflect often on the point of the event. To say, despite the negativity, we are still going to be right here. We are still going to answer your questions."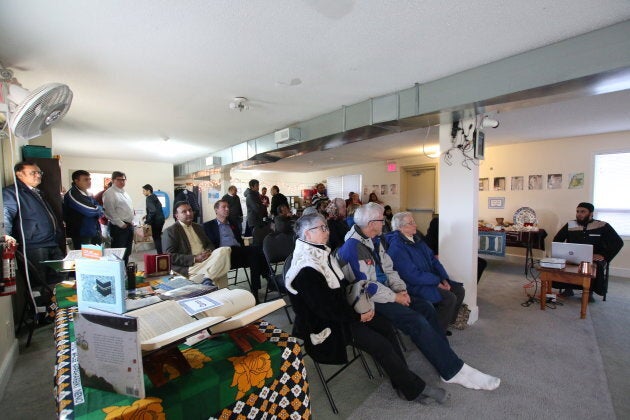 For its part, Jaffari has developed protocols and best practices with other local religious organizations to try to protect against violence. "As with any faith-based group, there's always a fear at the back of your mind that something nasty could happen," Ebrahim agreed. "But we choose not to focus on that."
Jeff Leiper, city councillor in Ottawa's Kitchissippi Ward who also toured the Ottawa Mosque yesterday, said officials must strengthen relationships with local Muslims on a regular basis, not just during times of turmoil.
"It's important for opportunities like these to be created, but Muslim members of your community shouldn't have to always ask to be included," he told HuffPost Canada. "For the relationship to be genuine, you have to work at it all the time, even when there's nothing going on."
"That's how you learn what the their needs are, where they feel their elected officials can improve, what we need to do better."
For Manek, that drive towards civic participation is key.
"The more we open up, make ourselves vulnerable, the more that the Muslim community will feel like it's part of the larger conversation," he said. "That means increased participation by Muslims in the greatest parts of Canadian life: democracy, government and civic duty."
"So much of what we're doing isn't for us," he added. "It's for the next generation, for the future of Canadian society."
CORRECTION: An earlier version of this article stated that the mosques that pulled out of the event were located in Sherbrooke, Que. and Scarborough, Ont. In fact, the mosques that cancelled were both located in Montreal.