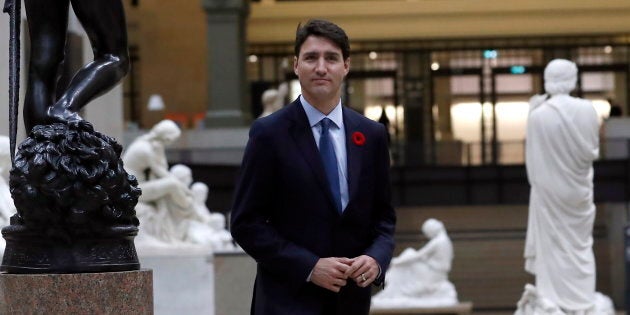 Prime Minister Justin Trudeau says he aims to see American tariffs on steel and aluminum lifted before December after bending Donald Trump's ear about the issue over the weekend.
But at a news conference in Paris Monday, Trudeau would not say if scrapping the levies would be a condition for his government's signature on the new United States-Mexico-Canada Agreement (USMCA).
Watch: Trudeau 'absolutely' brought up tariffs to Donald Trump during Paris dinner
Though the USMCA deal was announced in late September, the U.S. has not lifted tariffs of 25 per cent on steel produced outside the country and 10 per cent on aluminum. Canada's countermeasures on almost $13-billion worth of U.S. goods also remain in place.
A CBC News reporter noted Trudeau had a "good interaction" with Trump during a dinner hosted by French President Emmanuel Macron Saturday. The event was organized for world leaders who travelled to France to commemorate 100 years since the end of the First World War.
The prime minister said he "absolutely" brought up the tariffs with Trump at the dinner.
"The issue of steel and aluminum tariffs continues to be of concern to Canadians, like it is of concern to many American citizens and companies," the prime minister said.
"This is something that, as I've said before and as I related to President Trump, I hope we're able to solve by the time we meet each other in the G20 in Argentina.''
G20 summit expected to be site of USMCA signing ceremony
Asked by another reporter how Trump responded to the issue, Trudeau said his U.S. counterpart "echoed" his desire to "keep moving forward on what has been a positive trade relationship."
The G20 summit in Buenos Aires — set to begin on Nov. 30 — is widely expected the be the site of a USMCA signing ceremony. A new Mexican government will be sworn in on Dec. 1.
However, Mexico's deputy commerce minister said last month that his country won't sign the so-called new NAFTA unless the U.S. removes steel and aluminum tariffs on its neighbours.
The prime minister would not say Monday if Canada has its own stipulations.
"As I've said, discussions and work is ongoing and as always, I won't be negotiating in public," he said.
David MacNaughton, Canada's ambassador to the U.S., has already said that Trudeau won't be signing alongside Trump if tariffs stay in place and that the task would be delegated to another official at a muted celebration.
MacNaughton has reached out to U.S. trade czar Robert Lighthizer to get formal negotiations back underway.
In the House of Commons last week, Conservatives and New Democrats mocked Trudeau for signalling that he could skip the signing ceremony. Both parties have criticized the Liberal government for agreeing to the USCMA without securing an end to punishing tariffs.
"Is the prime minister so vain that he thinks depriving the U.S. of his presence from a photo-op is the best trade strategy to get rid of the tariffs?" NDP trade critic Tracey Ramsey said in question period.
Trudeau responded at the time that "Canadian countermeasures will remain in place until the unfair tariffs on steel and aluminum are removed."
Watch: NDP MP says 'make no mistake, we're still signing' USMCA
Though the prime minister has often said he will not discuss trade negotiations in public, he did let slip a key piece of information in an interview with CNN last week.
During a sit-down with host Poppy Harlow — who pressed Trudeau on whether or not he trusts Trump to honour the USMCA deal — the prime minister called steel and aluminum tariffs a source of "continued frustration."
"But we're not at the point of saying that we wouldn't sign if it wasn't lifted, although we're trying to make that case," he said.
With a file from The Canadian Press