Wanted: Young Torontonians who are willing to drink and smoke weed and then get behind the wheel.
Not of an actual car, of course, but behind the wheel of a driving simulator.
"We know these two drugs, when used together, are resulting in higher collision risk but we don't fully understand why," she told HuffPost Canada.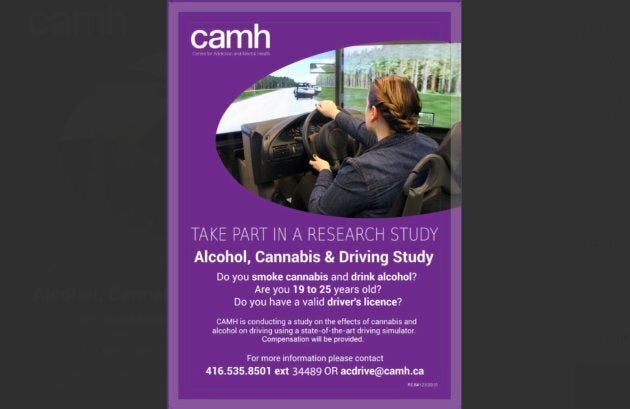 Drunk drivers tend to speed, tailgate, and are generally less inhibited on the road, said Wickens, while many stoned drivers claim that cannabis makes them a better driver, causing them to slow down and take more precautions.
But it's how those drug interact, including factors like the dose of each drug, when each drug is used in relation to the other, and when the user decides to drive after taking the drugs, that has largely gone unanswered.
"We're still trying to understand how those factors and interactions will manifest, in terms of speed, reaction time, and lateral control," she said.
Wickens is looking to study young drivers, specifically those aged 19 to 25, as those drivers are newer to driving and, most likely, cannabis use.
Learn more about how Canada is dealing with stoned drivers. Story continues below:
"We also know that driving after cannabis use is more common than driving after alcohol, in this particular age group," she said.
Payday requires commitment
Participants are eligible for $650 if they complete the study — but Wickens warns it's a 10-day time commitment, and people will only get paid for the portion of the study they complete.
Two days of screening and questionnaires will be required, followed one day of drug use per week for four weeks. Participants will enter the simulator while sober, and then again after doing drugs. They'll then be required to return to the driving simulator 24 hours after using the drugs.
On each day of drug use, participants will be given varying doses of alcohol and cannabis — one day will require high doses of both marijuana and alcohol, another day will require a low dose of each drug, and the two remaining days will involve a high dose of one drug and a low dose of the other.
With the legalization of cannabis in Canada, Wickens says this research is especially important.
"Over the last several decades policy makers, police, scientists have done a remarkable job of educating that driving after alcohol use is unacceptable. But, the same cannot be said about (education of the dangers of) driving after cannabis use," she said, adding that drivers still have a lot of unanswered questions about driving while stoned.
The more research provided, she said, the more informed lawmakers and police will be — and the faster social norms surrounding cannabis will change.
"With this research, we're hoping that we have more concrete evidence that policy makers can use to help justify their concerns to the public."