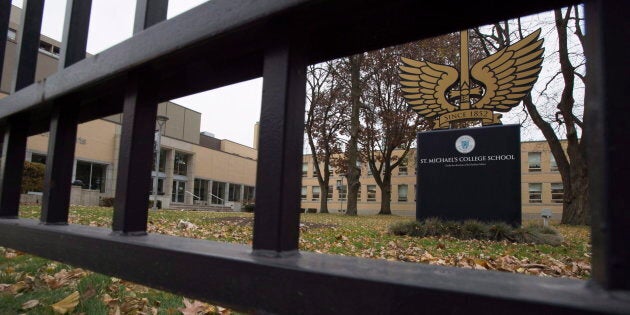 TORONTO — Disturbing images posted in a private Facebook group for alumni of St. Michael's College School illustrate the kind of culture that needs to change in the wake of sexual assault charges that have rocked the school's community, say former students and experts.
An alumnus posted a series of images appearing to mock the recent events that led to six students charged with gang sexual assault, and seemingly to shame those who've spoken up.
To one altered image of a battlefield, a photo was added of Kyle Fraser, an outspoken alumnus who talked to media last week about the bullying he said he'd suffered as a student at St. Mike's. A picture of a broomstick appears to jut out from his behind.
"St. Michael the archangel defend us on this day of battle," read the post. St. Mike's confirmed it was written by a graduate using a fake name.
Below the photo of Fraser is a battle scene, soldiers facing one another with bayonets poised to strike. The faces of the school's former principal Greg Reeves and other leaders and alumni have been added to one side. In opposition are the names of media organizations that reported on the incidents.
When Fraser saw the image of himself, he said, "Oh wow, there are a lot of haters out there. Clearly people can see the culture now if they couldn't see it before."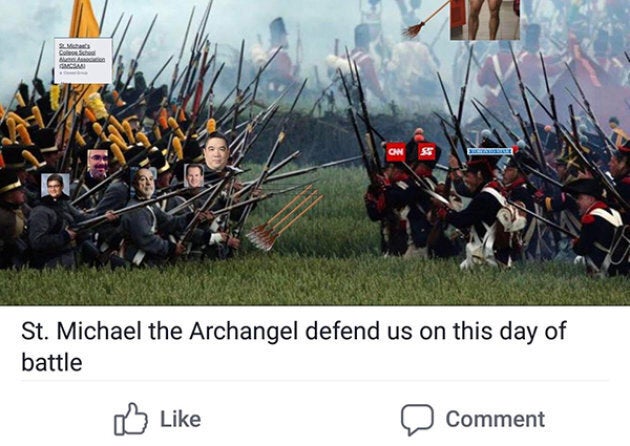 Earlier this month, a video surfaced on social media showing a teen boy held down in a locker room as he is violated with what appears to be a broomstick. Another video shows a different teenager in his underwear placed in a large sink by other boys who splash water at him and slap him.
Police are investigating a total of six incidents at the prestigious Toronto all-boys private school.
The post to the St. Mike's-affiliated Facebook group on Saturday has been removed but subsequently obtained by HuffPost Canada. The entry contained four other images, including doctored biblical and movie scenes, that appear to single out Fraser and media organizations. Images of broomsticks have been added to almost all of them.
The images were quickly removed from the group, St. Michael's College School Alumni Association, as it was "inappropriate and offensive," said the school's spokesman Michael De Pellegrin.
"It is wrong and unacceptable for anyone to be victimized or re-victimized online. We immediately requested that it be removed, and the individual who posted it complied," De Pellegrin told HuffPost.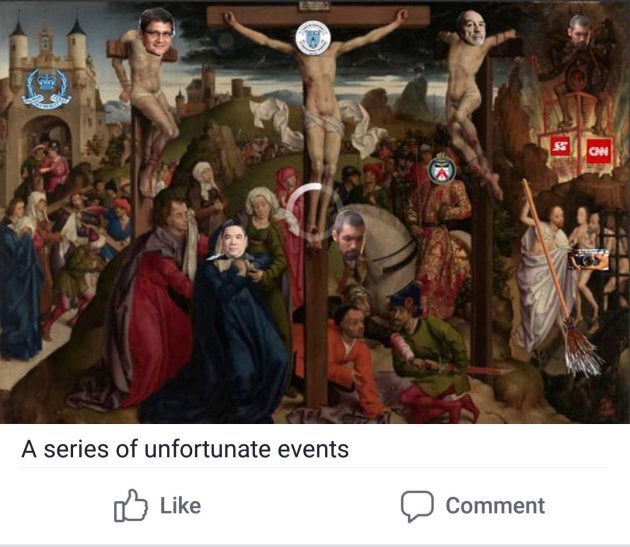 But the fact the images were posted at all, when the school's tight-knit community are struggling to comprehend the disturbing allegations, demonstrates what needs to change, said some former students and bullying experts.
"That is exactly the culture that led to this horrific incident in the first place, the shaming and humiliating," said Wendy Craig, head of psychology at Queen's University. "It further highlights the power to keep the hazing and assaults secret. This harms not only those whom have been victimized but also reinforces a culture that continues to harm."
St. Mike's alumnus Bill Dunphy, who like Fraser has spoken out against the school's culture of "toxic masculinity," described the posts as "insensitive and downright ugly." He is a member of the Facebook group and was aware of the images, but he requested that HuffPost make clear he did not leak them.
In the days following the scandal, Dunphy said alumni discussed the media coverage online.
"There was certainly a lot of anger and comments made that were vitriolic," Dunphy said, adding that's not representative of all alumni. "Frankly, there was a couple of really thoughtful and powerful posts by former students, calling for change. There was a post that suggested setting up a gay straight alliance. A number of people said it was a good idea."
These images speak to what the real issue is: It's not just a couple of rogue kids that took something too far. Jean-Paul Bedard, former student
Former St. Mike's student Jean-Paul Bedard said there's a "massive" stigma around alumni sharing negative experiences they might have had at the school and some people are now "doubling down" on efforts to defend its reputation.
Bedard, who is also a HuffPost Canada blogger, isn't a member of the alumni group the images were posted in, although he's seen them.
"These images speak to what the real issue is: It's not just a couple of rogue kids that took something too far," said Bedard. "Really the people that need to be held to account is the administration and faculty and then to a greater extent the parents."
He said he experienced violent hazing when he attended the school in the 1980s. After going public with his experience last week, Bedard said his social media got "slammed with horrific comments," including references to broomsticks.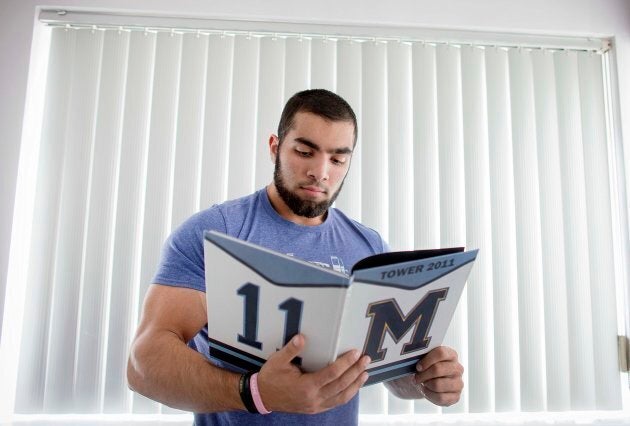 Fraser is steadfast on his mission to stop bullying and isn't discouraged by the Facebook post, or other negative feedback he's received.
"It's immature. I'm not going to pay attention to those people, who want to sweep this under the carpet," said Fraser, who left St. Mike's after Grade 10 because of bullying. "I don't want to let bullying happen to anyone else. I want change to happen."
School officials resigned
The scandal began Nov. 12 when the school's administration received the two videos. Reeves, the principal, did not immediately contact police about the alleged sexual assault, but rather launched an internal investigation and expelled four students.
On Nov. 14, police launched an investigation after learning about the video depicting the broomstick attack from the media. Six boys have been charged with gang sexual assault, assault and sexual assault with a weapon in that case. Their identities are protected under the Youth Criminal Justice Act.
By the following Monday, police were looking into six incidents, with four captured on video.
Earlier on HuffPost: Toronto police expand their investigation
The school has announced it will conduct a cultural review by an "independent third-party committee" which "will examine the traditions, rituals, and social practices of students at every grade level and in all areas of school life."
Last week, Reeves and school president Jefferson Thompson resigned.
Confidential reporting needed
School's leaders need to clearly declare there is going to be a culture change, said Jennifer Connolly, a professor of psychology at LaMarsh Centre for Child and Youth Research at York University. Students, faculty and parents need to be involved in the changes, while recognizing bullying takes many forms and range in severity.
"When schools want to make change, they have to pay attention to all the small behaviours that when not responded to lead to a cumulative effect where you have a climate where something horrific occurs," Connolly said.
It will be important for the school to establish a confidential way for students to report bullying and harassment.
"Bullying behaviours are not reported by youth because they're afraid if they speak out about it, they themselves will become a target," said Connolly.