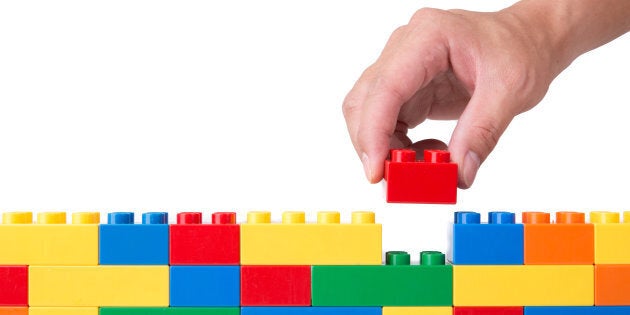 Heroes don't always wear capes.
In the name of science, six children's healthcare professionals in Australia and the U.K. each swallowed a Lego head then recorded how long it took to poop it back out. They de-deuced that the average time was 1.71 days, according to the study published in the new edition of the Journal of Paediatrics and Child Health.
How could they be sure? Because the researchers rummaged through their own loaves to retrieve the yellow Lego heads, something they say they did so parents won't have to.
"A toy object quickly passes through adult subjects with no complications. This will reassure parents, and the authors advocate that no parent should be expected to search through their child's faeces to prove object retrieval," the authors wrote in the study, which they admitted in a blog post isn't exactly hard science, but "a bit of fun in the run up to Xmas."
WATCH: Researchers share video about their Lego poop study. Story continues below video.
Coins are the most commonly swallowed foreign objects by children, the researchers noted in the blog post, adding that there's a lot of data on "transit time." But small toys are the next most common items that kids swallow, and there's little data on those, they explained. They wanted to see how long it took a very small toy, in this case a Lego head, to pass through.
"We all know corn kernels can whip through the colon in seemingly no time at all, but what about a little yellow piece of plastic? There was really only one way to find out," the authors said.
And so, they sh*t a brick.
The authors tried a variety of techniques to make sure "no turd was left unturned" to find the wee Lego heads, they said in the blog post, including using tongue depressors (aren't you glad we said depressors?), gloves, chopsticks, and squishing the poop in a bag.
The average time to birth the Lego head was 1.71 days, but one researcher never recovered the lego head even after searching through his stool every day for two weeks.
Watch: Lego chocolate that you should actually eat. Story continues below video.
"Hopefully there is more conversation and awareness of foreign bodies, and a reassurance for parents that, for small foreign bodies, they aren't advised to search through the stool," researcher Grace Leo told the Guardian.
"If it's a small Lego head, you don't need to go poking through their stool. That should save parents some heartache, unless that Lego head is dearly loved."
It's still not exactly safe to swallow Lego
The current Lego study's researchers also warn that most people who swallow Lego are children, not adults. So the data that was measured in six adults may not be applicable.
Leo told the Guardian that while most small, smooth plastic objects will pass easily, parents should always seek medical attention if they are uncertain.