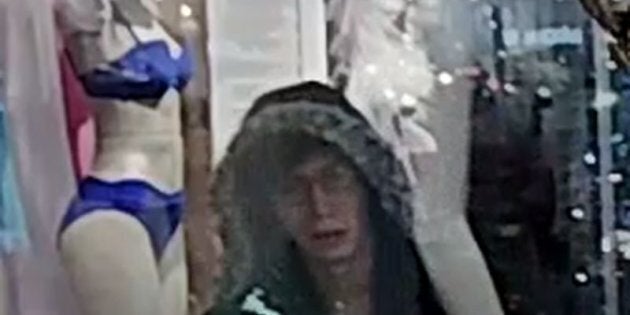 Toronto police are searching for a man who allegedly broke into a store and stole mannequins, lingerie and mannequins wearing lingerie.
The break-and-enters took place in the past two months at a midtown-Toronto business.
Const. Allyson Douglas-Cook told HuffPost Canada the suspect smashed the storefront's display case each time.
"Basically it's a display case with mannequins wearing lingerie, and each of the three times that he broke the display case at least one mannequin was stolen wearing lingerie."
Image of suspect released
Douglas-Cook said the store's owner did not estimate any losses from the the mannequin heists.
Police shared a security camera image of the suspect that Douglas-Cook said was taken during the most recent robbery.
The suspect is described as 20-30 years old, 5 feet 10 inches tall, with a slim build. He was wearing a dark coat with a fur hood and eyeglasses at the time of the incident.
Anyone with information regarding the mannequin raid can contact police at 416-808-1300 or leave an anonymous tip for Crime Stoppers at 416-222-TIPS (8477) and online at www.222tips.com.