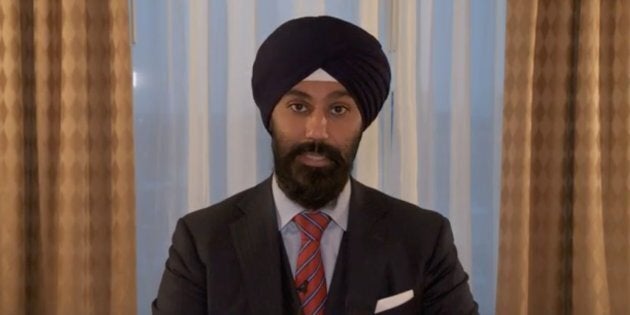 Ontario MP Raj Grewal says he's changed his mind about definitively resigning his Brampton East seat, after more than a week of controversy arising from his professed gambling addiction.
In a lengthy post on Facebook late Friday, as well as a video statement, Grewal laid out some of his personal finances and addressed some of the "half-truths" that he said have emerged in the past several days.
"My sins are not ones based in corruption and dishonesty; they are born out of human frailty," said Grewal, 33.
On Nov. 22, Grewal abruptly announced he was stepping down as the southern Ontario riding's MP for "personal and medical reasons." A few hours after that, the Prime Minister's Office said Grewal was grappling with a "gambling problem that led him to incur significant personal debts."
"Based on these circumstances," said the PMO, "we agreed that his decision to resign as Member of Parliament for Brampton East was the right one. We hope he receives the support he needs."
On Friday, Grewal said he was leaving the Liberal caucus and taking a leave of absence to "focus on my mental health and recovery." But he is taking until after the parliamentary winter break in January to make a final decision about his political future.
Watch: PM Trudeau said he learned of Grewal's gambling problem just over a week ago. Story continues after video.
'This has nothing to do at all with anything sinister'
In his post, Grewal said he played "high-stakes, high-limit" blackjack at Casino du Lac Leamy, across the river from Parliament Hill, racking up debt in the "millions of dollars over three years." He acknowledged that he took out loans from his friends and family, which have since been paid back.
"This has nothing to do at all with anything sinister, except to feed my own addiction," he said.
Grewal took issue with "incorrect information" about assets and liabilities shared with his new wife, Shikha Kasal, "that give rise to unfair inferences." He said Kasal was unaware of his gambling problem until three weeks ago.
"We have been married for only four months now and have always maintained separate finances. We do not even have a joint bank account," he said.
Also issues apology
Grewal apologized to his friends, family, and supporters for disappointing them, as well as to Prime Minister Justin Trudeau "for becoming a distraction from the important work you are doing for Canadians."
First elected in 2015, Grewal was a member of the finance committee of the House of Commons, as well as the health committee.
Related from HuffPost Canada: