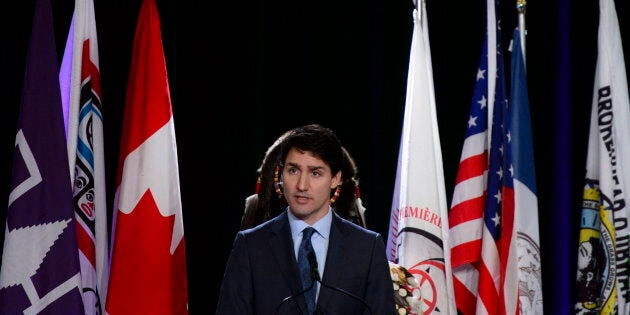 OTTAWA — Moments after Prime Minister Justin Trudeau was praised for his support of Indigenous peoples' self-governance on Tuesday, he urged a B.C. First Nation chief to "be careful about minimizing" reasons people may have in supporting the Trans Mountain pipeline.
Trudeau addressed hundreds of delegates at the Assembly of First Nations' Special Chiefs Assembly, outlining progress his government has made in three years when the floor was open to chiefs to ask questions.
Chief Judy Wilson of the Neskonlith Indian Band in B.C. referred to a speech the prime minister delivered at the United Nations General Assembly last year, acknowledging the "humiliation" of Canada's First Peoples. On that international stage, Trudeau reaffirmed his support for advancing Indigenous self-determination and self-governance.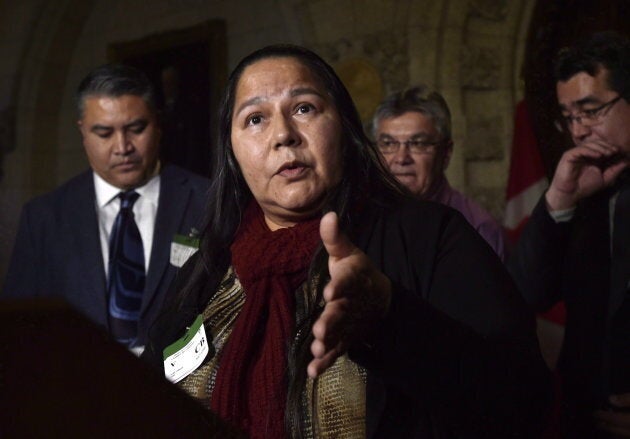 She suggested, however, that the government's purchase of a pipeline runs smack in the face of that support.
"When you're talking about the United Nations and you're going to go with the self-determination and the consent, why wasn't that applied with the Trans Mountain pipeline that's going through 513 kilometres of our territory?" Wilson asked.
Trudeau responded that there are "lots of reasons" for people to take different sides of a debate. "And I think we should respect people's choices to support or to not support different projects. And I don't think we should be criticizing them just because they disagree with you, Judy."
The prime minister defended the project, saying since a federal court quashed approvals related to the pipeline in August, the government has been "listening even more" during consultations.
Unanimity on the pipeline won't ever be achieved, he said, using election results to explain his point.
"I am prime minister not because 100 per cent of people in the country voted for me — that's what happens in North Korea," he said, spurring laughter from the crowd.
"I am prime minister because we have a system that came through and asked me and offered me the job to serve as prime minister. That is how we move forward."
Watch: Learn what's driving Canada's oil prices
The federal government announced in May its decision to buy the Trans Mountain pipeline and its core assets from energy giant Kinder Morgan Canada for $4.5 billion. Trudeau and federal ministers assured Canadians it was the only recourse to ensure construction of the contentious pipeline.
Conservatives have been hammering the government for being unable to get it built, so that Alberta's oil can reach markets in Asia. Oversupply recently forced Alberta Premier Rachel Notley to slash raw crude and bitumen production by 8.7 per cent to mitigate a price crisis.
More from HuffPost Canada:
Northwest Territories Regional Chief Norman Yakeleya doesn't think the government's handling of the Trans Mountain pipeline will become an election issue — at least not in his region of the north.
Yakeleya is sympathetic to the prime minister for being, he said, in a "very difficult position" because he speaks strongly on the environment, land, water, and climate change, but is also balancing the interests of the oil and gas sector.
If there's a government message that could have repercussions at the polls in the north, the Dene chief said, it won't be about pipelines. It'll be around the federal push to transition to greener economies.
Efficient energy projects cost millions, and we don't have that.N.W.T. Regional Chief Norman Yakeleya
"We're used to driving Ford F-150s and F-250s, but they somehow want us to drive smaller vehicles," Yakeleya told HuffPost Canada.
It doesn't help that Indigenous communities won't see the bulk of proceeds from fuel charges collected under the upcoming carbon pricing system, he added.
"Efficient energy projects cost millions, and we don't have that. And you know who pays for it? It's the community who pays for it."
The prime minister's talks with Indigenous leaders will continue with representatives from the AFN, Inuit Tapiriit Kanatami, and the Métis National Council who will also be attending the First Ministers' meeting.