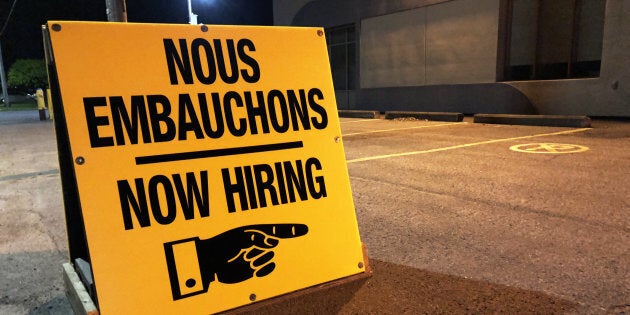 Canada's unemployment rate dropped to 5.6 per cent in November, the lowest rate in comparable records going back to 1976, Statistics Canada said.
The country added 94,000 jobs in the month, an unusually strong showing and well above economists' expectations. The gains were led by increases in full-time work, StatCan noted.
And the numbers got a notable boost from Canada's rapidly-growing cannabis sector.
The number of people directly employed in non-medical cannabis was 10,400, on average, over the past three months, Statistics Canada said, up 266 per cent from a year earlier.
Marijuana became legal for recreational purposes in Canada on Oct. 17.
Watch: Precarious work is on the rise. Here are some ideas on how to fight back (story continues below)
While the total number of people directly employed in non-medical cannabis is relatively small, the industry's expansion "clearly boosted total employment across various industries," BMO senior economist Robert Kavcic wrote in a client note.
More than half of cannabis jobs (58 per cent) were in agriculture, while others were in retail, educational services and health care, Statistics Canada said.
Notably, cannabis-related jobs pay better than the Canadian average, with hourly wages at $29.58, compared to $27.03 for the country as a whole.
Quebec leads job growth
Quebec saw the strongest job growth, adding 26,000 jobs in the month. Its jobless rate, at 5.4 per cent, is close to the lowest the province has ever seen.
In a rare bit of good economic news, Alberta added 24,000 jobs in November, and its jobless rate fell a full percentage point to 6.3 per cent. Ontario added 20,000 jobs, and its jobless rate held steady at 5.6 per cent.
But the numbers were so strong that some experts questioned their validity, noting that StatCan's Labour Force Survey numbers tend to swing wildly from month to month.
CIBC economist Royce Mendes called the Alberta job numbers "a suspicious detail," while TD Bank economist Brian DePratto wrote that, "as always, a grain of salt is needed when interpreting this volatile series."
But Friday's report also contained disappointing details.
Year-over-year average hourly wage growth for permanent employees continued its decline in November to 1.46 per cent, to deliver its weakest reading since July 2017.
Experts have been expecting wage growth to rise thanks to the tightened labour market, but it has dropped every month since its May peak of 3.9 per cent. It now sits well below inflation.
The Bank of Canada keeps a close watch on wages ahead of its interest-rate decisions. On Wednesday, the central bank held its benchmark rate at 1.75 per cent, but in explaining its decision it highlighted other economic negatives such as weaker-than-expected business investment and the sharp drop in oil prices.
Mendes said the Bank of Canada will take notice of the "massive reading'' in the November jobs report as it mulls next month's rate decision.
"The large gain in jobs will keep a January rate hike on the table for now, but we'll need to see similarly positive evidence from other indicators and no major reversal in the next jobs report,'' Mendes wrote in a research note to clients Friday.
— With a file from The Canadian Press