OTTAWA — Canadian environment groups are at the global climate-change conference in Poland today calling out the federal government for letting the oil and gas industry undermine Canada's efforts to be a climate leader.
Environmental Defence and Stand Earth are among the groups releasing a report that shows emissions from the oil-and-gas sector continue to rise and intensive lobbying from the industry means about 80 per cent of those emissions will be exempt from the federal carbon price.
Watch: At COP24, countries debate who should foot the bill for the costs of climate change. Story continues below.
The report said Canada's climate framework does not include policies that adequately address oil and gas industry emissions. Therefore, any emission reductions in the plan are expected to be overwhelmed by emissions from oil and gas production increases.
Documents obtained under freedom of information requests in Saskatchewan show oil companies advocated for delayed, weakened, and in some cases voluntary methane regulations.
It also found that thanks to lobbying, oil and gas companies will have an average of 80 per cent of its emissions exempt from federal carbon pricing.
The report said between now and 2030, oil sands emissions are projected to grow to become 40 per cent of Canada's total emissions.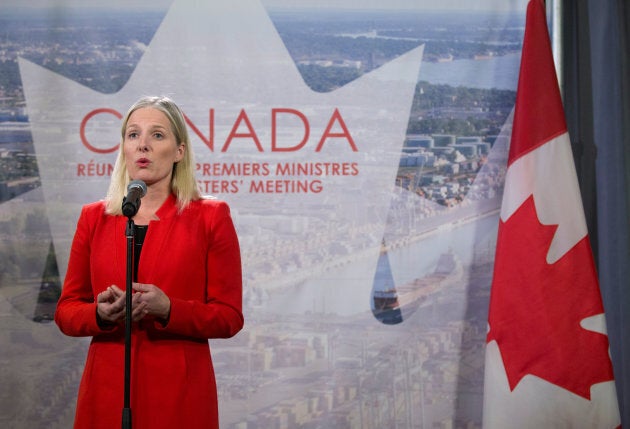 Environmental Defence national program manager Dale Marshall says it is incredibly frustrating that federal and provincial governments keep throwing themselves at the industry with huge subsidies and now a $4.5-billion pipeline purchase, and yet the industry continues to claim it doesn't get any federal support.
He says caving to the oil and gas industry is stalling Canada's climate policies and is the main thing standing in the way of Canada's being seen as a climate leader on the world stage.
Environment Minister Catherine McKenna arrived in Katowice, Poland for the COP24 talks today where the nations of the world are aiming to agree on rules for how the Paris climate-change agreement will be implemented.
Canada is also there pushing an anti-coal alliance to wean the world from coal power by 2050 but Marshall said Canada needs to also show leadership on oil and gas, which are far bigger problems for Canada's emissions targets than coal is.
Bearing 'the burden' of Canada's 'inaction'
Catherine Abreu, executive director of Climate Action Network Canada, said the world has noticed the "contradiction" between Canada's desire to be a global climate champion, and its ongoing fossil fuel investments.
"The longer Canadian governments delay a conversation about economic diversification away from oil and gas development, the longer Canadian workers and communities, and people around the globe, will bear the burden of their inaction," Abreu said in a release.
With files from HuffPost Canada