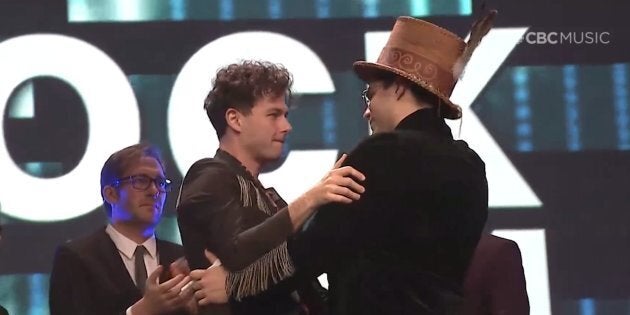 Jeremy Dutcher was giving a passionate acceptance speech at the Juno Awards pre-telecast, including a message to the prime minister about reconciliation, when he was played off the stage.
But in one of Saturday night's most electric moments, he would get a second chance to finish, thanks to the Arkells rock band.
As winner of best Indigenous music album, Dutcher briefly thanked his team, his mother, and his fellow nominees before telling Justin Trudeau: "A nation-to-nation relationship does not look like pipelines.
"A nation-to-nation relationship does not look like sending militarized police force into unceded territory and a nation-to-nation relationship does not look like, in 2019, our communities still on boiled-water advisory."
Later in the evening, the Arkells won best rock album for "Rally Cry" and the band from Hamilton, Ont. took to the stage to accept the award.
"There's been so much wisdom shared on the stage tonight, but our friend Jeremy didn't get a chance to finish," Arkells singer Max Kerman told the crowd, as he brought Dutcher to the podium. "So he's going to finish tonight as he should."
"As I was saying ... Reconciliation, it's a lofty goal. It's a dream," said Dutcher, who is a trained operatic singer and was raised partly in the Tobique First Nation in New Brunswick.
"It doesn't happen in a year. It takes time. It takes stories. It takes shared experience. It takes music. I have hope, I have to that we can come to the right relations with each other."
Then speaking in his native Wolastoqey, he said, "When you lead us, you need to think of all of us, for the ones yet born may that be the truth."
How it happened
Backstage, Kerman explained to reporters that he was on the way to the bathroom when he ran into Dutcher and found out where he was sitting.
"When our name was called, I found him and I just grabbed him. He was a little startled," he said, according to CBC. "He said something that we could only dream of relaying."
Dutcher won his Juno Saturday for "Wolastoqiyik Lintuwakonawa," which also netted him last year's Polaris Music Prize.
The Arkells, who now own five Juno Awards, are also nominated as Group of the Year, which will be announced at the televised Junos on Sunday.
With a file from The Canadian Press