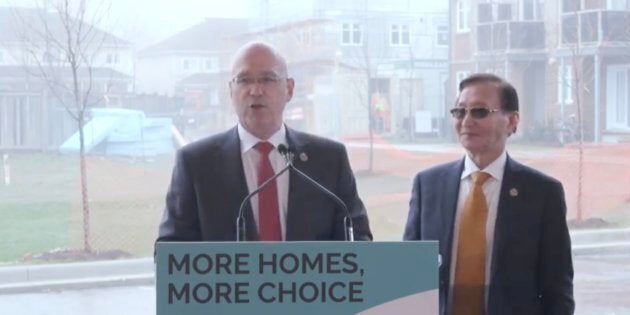 Ontario introduced sweeping changes Thursday to make it cheaper and easier for developers to build houses and rental buildings in the province.
"Folks, we need to fix the housing crisis created by the labyrinth of Liberal red tape," Minister of Municipal Affairs and Housing Steve Clark said at an announcement in Scarborough, Ont.
"Homes are too expensive to buy and to rent and there aren't enough of them available to help people in need."
Folks, we need to fix the housing crisis created by the labyrinth of Liberal red tape.Minister Steve Clark
Clark will introduce a new Growth Plan, the government framework that sets out areas for development, and legislation to change a laundry list of other laws.
The government is proposing to:
Revert to old rules for resolving disputes between developers and the public or municipalities, which were phased out by the Liberal government and had been criticized for causing years-long delays. The rules let an unelected board, sometimes consisting of only one person, approve development projects that city councils had rejected;
Eliminate development charges for secondary suites, i.e. a basement apartment or a laneway house;
Delay development charges for rental housing so that developers don't have to pay until they're collecting rent from tenants;
Change zoning laws to encourage more development near public transit stations;
Spend $1.4 million this year to hire more adjudicators for the Landlord Tenant Board to clear a backlog of cases;
Change environmental laws to "streamline processes for projects that pose little risk";
Get rid of a rule that requires builders to design parking spaces in a way that allows for electric vehicle charging.
Clark said it can take up to 10 years for a company to complete a high or low-rise development in the Greater Toronto Area.
"That's not good enough," he said. "For too long, government has stood in the way of increasing housing supply in this province."
Watch: How Canada's housing market affects jobs. Story continues after video.
Real estate associations praised the Progressive Conservative government's plan, while environmental groups condemned it and opposition MPPs gave it mixed reviews.
"Help is finally on the way to address Ontario's housing affordability crisis," said Tim Hudak, a former PC party leader himself who is now CEO of the Ontario Real Estate Association.
He noted in a press release that some of the government's proposals, like changing zoning rules to encourage more housing near transit stations and cutting development charges, were included in a list of ideas his association submitted to the PCs.
Environmental Defence, on the other hand, slammed the plan in a press release as "short on details" as to how it would make housing affordable, and said that it "gives sprawl developers a free pass to pave over farmland, forests and endangered species."
Liberal MPP Nathalie Des Rosiers said in a release: "I do applaud this government's goals to create more affordable housing more quickly, especially near transit," however, "I am concerned about the direction they are taking."
She said the changes are a giveaway to developers that will leave communities with fewer benefits and less money for infrastructure.
Green party leader Mike Schreiner said the announcement contains good, bad and ugly elements.
He said the revival of the old rules for resolving planning disputes is "ugly" and the "most disturbing" part of the government's plan.
If there was any doubt that Ford was in the pocket of big developers, this removes all doubt.Mike Schreiner
The rules let "deep pocketed developers to run roughshod over communities," he said in a release.
"If there was any doubt that Ford was in the pocket of big developers, this removes all doubt."
However, Schreiner said that eliminating fees for secondary suites and fast-tracking projects to build housing near transit are positive steps.