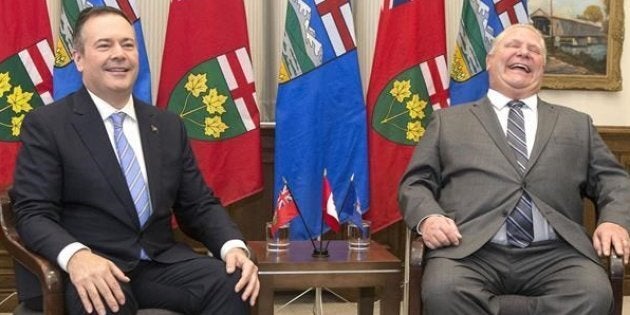 TORONTO — On his fourth day as Alberta premier, Jason Kenney visited Ontario Premier Doug Ford to celebrate the "strong alliance" between the two provinces.
"I appreciate everything you're doing to show Ontario's open for business," Kenney said to Ford in front of cameras Friday morning at Queen's Park.
"I gotta tell you, I'm here in Toronto to tell Bay Street that Alberta's open for business."
I can't even wipe the smile off my face.Premier Doug Ford
"I can't even wipe the smile off my face," Ford said.
They did not take questions.
In a joint statement, the two premiers said they discussed the "potentially devastating economic impacts" of the federal government's proposed law Bill C-69.
The law has already been passed by MPs and is currently under consideration by the Senate's energy committee.
It overhauls the approval process for major resource projects like the Trans Mountain pipeline, which was delayed last summer when the Federal Court of Appeal ruled that the government had failed to properly consult Indigenous groups and made errors in its assessment of the environmental impact of the project.
Prime Minister Justin Trudeau says the law will give companies certainty that when they get a project approved, it can be built. His government spent $4.5 billion to buy the Trans Mountain pipeline and other assets from Kinder Morgan Canada after the company got cold feet about its plan to twin an existing pipeline that runs from Edmonton to the British Columbia coast.
Bill C-69 would see Indigenous groups and other stakeholders engaged early in the consultation process and lift restrictions on who can participate in the consultation process that were created by former prime minister Stephen Harper's government.
The law "would grind new resource development and the energy sector to a halt across Canada," Kenney and Ford said in their statement.
Kenney had already hosted the Ontario premier in Calgary for a rally against the federal government's carbon tax when he was in Opposition.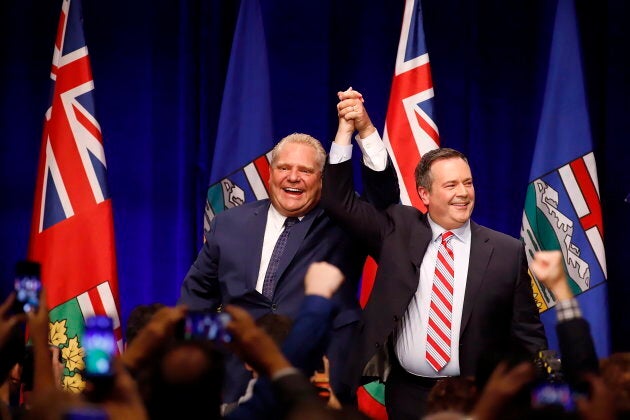 "I want to thank Premier Ford and his government for being key players in the coalition fighting the carbon tax cash grab," Kenney said Friday.
Ford's government is forcing every gas station in Ontario to display stickers that show the carbon tax's effect on gas prices. The stickers don't mention that the Canadian government is rebating carbon tax revenue to citizens, and most families will get back more money than they pay.
With files from The Canadian Press