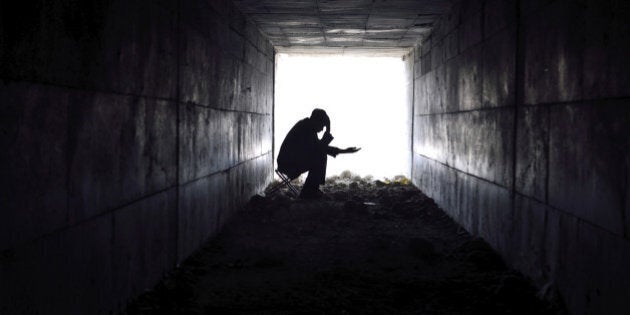 Eric Jolliffe is the York Regional Police Chief. On March 2nd he will be taking part in the 360ºExperience on the streets of York.
Those of us who have spent even one freezing night desperately seeking shelter on the streets of York Region -- and not finding it -- will never think quite the same way about our community again.
For three years I've joined fellow first responders, politicians and community leaders in stepping into the shoes of our community's homeless youth trying to understand the so called "couch surfing" experience.
Let me tell you, it has been eye opening. Walking for hours in sub-zero temperatures in search of a place to sleep was difficult, scary and humbling. We struggled to find shelter beds but were turned away again and again as they are almost always full. There are more than 300 homeless youth in York Region but only 26 shelter beds. This is something we have to change.
During our efforts to find a bed, we tried to get some sleep in bank vestibules, rode transit for a good portion of the night just to keep warm and were thankful for 24-hour coffee shops where staff was, if not exactly welcoming, as least understanding and accepting.
In my travels one night, I was even stopped and checked up on by one of my own officers -- who had no idea I was his Chief.
When there are no beds, homeless youth often resort to sleeping in garages, in abandoned trailers and buildings or even worse, in forests and fields and other hidden places across the region.
They are vulnerable to illness, emotional trauma, criminal threats and violence. Many of them are struggling to stay in school, changing clothes in community centres, coffee shops or gas stations, lying to their friends about their circumstances and hoping they will find a way to eat that day.
In a community as affluent as York Region, we must find a way to provide concrete support and hope for the future for these most vulnerable citizens.
When I think about my nights on the streets, what really sticks out in my memory the most is the overwhelming sense of loneliness. Not having shelter for the night is a physical and logistical challenge. But not having a place to call home is a hugely emotional challenge. I knew I would eventually go home to a warm bed and a loving family -- these kids have no such hope. And let's remember that's exactly what they are. Kids.
That's the harsh reality of youth homelessness.
I believe, and the community leaders who continue to support 360ºKids believe, every kid matters. As leaders, we must do whatever we can to continue to raise awareness and funds to help organizations like 360ºKids provide the most basic of services to our homeless youth. The dedicated staff at 360ºKids has a vision of creating communities where every kid matters and every kid feels safe, supported and loved. That's something we can all get behind.
As you turn down your own bed tonight, please remember even a little can make a big difference in the life of a homeless youth.
Eric Jolliffe is an annual supporter of the 360ºExperience, a fundraising event to help homeless youth in York Region. This year's event takes place on March 2nd. To donate click here
Follow HuffPost Canada Blogs on Facebook