Summer travel season is winding down, which means airfares to many popular destinations are coming off their high points. And, in a year where airfares have been low even at their high points, this is particularly good news for budget-conscious travellers or anyone interested in saving some money on their next flight. If that sounds like you, here are Cheapflights.ca's 10 peak summer destinations where the average airfares for travel in September and October are at least 25 per cent lower than they were in July and August. So if you didn't get a chance to travel over the summer, now's a great time to book a trip.
London, United Kingdom (Average airfare down 36%)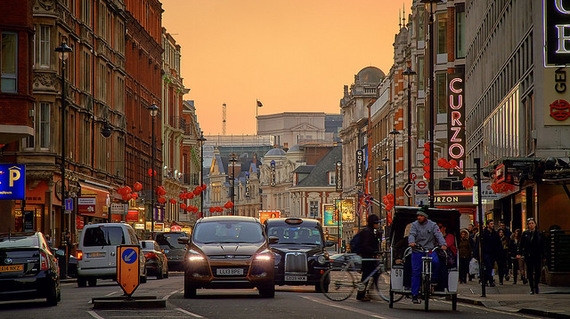 Image: Pedro Szekely, London via Flickr CC BY-SA 2.0
London is one of those destinations that has something for everyone, whether you're travelling solo, as a couple, with small children or with teens who seem to get bored every 20 minutes. Museums and galleries abound, many of which are even free to explore, like the National Gallery and Tate Modern. Love being outside? London is filled with parks and gardens, including Hyde Park, known as one of the best city parks in the world, and the 410-acre Regent's Park, with its open-air theatre and boating lake. Also ideal for foodies, London boasts a whopping 6000+ restaurants, 65 of which are Michelin-starred. The diverse city is also home many historical attractions, including four World Heritage Sites.
Lisbon, Portugal (Average airfare down 35%)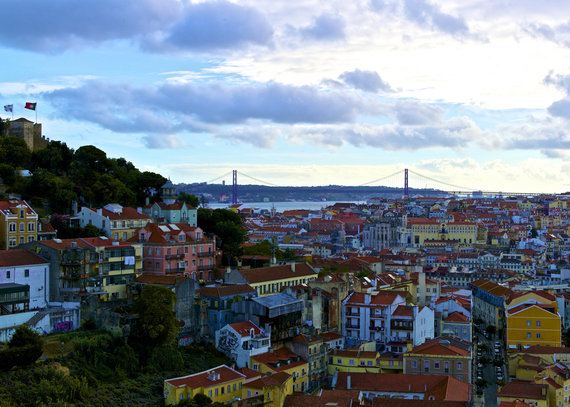 Image: Pedro Ribeiro Simões, Lisbon via Flickr CC BY 2.0
Hop on a plane to Portugal this fall and spend some time in eclectic Lisbon, a destination that offers historic monuments, quaint neighbourhoods, parks and beaches, lively nightlife, amazing wine and fresh seafood. Recently named the third most hospitable city in the world by TripAdvisor and one of the coolest cities in Europe by CNN, Lisbon is piquing the interest of more and more travellers excited to get to know its many charms.
Philadelphia, Pennsylvania, United States (Average airfare down 33%)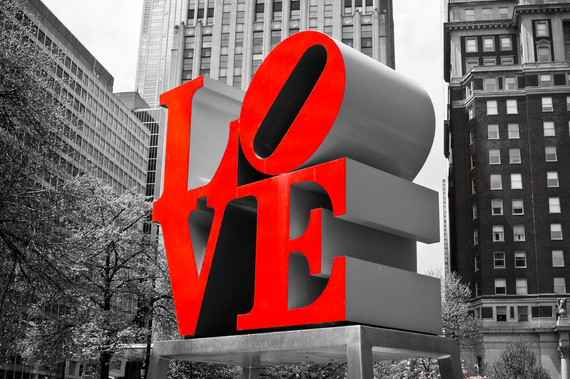 Image: Gene Tobia, LOVE Philly via Flickr CC BY-SA 2.0
The City of Brotherly Love was the first World Heritage City in the U.S. and offers a wide range of activities for the curious traveller looking for a good spot for a city break. In addition to tucking into an authentic Philly cheesesteak, you'll want to get out for a walk, which is the easiest way to get around and the best way to get to know Philadelphia's many neighbourhoods. From the cobblestone streets of Old City, to the world class museums and historic houses of Logan Square, to the growing foodie scene of East Passyunk, there's something for everyone among Philly's many vibrant hoods.
Gander, Newfoundland and Labrador (Average airfare down 33%)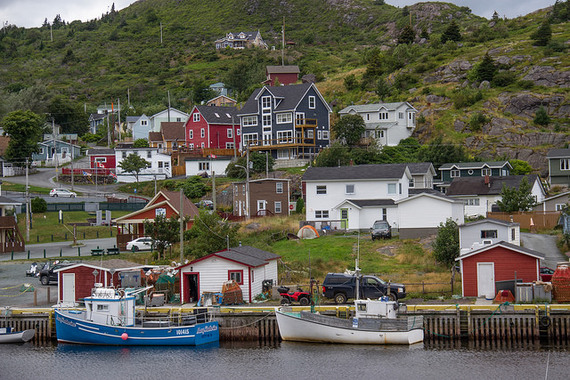 Image: CucombreLibre, Newfoundland-514 via Flickr CC BY 2.0
The most easterly edge of North America, Newfoundland and Labrador is one of the most diverse destinations in Canada. And with bargain autumn fares to both Deer Lake (down 26%) and Gander, now is the chance to start exploring. The island's vast size leaves plenty of room for natural wonders - including three national parks, 29,000 kilometres of coastline, 100,000-year-old icebergs and abundant wildlife, including 22 species of whale and more than 120,000 moose. Its cultural wonders - like the thriving music and performing arts scene - will round out your visit, whether you go for a weekend or a month.
Madrid, Spain (Average airfare down 33%)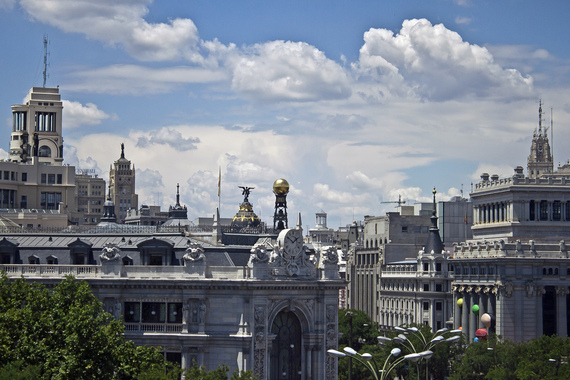 Image: gacabo, madrid via Flickr CC BY-SA 2.0
Madrid is a sprawling city with something interesting to see or do hiding around nearly every corner. Anyone looking for an art and culture fix should check out the area known as Madrid's Golden Triangle of Art, composed mainly of the Museo del Prado, Centro de Arte Reina Sofía and Museo Thyssen-Bornemisza. And, of course, you will need to make time to enjoy the wide selection of tapas - small local snacks served with a glass of wine or beer - that you'll find at many bars and restaurants across the city. Work off all that delicious food with some shopping in one of Madrid's many shopping areas, or get some fresh air at the city's largest park, Casa de Campo, which is five times bigger than New York's Central Park.
Copenhagen, Denmark (Average airfare down 33%)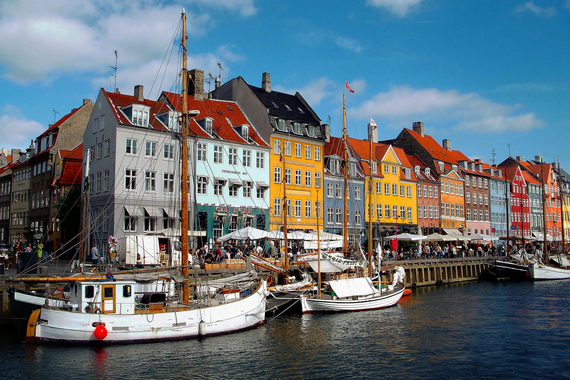 Image: John Anes, Copenhagen via Flickr CC BY-SA 2.0
With its easy-to-navigate streets, swaths of green space, multitude of attractions and its cutting-edge fashion, art and food scene, Copenhagen should be on every traveller's must-visit list. It's hard not to fall for this city, even if you simply spend your week walking or biking aimlessly and stopping at a gallery here or a cute café there. If you've got kids with you, make a stop at the lively Tivoli Gardens amusement park or check out the iconic Little Mermaid sculpture, which turned 100 in 2013. Browse around Strøget, Copenhagen's largest shopping area, snap the perfect Instagram photo of beautiful Nyhavn and check out the trendy side of the city with a visit to Vesterbro, recently ranked number four on Thrillist's list of the top 10 hipster neighbourhoods on earth.
Washington, D.C., United States (Average airfare down 30%)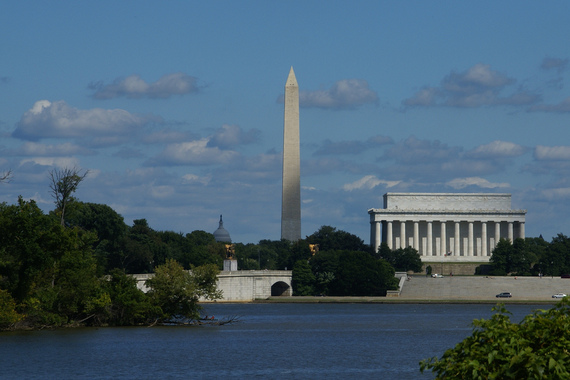 Image: David Baron, Washington Monument, Lincoln Memorial via Flickr CC BY-SA 2.0
Washington D.C. is a beautiful city and one that's easy to get around on foot or via the efficient Metro. Bursting at the seams with museums and monuments, the city is a playground for art, history and architecture lovers, with photo opportunities at every turn. No trip to Washington is complete without a stroll through the National Mall, home to several monuments, including the Lincoln Memorial, Washington Monument, Vietnam Veterans Memorial and Martin Luther King Jr. Memorial to name a few. In addition, the neighbourhoods of Georgetown, Adams Morgan and Dupont Circle are excellent for a few hours of leisurely strolling, shopping and eating.
Québec City, Québec (Average airfare down 30%)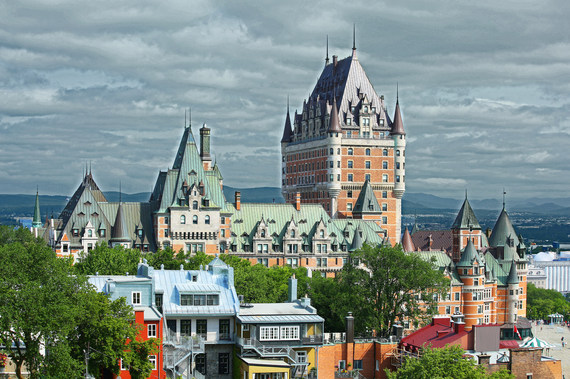 Image: Rennett Stowe, Quebec City via Flickr CC BY 2.0
Here's your chance to experience a little slice of Europe without leaving North America. Quebec City is filled with cultural and historical attractions, and Old Quebec is the continent's only walled city north of Mexico. The well preserved architecture, European charm and cobbled streets are just a few of the reasons Old Quebec was designated a World Heritage treasure by UNESCO. You'll also find a thriving culinary scene and plenty of opportunities to shop in areas like Rue Saint-Jean and Petit Champlain District, North America's oldest shopping district.
Phoenix, Arizona, United States (Average airfare down 28%)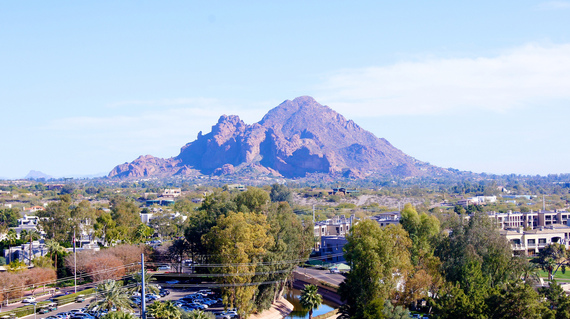 Image: Ted Eytan, Phoenix and Camelback Mountain via Flickr CC BY-SA 2.0
Beat the heat and save with a September or October trip to Phoenix. A visit to this Arizona city allows for a perfect balance between city life and natural beauty. Take your pick from over 80 kilometres of desert trails in the 16,000-acre South Mountain Park and Preserve or climb Camelback Mountain for some fresh air and exercise, then get your art fix among the galleries along Roosevelt Row and at the Phoenix Art Museum, which happens to be the Southwest's largest fine art museum. When it's time to grab a bite to eat, head to Heritage Square, and if you're looking to shop, Old Town Scottsdale is a great bet for one-of-a-kind finds.
Myrtle Beach, South Carolina, United States (Average airfare down 27%)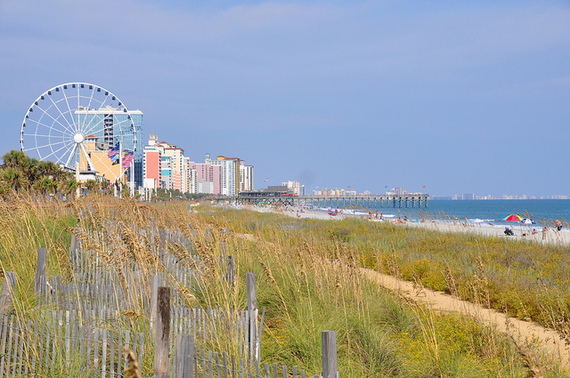 Image: James Willamor, Myrtle Beach via Flickr CC BY-SA 2.0
While Myrtle Beach is a great summer beach destination or winter escape, don't overlook a visit in the autumn. In addition to lower airfares, you can enjoy lingering warm weather perfect for a place with nearly 100 kilometres of beautiful sandy beaches, and over 100 golf courses. If you've got kids, check out one of over 50 themed mini golf courses. Myrtle Beach is also a burgeoning craft beer destination, with many pubs and restaurants pouring craft beers, including Handley's Pub and Grub, which has over 50 craft beers available. History buffs will want to check out the city's many historical attractions like the Vereen Memorial Historical Gardens and the Hopsewee Plantation.
Follow HuffPost Canada Blogs on Facebook