Planning a vacation to an idyllic tropical destination is never a bad idea, but it's not always feasible. Often, the further you go, the more you're likely to pay, but you don't have to leave the country to get the beachside escape you're craving -- you have more than enough options right at home.
Save money, stretch your vacation dollar and plan a tropical-inspired budget-friendly holiday at some Canadian destinations that offer much of what you would get at a beachside resort or palm-fringed island. Cheapflights.ca has come up with eight options for getting some sun and fun right here in Canada.
Wasaga Beach, Georgian Bay, Ontario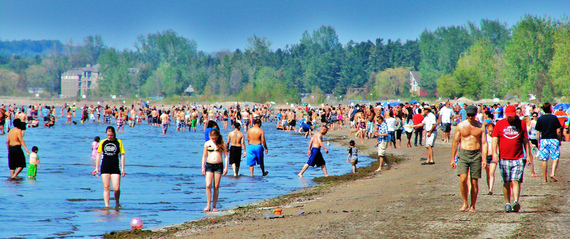 Image: Steve Nicholson, Saturday, Long Weekend in May via Flickr CC BY 2.0
You don't have to jet off to tropical destinations to find a beach you'll want to set up shop on. Wasaga Beach on Georgian Bay is well worth a visit and also happens to be the longest freshwater beach in the world. The 14-kilometre stretch of soft sand is as inviting as that on any island escape and offers eight beach areas where you'll find find playgrounds, shops, food stands, picnic tables, bars and restaurants depending on what you feel like doing and who you're beach-hopping with. There are lots of options for places to stay around Wasaga Beach, from cottage rentals to hotels.
Wards Island, Toronto, Ontario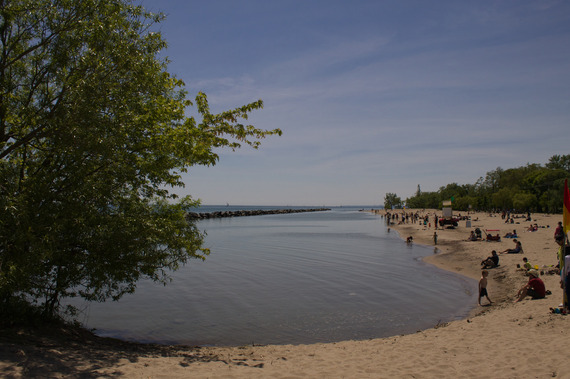 Image: mark.watmough, Toronto Islands 2014 via Flickr CC BY 2.0
Just a quick ferry ride from bustling downtown Toronto you'll find Wards Island, part of the Toronto Islands that also include Centre Island and Hanlan's Point. The ferry ride is in itself a fun way to feel like you're getting far away from the city without actually travelling for long. Once you disembark, Wards Island was made for aimless wandering. There's a beach (busy on weekends but less so during the week), a maze of cottage-like homes to check out and the adorable Island Café offers the chance to sip grapefruit sangria under a colourful umbrella (and embrace the tropical-like vibes). In terms of where to rest your head, there are a few bed and breakfasts on Wards Island or some rental options on Airbnb.
World Waterpark, Edmonton, Alberta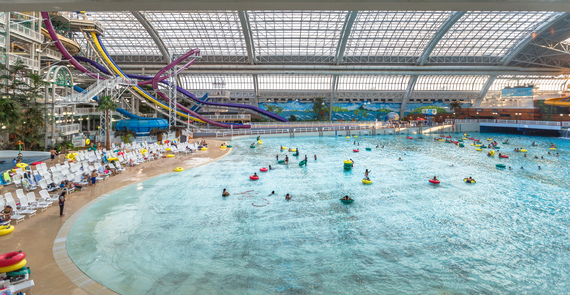 Image: IQRemix, West Edmonton Mall via Flickr CC BY-SA 2.0
OK, so you might not think "mall" when you think about a tropical escape, but West Edmonton Mall boasts their very own tropical paradise in the form of World Waterpark. Here you'll find the world's largest indoor wave pool as well as close to 20 waterslides and other features for water play. If you'd prefer to relax rather than dive into the wave pool or zip down a slide, rent a cabana with seating for up to 10, lounge in a hot tub or sip a tropical drink at Pina Colada Bar.
Chesterman Beach, Tofino, British Columbia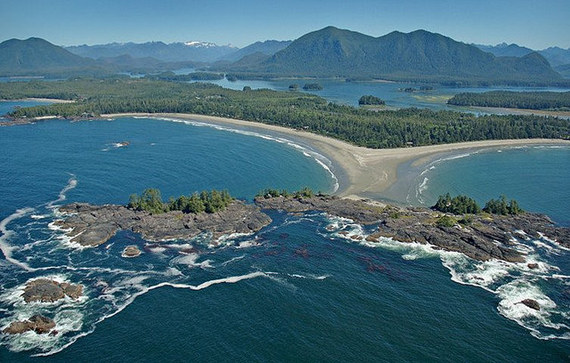 Image: Alan & Flora Botting, Canada- Tofino- Chesterman Beach 1 via Flickr CC BY-SA 2.0
Almost three kilometres of white sand help make Chesterman Beach the most popular stretch of sand in Tofino for residents of the area and an idyllic escape right here in Canada. Setting up shop here for a few days is also a good option for anyone with an interest in surfing as Tofino is Canada's surf capital and Chesterman is one of the best beaches for beginner surfers. The area is dotted with charming bed and breakfasts so there are ample options for places to stay.
Grand Beach, Grand Beach National Park, Manitoba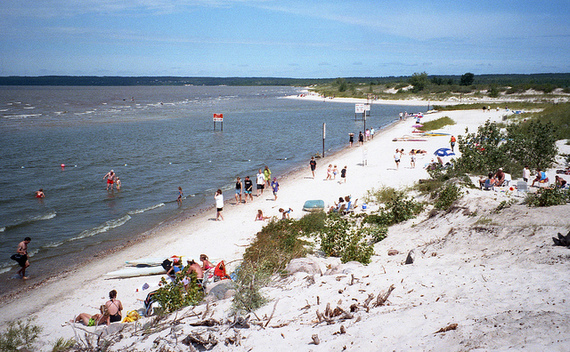 Image: Robert Linsdell, Grand Beach via Flickr CC BY 2.0
This three-kilometre white sand beach, on the shores of Lake Winnipeg (the sixth largest lake in Canada), is the perfect spot to soak up the sun and feel transported to more tropical climes. Grand Beach is known as one of the best beaches in North America so you know you won't be disappointed with your choice of Canadian sand and surf destination. There are also 12-metre high sand dunes to explore and snap Instagram-worthy pictures of. Camping is an option if you feel like sleeping under the stars, or cottage rentals are available adjacent to the park.
Manitou Beach, Saskatchewan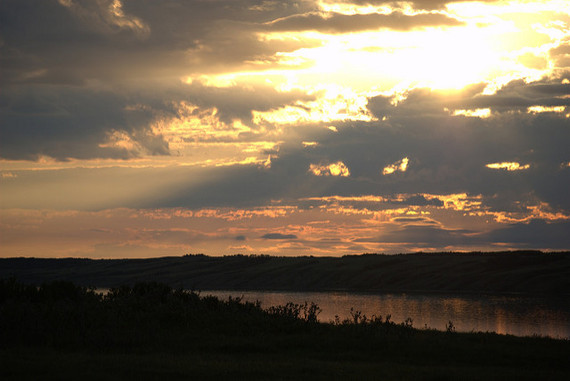 Image: Just a Prairie Boy, Little Manitou at dusk via Flickr CC BY 2.0
One hundred kilometres southeast of Saskatoon is where you'll find Little Manitou Lake -- and this isn't just any lake. It's known as the Dead Sea of Canada for its rich mineral properties and the fact that, like the Dead Sea, the waters are so dense you can easily float without effort. If you feel like some extra pampering head to the Manitou Springs Resort & Mineral Spa to enjoy the mineral pool there. The pool is open from 9 a.m. to 10 p.m. daily and a day pass costs $12. Manitou Springs Resort also offers accommodation, or there are several other hotels and motels in the area.
Parlee Beach Provincial Park, Pointe-du-Chêne, New Brunswick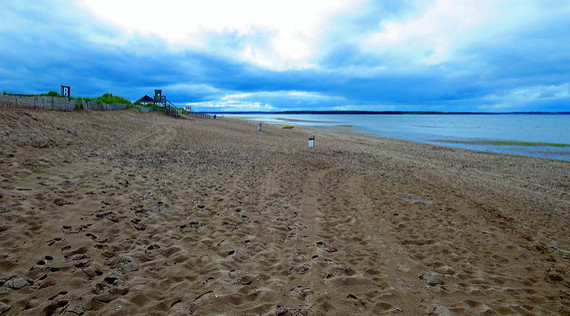 Image: Jason Enslow, Parlee Beach Provincial Park via Flickr CC BY-SA 2.0
Parlee Beach is home to the warmest saltwater in Canada so heading to here to get a taste of the tropics (without leaving the country) is the perfect alternative to going further afield. Parlee Beach offers supervised swimming, football, volleyball, ultimate Frisbee and even a sand sculpture competition. Choose from 190 campgrounds or find alternate accommodations close by. Nearby in Shediac you'll also find a quirky attraction like the world's largest lobster sculpture, which will likely inspire some funny photo ops.
Great Wolf Lodge, Niagara Falls, Ontario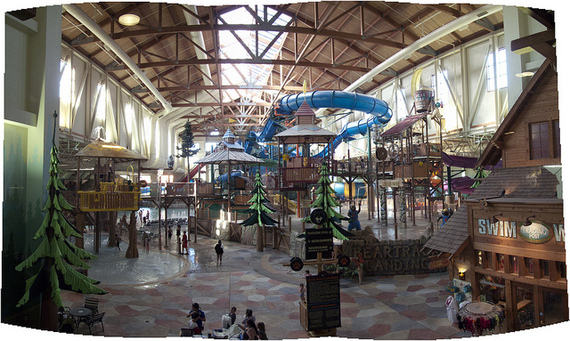 Image: Roger Ahlbrand, GWL PANO via Flickr CC BY 2.0
For families looking to feel like they've hopped a plane to a more southerly destination, Great Wolf Lodge can offer a closer alternative -- and a lot of fun for both kids and adults. The massive indoor water park resort has something for everyone's preferred activity level, from relaxing lazy rivers and kid-friendly attractions, to more thrilling water slides. There are also whirlpool hot spas to hang out in (including one for adults only) and cabanas to chill out in.
Follow HuffPost Canada Blogs on Facebook
ALSO ON HUFFPOST:
Best Places To Camp In Canada