If you're a snowbird heading south for the winter, you might be packing a pooch along for the ride as well. Until recently, jet-set pets looking for pre-flight places to do their business had few options once past the security checkpoint.
A federal regulation on United States now requires airports that serve more than 10,000 passengers a year to have in-terminal pet relief areas for service animals accompanying travellers, and most are open to any other four-legged passengers or service workers. The same doesn't hold true yet in Canada. So far only Vancouver International Airport provides an indoor loo for pets, though the rest of the country can't be far behind.
While many pet relief areas are merely small patches of fake grass in hidden corners of terminals, others are pet parks with real grass, faux fire hydrants and space to run and play. Cheapflights.ca checked in at top airports across North America to get the scoop on post-security pet relief stations so you can find the best rest stops for your furry friends.
Vancouver International Airport, Vancouver, BC
Vancouver International Airport's Pet Relief Area near Gate 76 in the United States Departures area offers pooches a place to go potty on artificial grass in a large enclosed area. This is the only Canadian airport that offers an in-terminal pet relief area that doesn't require re-entry through airport security. The pet relief area is a new addition - it opened in June of this year - but airport officials hope other airports might follow their lead.
Miami International Airport, Miami, Florida, United States
Miami International Airport recently opened an indoor, post-security pet restroom called SARA (Service Animal Relief Area) in Concourse D near Gate 34 and has three more scheduled to open later this month in Concourse F, Concourse G and Concourse J. SARA includes a patch of Astroturf, two sprinkler heads to clear waste and cleaning supplies for pet owners. The airport also has three outdoor pet relief areas. Miami is the first international airport in South Florida to add indoor pet relief areas (Fort Lauderdale-Hollywood International Airport plans to add indoor pet relief areas in Concourse A and Concourse B in Terminal 1 in June 2017, as well as one in Concourse D in Terminal 2 and one in Concourse G in Terminal 4 in 2018, according to the "Sun-Sentinel").
Logan International Airport, Boston, Massachusetts, United States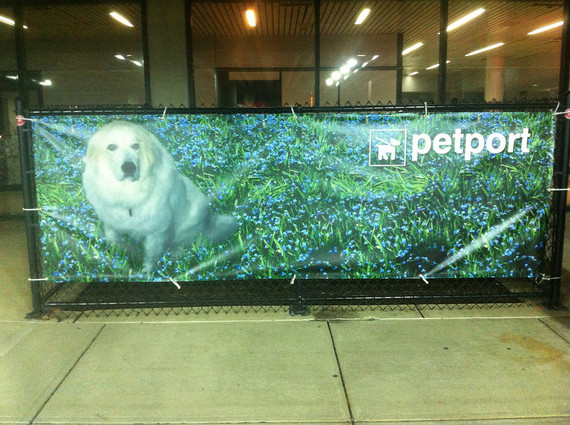 Petports offer pooches a place to go when nature calls. (Image: Frank Hebbert, petport via Flickr CC BY 2.0)
Boston's Logan International Airport offers four-legged travellers four Petports - small, no-frills grassy relief areas - in Terminal A, Terminal B, Terminal C and Terminal E. Their location within the terminals means two-legged travellers don't have to leave the terminal and go through security a second time.
John F. Kennedy International Airport, New York, New York, United States
There are several purr-fect places for pets to relax and relieve themselves at New York's John F. Kennedy International Airport. JetBlue's rooftop lounge adjacent to Terminal 5 offers respite for both humans and pets. The 4,046-square-foot rooftop includes landscaped green spaces, seating for 50 people, a children's play area, food kiosks and a dog walk area. The space is open to all airline passengers and pets. In Terminal 4, there is a 70-square-foot pet relief room that includes artificial green grass, a fire hydrant, a hose for cleaning and plastic doggie bags. The airport is also set to open ARK -- a $32 million facility equipped with a veterinary hospital and 24-hour Paradise 4 Paws resort that offers a bone-shaped dog pool, pet suites with flat screen TVs and pet massage therapy among other services -- later this year.
Los Angeles International Airport, Los Angeles, California, United States
Los Angeles International Airport leads all U.S. airports with the most pet relief areas of any U.S. airport. The airport boasts three mini Pet Parks and seven pet relief stations. The Pet Parks are located on the Lower/Arrivals Level of the Central Terminal (between Terminal 1 and Terminal 2), on the southeast end of the Central Terminal Area (near Terminal 7 and Terminal 8) and beyond security at the Tom Bradley International Terminal. Each park has a small doghouse, trash can and plastic bags for waste. Note: pets cannot be unleashed at the Terminal 7-8 location.
San Diego International Airport, San Diego, California, United States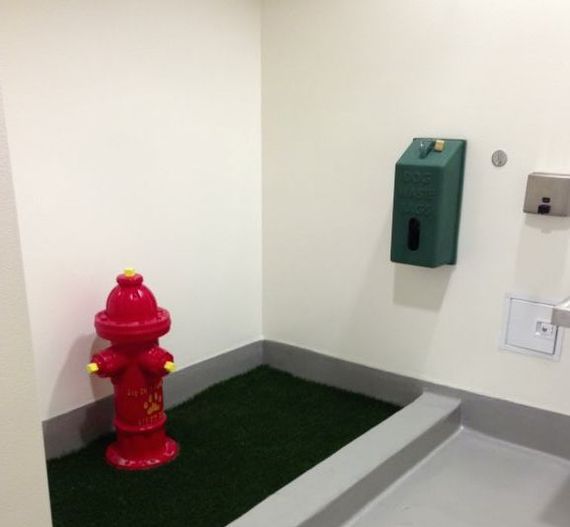 Pets passing through San Diego International Airport can find relief inside the airport. (Image: Kate Ter Haar, Pet Relief Station at the San Diego Airport via Flickr CC BY 2.0)
Not only does San Diego International Airport offer the Ready, Pet, Go. program, a travel ambassador program with 13 dogs, including a Shih Tzu and Goldendoodle, that provide pet therapy to passengers, the airport also opened the nation's first dog bathroom back in 2013. Located between Gate 46 and Gate 47 in Terminal 2 West, the 75-square-foot pet relief area includes faux grass, a hydrant, two deodorizers, free waste bags and a hand-washing sink.
To learn about pet relief stations at other airports across the U.S. go here.
Follow HuffPost Canada Blogs on Facebook