It's beginning to look a lot like Christmas, everywhere you fly.
With the rush of holiday travel just around the corner, airports around the globe are doing their best to to get passengers in the festive spirit with decorations, illuminated trees and whimsical treats. Look for everything from ice skating rinks to carollers to Christmas trees at Cheapflights.ca's picks for best decked out airports around the world:
Vancouver International Airport, Vancouver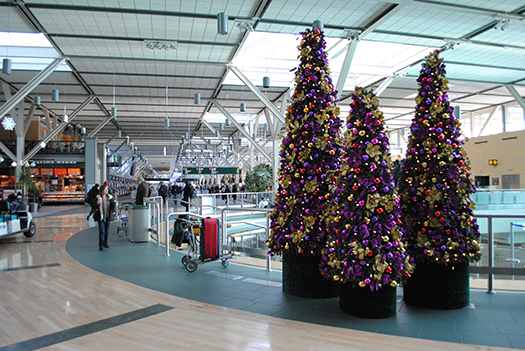 Image: Vancouver International Airport
The sounds of seasonal music entertain arriving and departing passengers at Vancouver International Airport. Free live music and holiday entertainment are set against a backdrop of seasonal installations and photo opportunities. Look for performances both pre- and post-security between 11 a.m. to 3 p.m. from Dec. 16-24, 2016. Holiday perks for passengers in Vancouver include free gift-wrapping for all purchases post-security and double Aeroplan Miles for all travellers who pre-book for stays until Dec. 31, 2016 with jetSet Parking for a minimum four-day stay.
Changi Airport, Singapore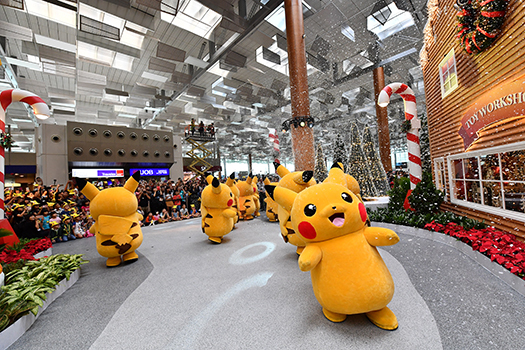 Image: Changi Airport
Changi Airport's holiday theme this year is "Pokémon at Changi," capitalizing on the popularity of Pokemon Go. The Singapore airport will be turned into a lair for the pocket monsters through Feb. 11, 2017. The holidays kicked off in mid-November with a Pikachu Parade featuring 10 of the bright yellow characters. The holiday set-up in Terminal 3's departure hall includes a giant seven-foot Pikachu and a Gingerbread House that is home to Santa's Workshop and Mrs. Claus' Confectionary, which is filled with toys and treats.
Pikachu visits the Gingerbread House on weekends until Jan. 1, 2017. More Pokémons are in the Terminal 3 departure hall, while three life-size Snorlaxes lounge at the Snorlax Garden for photo ops. Pokémon trainers and visitors can embark on a Poké Trail for a chance to win exclusive Pokemon merchandise by hunting for the 26 Pokémon waiting to surprise them at various locations across Changi Airport.
At the Terminal 2 and Terminal 3 departure halls, visitors can find virtual face painting kiosks where they can see themselves turned into Pikachu. Pokémon fans can buy a full set of nine limited-edition Pokémon plush toys including Pikachu, Eevee, Bulbasaur, Charmander and Squirtle and three new characters from Nintendo's new Sun and Moon series - Rowlet, Litten and Popplio - as well as the Poké Ball.
Heathrow Airport, London, England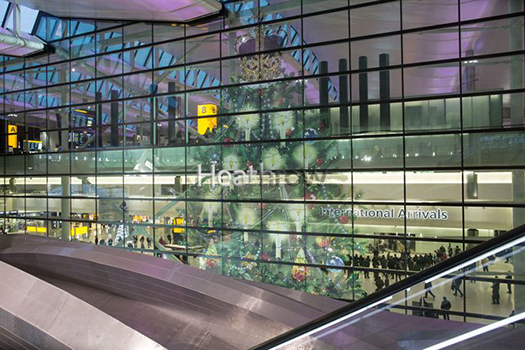 Image: Heathrow Airport
At Heathrow Airport in London, passengers are treated to performances by a string quartet and carollers. Don't miss Santa Claus handing out chocolates. Children can participate in workshops to make Christmas candles and tree decorations, and they can eat for free at Heathrow's restaurants during the holiday season. Travellers departing from Heathrow and shopping along the way can receive complimentary gift-wrapping. Emotional reunions are aplenty in the arrivals area, so it's no wonder parts of the holiday film "Love Actually" were filmed there.
Zurich Airport, Zurich, Switzerland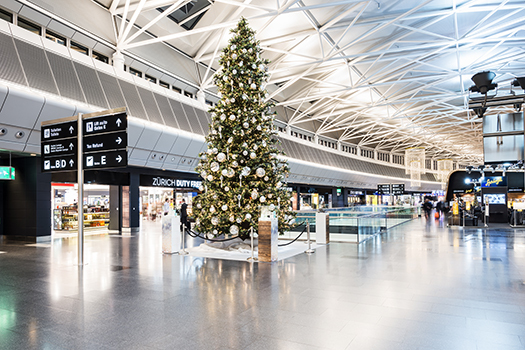 Image: Zurich Airport
Zurich Airport is aglow for the holidays, literally. The airport is decked with 500,000 lights inside and outside. The Airport Center on the landside is draped with huge chandeliers and chains of lights. Post-security, there is a 26-foot tree, decked with Swarovski ornaments and festive sleighs, which is the perfect place for selfies. Near the gates, there's another Christmas tree decorated by Tiffany & Co. Swarovski, Fogal and Lindt offer their products in specially-built and festively decorated pop-up stores.
Holiday events include an Advent Brunch, fondue, raclette and wine tastings at airport restaurants. Children can decorate gingerbread and bake cookies in the Airport Bakery, and Santa Claus is making visits too. Passengers can enter to win prizes like shopping vouchers and a European flight with Germania. The grand prize, a pair of long-haul tickets in SWISS Business Class, will be drawn on Dec. 24. All passengers get free chocolate every weekend in December.
Orlando International Airport, Orlando, Florida, U.S.A.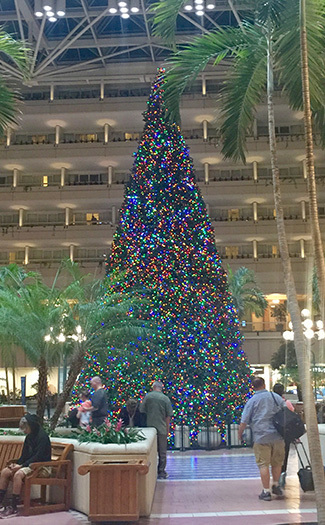 Image: Lauren Mack
The holidays at Orlando International Airport may not be quite what they are at nearby Walt Disney World, but they're still an impressive addition to the festive season for travellers. A massive tree with blue, red, green and yellow LED lights graces the atrium of terminal B. It's easily one of the largest trees seen in an airport terminal.
Toronto International Airport, Toronto, Ontario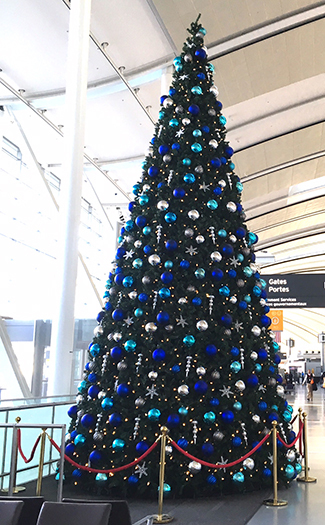 Image: Toronto Pearson International Airport
Toronto Pearson International Airport becomes a winter wonderland during the holidays. There is a 27-foot tree in the check-in area of Terminal 1, an 80-foot tree in the check-in area in Terminal 3 and an 18-foot tree in the T1 domestic baggage hall. The airport is also decorated with wreaths and smaller trees. The Toronto airport hosts a retail and restaurant decorating contest, which ratchets up the holiday flair. Travellers are also in for some yet-to-be-announced holiday surprises and fun retail promotions.
Denver International Airport, Denver, Colorado, U.S.A.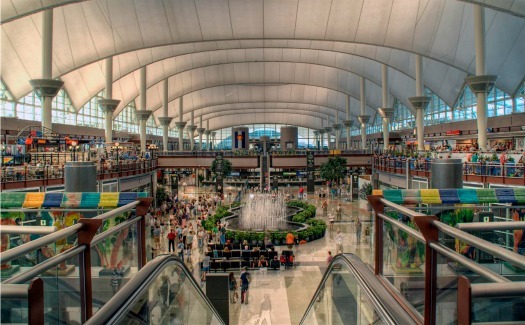 Image: Tim Whiteaker, dia1 via Flickr CC BY 2.0
Denver International Airport is kicking off its holiday season with the addition of an ice skating rink on the airport's open-air plaza. Skating is free from Nov. 25- Jan. 1 from 9 a.m. to 9 p.m., and carollers and costumed characters will make surprise appearances. In addition to this winter wonderland, the airport will also have an outdoor holiday market from Dec. 9-11, featuring local crafts and food items. Have some time on your hands before your flight on Dec. 16? Starting at 4 p.m. on the DEN Plaza, catch a holiday "Film on the Fly" with a screening of "National Lampoon's Christmas Vacation" and an Ugly Holiday Sweater contest (also perfect for keeping cozy - and festive - on your flight!).
Click here to read more.
Follow HuffPost Canada Blogs on Facebook