Visiting cities can be a great travel experience. They can be exciting and offer a multitude of things to see and do, but cities can also be expensive when it comes to accommodation and food, and sometimes you just want a slower pace when you travel. That's where suburbs and small towns come in.
There are so many across Canada that are worth trading city time for, especially in the summer. If you're looking for an alternative vacation idea, why not stay outside the city? Here's Cheapflights.ca's take on some worthwhile spots close to major cities like Montreal, Toronto and Edmonton that offer proximity to the hustle and bustle, as well as their own unique charm.
Boucherville, Quebec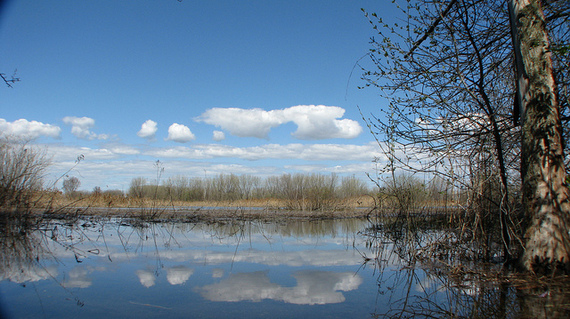 Image: Gilles Douaire, îles de Boucherville via Flickr CC BY-SA 2.0
This suburb of Montreal recently nabbed a top spot on "MoneySense" magazine's list of the top places to live in Canada. Located on the south shore of the Saint Lawrence River, the charming area is a draw for a few reasons, one of them being Parc National des Iles-de-Boucherville, made up of five small islands. Hikers and bikers (bikes are free for kids 17 and under riding with family) can enjoy a network of 21 kilometres of trails, canoeists and kayakers can tackle the eight-kilometre marked water trail and campers can spend the night under the stars. Boucherville also offers a good balance of things you'll find in a city, without the same speedy pace.
Victoria-by-the-Sea, Prince Edward Island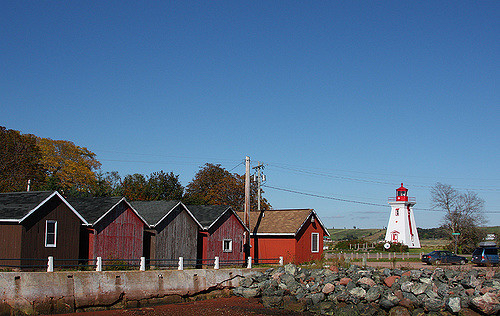 Image: cbransto, Victoria by-the-Sea, PEI via Flickr CC BY 2.0
If you're looking to travel somewhere that makes you feel as if you've walked directly into a postcard, Victoria-by-the-Sea could be just the place you're searching for. Located halfway between Charlottetown and Summerside on the south shore of Prince Edward Island, this postcard-worthy village of Victoria puts you smack dab by the seashore, and it also happens to be filled with unique shops selling handcrafted items ranging from soaps to jewellery, and restaurants serving some of the freshest seafood you'll find in Canada. Rest your head at The Orient Hotel, a historic hotel established in 1900.
St. Andrews by-the-Sea, New Brunswick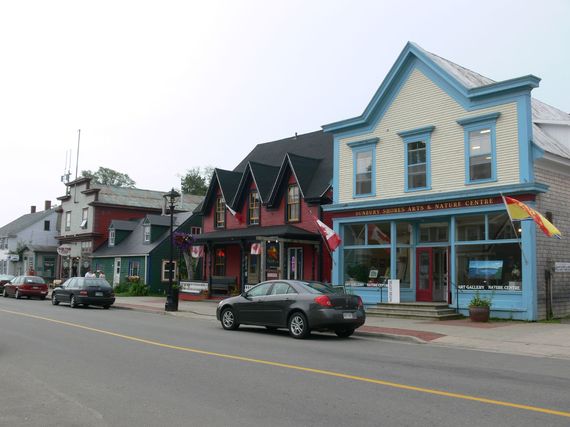 Image: Cernavoda, St. Andrew's-By-The-Sea Downtown via Flickr CC BY-SA 2.0
The National Historic District of St. Andrews by-the-Sea (or simply St. Andrews) is one that most visitors are hard pressed not to fall immediately in love with. Founded in 1783, St. Andrews has a lot of what you might find in a larger city, but offered at a much slower pace, in a more laid back setting - and all just an hour and a half from Saint John or two hours from Fredericton. Whether you want white sand beaches, world-class golf, art galleries and museums, watersports like kayaking and scuba diving, or shopping, you can find in St. Andrews. Don't leave without a visit to the St. Andrews Farmers' Market, which takes place every Thursday in Market Square May 26 through September. Shop fresh, local produce, handcrafted jewellery, hand spun scarves and more while snacking on pastries or wood-oven fired pizza.
Dundas, Ontario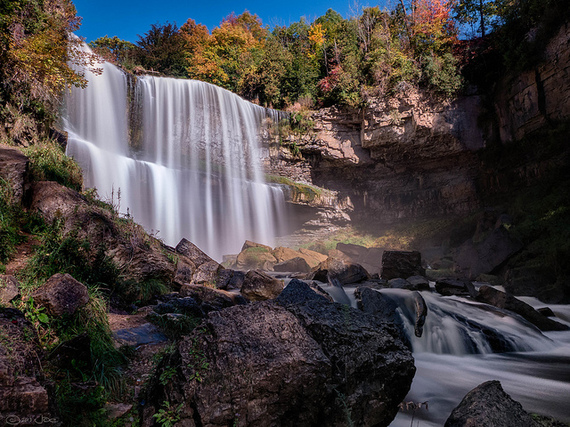 Image: Joe deSousa, Webster's Falls, Dundas, Ontario via Flickr CC0 1.0
Trade the hustle and bustle of city life for the slower pace of Dundas, Ontario, located about an hour outside of Toronto and less than 20 minutes from the city of Hamilton. The small historic town is the perfect place to set up shop for a few days of sightseeing, shopping and getting back to nature at one of the area's many parks, hiking trails and waterfalls. Dundas' downtown area should have enough to keep most travellers busy, with its array of independent shops, cafes, bars and restaurants.
St. Albert, Alberta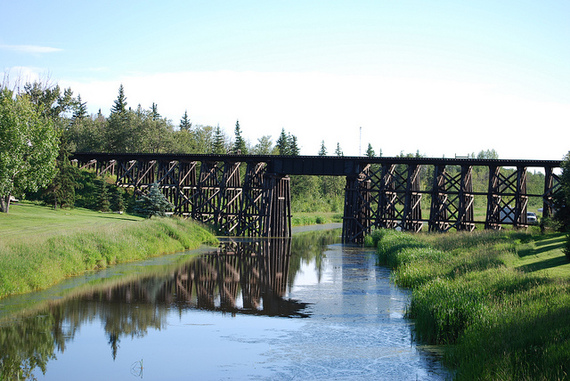 Image: holdsworthdesign, St Albert Alberta via Flickr CC BY 2.0
Located just minutes from Edmonton, St. Albert is home to the only provincial park in Alberta's capital region, Lois Hole Centennial Provincial Park. St. Albert is known as "The Botanical Arts City" and has a wide variety of things to see and do depending on where your travel interests lie. Art lovers will want to search for the more than 30 pieces of public art where upon locating them you can scan the interactive code to learn more about each piece. History buffs can tackle the self-guided Founders' Walk to learn all about the history of St. Albert and outdoorsy visitors can explore Lois Hole Centennial Provincial Park (a great spot for bird watching) and spend some time in St. Albert Botanic Park. Make sure to grab a seat on the Botanical Loop, a free hop-on, hop-off bus that runs Saturdays all summer and stops at several of St. Albert's best attractions.
North Vancouver, British Columbia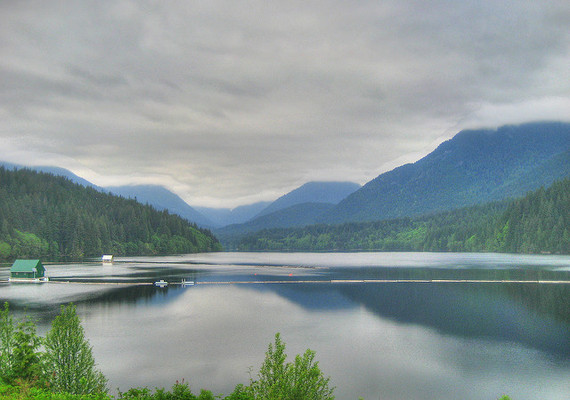 Image: Kyle Pearce, Capilano Lake in the Clouds via Flickr CC BY-SA 2.0
Anyone who loves the outdoors and being active will want to add North Vancouver, British Columbia to their travel wish list. Whether your preferred way to get active outdoors is kayaking, hiking, playing golf, or mountain biking you'll get a chance to do in North Vancouver, located within easy access to downtown Vancouver. In addition to outdoorsy activities, visitors will want to check out the Lonsdale Quay Market on the waterfront. Shop local vendors and artisans, browse the fresh produce, stop for a drink at Green Leaf Brewing Co. and snack on whatever the food vendors have on offer.
Wellington, Ontario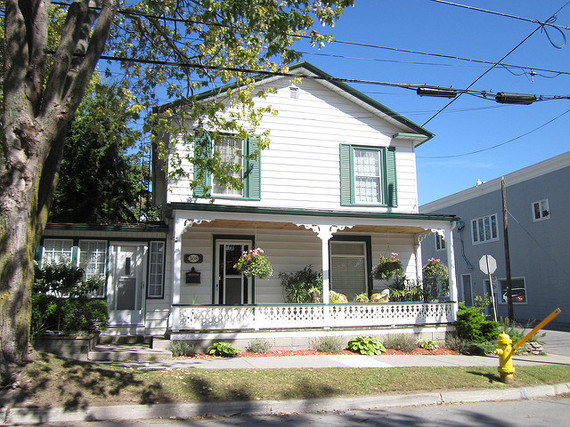 Image: Doug Kerr, Wellington, Ontario via Flickr CC BY-SA 2.0
Just over two hours from Toronto you'll find Wellington, Ontario, a picturesque town on the north shore of Lake Ontario in Prince Edward County. Book a room at a cozy bed and breakfast (of which there are many to choose from in the area) and plan for a few relaxing days of getting to know one of the prettiest towns in the province. A trip to Wellington puts you well within easy exploring distance from one of Canada's newest VQA wine regions as well as the largest freshwater sand dunes in the world located in Sandbanks Provincial Park.
Portneuf, Quebec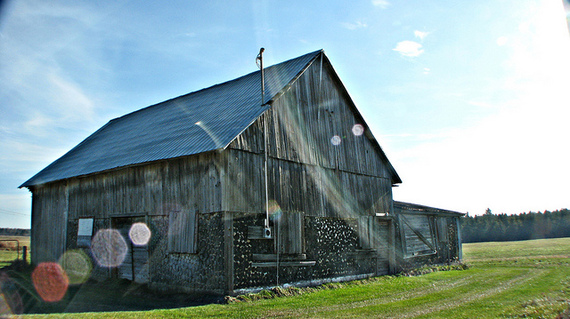 Image: Gilles Douaire, Saint-Casimir, Québec via Flickr CC BY-SA 2.0
Located less than 45 minutes from Quebec City, pretty Portneuf is a region that oozes the charm of a quaint village, offering both cultural and nature-based attractions, depending on what you're in the mood for. Foodies will love discovering cheesemakers, a farmers' market, a vineyard, restaurants and cafes serving great food and even a chocolatier. You can then work off all those goodies with a bike ride along some of Portneuf's nearly 500 kilometres of cycling routes.
Want to check out more great suburbs? Discover cool off-the-radar towns along the U.S.-Canada border.
Follow HuffPost Canada Blogs on Facebook
ALSO ON HUFFPOST:
Best Places To Camp In Canada