With Halloween right around the corner, you may be itching to find something spooky to do. That might mean watching scary movies or visiting haunted houses, but why not kick things up a few frightening notches and book yourself a haunted hotel room?
Yes, there are hotels and specific hotel rooms, purported to be haunted, that you can actually stay in. Curious? Here are Cheapflights.ca's picks of seven ghostly hotels where you can spend the night -- if you dare.
The Stanley Hotel, Estes Park, Colorado, United States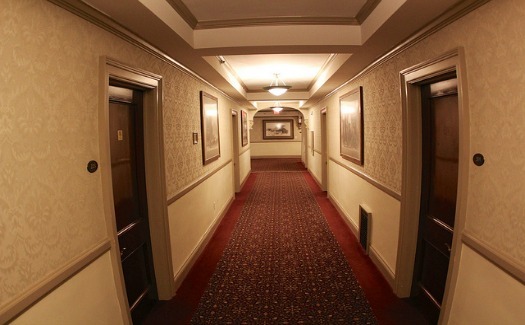 Image: daveynin, Haunted hall via Flickr CC BY 2.0
The Stanley Hotel is over 100 years old and boasts a stunning location and beautiful architecture, but that's not all it's known for. Anyone who has read or seen the movie version of Stephen King's "The Shining" knows just how scary that story is. If you're curious as to what could have inspired such a spine-tingling tale, you might want to pay a visit to the Stanley Hotel.
Rumour has it that King stayed in room 217 back in 1974 on a night when the hotel was nearly deserted as the property was just about to close for the winter. Though the entire hotel is known for paranormal occurrences, room 217 seems to see the most ghostly action. According to the hotel's history, countless guests have seen and heard strange things like lights turning on and off, doors opening and closing, strange laughter and footsteps, drafts and unexplained chills.
Russell Hotel, Sydney, Australia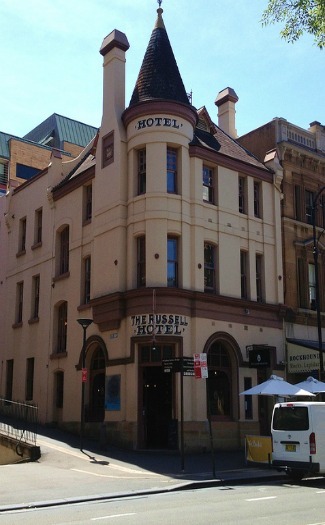 Image: Jan Smith, Russell Hotel, The Rocks, Sydney via Flickr CC BY 2.0
Russell Hotel is located in The Rocks, the oldest area of Sydney and one of the most convenient for checking out many of the city's best known attractions. The boutique property also has a reputation for being haunted, thanks to the area's storied and somewhat seedy past.
Now a favourite location among visitors to Sydney, The Rocks was once known as a crime-filled area that attracted some shady characters, as well as sailors looking for adventure in port (with many getting more than they bargained for once they found themselves in the neighbourhood's dark alleys). One such seafarer is said to haunt the halls of the Russell Hotel, taking particular interest in room 8. Some guests have reported waking to find him staring at them from the foot of the bed.
Battery Carriage House Inn, Charleston, South Carolina, United States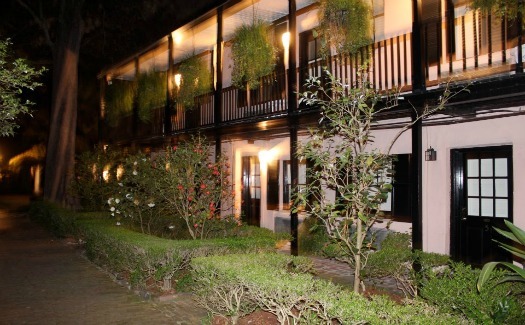 Image: Battery Carriage House Inn
Located across from Charleston Harbor, the historic Battery Carriage House Inn has just 11 guestrooms and is known as one of the most romantic inns in Charleston. However, it is also reputed to be one of the most haunted. So if you like your romantic getaway with a side of the spooky, this might be the place for you. The property is said to be home to several ghosts.
Over the years, many guests have reported strange and spooky sightings, all of which are well documented on the inn's website. Rooms 3, 8 and 10, in particular, have been known for their paranormal presences and unexplained happenings, including a sighting of a headless torso in room 8 and a congregation of ghosts in room 3.
Chillingham Castle, Chillingham, England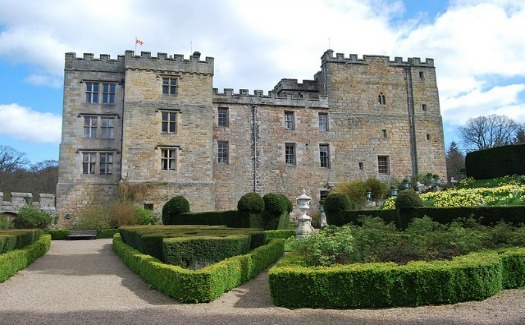 Image: David Clay, Chillingham Castle via Flickr CC BY-SA 2.0
If you've ever wanted to stay in a haunted medieval castle, you can get your chance in Chillingham, England. Given that Chillingham Castle dates back to 1344, when it was fully fortified, it's no surprise that ghosts are part of its history. There are ghost tours available for anyone interested in getting to know more about the castle's past and just what kind of presences might be waiting in the shadows.
Some spooky sightings or happenings include a ghost in the pantry, voices in the chapel, ghosts in the courtyard and a ghostly presence in the torture chamber (go figure). For an especially chilling experience, stay in the Pink Room, said to be favoured by a ghost known as the "blue boy." Guests of the room have reported flashes of blue light and loud, wailing noises.
Fort Garry Hotel, Winnipeg, Manitoba, Canada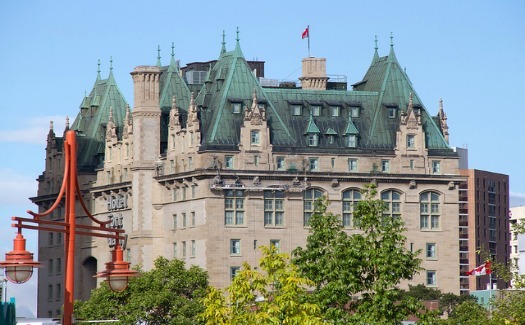 Image: Tony Hisgett, Fort Garry Hotel via Flickr CC BY 2.0
Winnipeg's Fort Garry Hotel is over 100 years old and, as such, you wouldn't be wrong for assuming there might be some haunting going on in the storied hotel's hallways. Guests have reported seeing and hearing a number of strange things, including the sighting of apparitions at the ends of beds, unexplained talking and crying and, in room 202, the ghost of a woman who is said to have hung herself in the closet after getting word that her husband had died.
Queen Mary Hotel, Long Beach, California, United States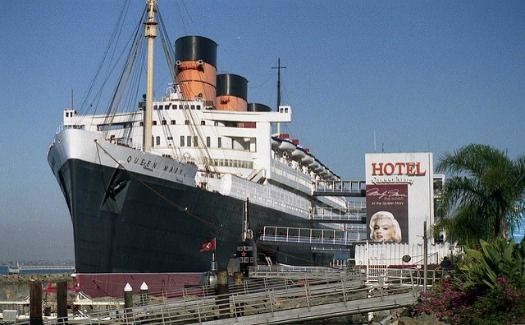 Image: Mike Fernwood, The Queen Mary via Flickr CC BY-SA 2.0
Does the thought of staying on a haunted ocean liner sound intriguing? If so, book yourself a stay at the Queen Mary Hotel in Long Beach, California. The floating hotel is known for its history, its amenities and unique accommodations, but it's equally known for its paranormal activity. On board, you might find yourself face-to-face with such ghosts as a sailor who died in the ship's engine room, a "lady in white" and children who drowned in the ship's pool. Book one of the ship's tours to learn more or check in to a stateroom for your own research.
HI Ottawa Jail Hostel, Ottawa, Ontario, Canada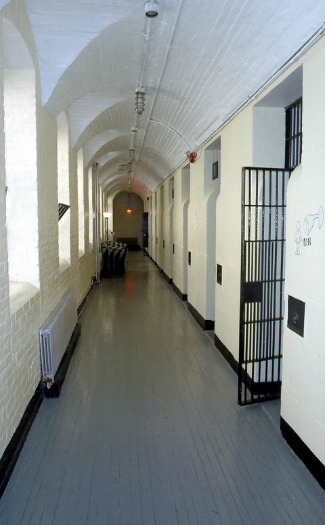 Image: Brian Burke, HI Jail Hostel via Flickr CC BY 2.0
There's a hostel in Canada's capital city that is housed in a 150-year-old former Carleton County jail -- meaning your room will be an authentic jail cell (albeit with free Wi-Fi). HI Ottawa Jail Hostel is conveniently located in downtown Ottawa and, in addition to letting you sleep in the slammer, offers free breakfast.
All these perks and quirks aside, though, what makes this hostel stand out are the numerous ghostly encounters guests report. Our advice to those looking to stay here: sign up for the daily free tour to learn more about the history of the jail and its former inmates. Best to be forewarned as the hostel is purported to be one of the most haunted buildings in all of Canada.
To read about more spooky lodgings where you can spend the night, if you dare, go here.
Follow HuffPost Canada Blogs on Facebook
Also on HuffPost:
Urban legends: Famous ghosts from around the world