Compassionate Eye Foundation/Dean Sanderson via Getty Images
Although being stuck with a layover can be frustrating, you'll likely end up playing the waiting game at the airport at some point during your travels. What you do with that layover depends entirely on how much time you have and how far away the airport is from all the action (i.e., downtown).
Whether you're stuck for three hours, six hours, 10 hours or overnight, we're here to help see you through the wait. Here's Cheapflights.ca's guide to passing the time during layovers at some of Canada's major airports.
Toronto Pearson International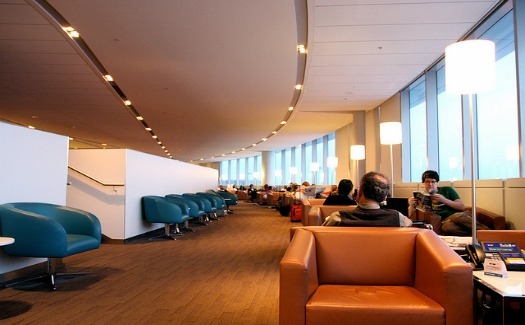 Image: TravelingOtter, Air Canada Maple Leaf Lounge via Flickr CC BY-SA 2.0
If you have three hours: If you happen to end up with three hours to kill at Pearson your best bet is to stay at the airport. Three hours just isn't enough time to leave and come back without missing your connecting flight, but there are things to do. In both Terminal 1 and Terminal 3 there are plenty of opportunities to shop, eat and drink. Your best bet is to download the Toronto Pearson app to get terminal maps to help guide you.
If you have six hours: It's possible to leave the airport during a six-hour layover, but it'll be a tight squeeze. The Union Pearson Express can get you downtown to Union Station in around 25 minutes and they offer a "long layover" round trip fare of $27.50 that can be purchased online. Once you're at Union, the closest attractions to choose from include the Hockey Hall of Fame, CN Tower and Ripley's Aquarium of Canada. If you don't want to risk missing your connection, a six-hour lounge pass will run you $70, but you'll have access to flat screen TVs, comfy chairs, hot food options and drinks (including booze).
If you have 10 hours: A 10-hour layover in Toronto is more than enough time to go forth and enjoy the many sights and attractions the city has to offer. Take the aforementioned Union Pearson Express or a taxi into downtown and do some exploring. The attractions mentioned above are all good options, but in addition, you can also add a brewery tour of Steam Whistle Brewing to your list, as well as a walk around St. Lawrence Market, where you can also stop for something to eat. You might also want to consider a walk down to the waterfront, which is easily done from Union Station (about a 10 to 12-minute walk), depending on weather.
Overnight: There is some armrest-free seating to be found at most gates, which is probably your best bet for at least attempting to get comfortable without waking up with a weird cramp. Or, if you prefer to pull an all-nighter rather than contort yourself into a suitable sleeping position, there are some Starbucks open until 4:30 a.m. to fuel you.
Montreal Pierre Elliott Trudeau International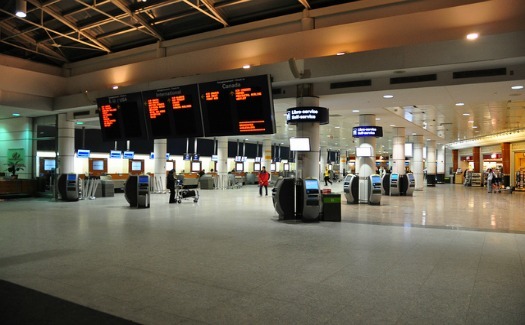 Image: abdallahh, aéroport de Montréal via Flickr CC BY 2.0
If you have three hours: Three hours at Montreal-Trudeau International isn't enough time to leave, so you'll have to occupy yourself at the airport. Luckily, there are many shops, bars and restaurants where you can spend your time. Buy a magazine and sidle up to the bar for a drink at Six Pints or a coffee at Starbucks, shop some duty-free at The Loop or treat yourself to some time at the spa.
If you have six hours: A six-hour layover is tricky. You can get downtown via the 24-hour 747 bus, which takes between 45 minutes to an hour. So that won't leave you a ton of time to explore, especially considering you'll need enough time to go back through security. But, if you're interested, the bus will put you at Berri-UQAM métro station, where you can explore the immediate area or hop the subway to Old Montreal, which is a beautiful spot to wander. If you're short on time, stick to Saint-Paul Street, one of the most picturesque streets in Old Montreal. Alternatively, you can while away the hours in the National Bank World MasterCard Lounge.
If you have 10 hours: A 10-hour layover is more than enough time to head out and explore some of what Montreal has to offer. A jaunt to Old Montreal (as mentioned above) is a must and if you have a few hours you can see more without having to rush. In addition, you can visit the Basilique Notre-Dame, eat a smoked meat sandwich from Schwartz's or Lester's, get a bagel from St. Viateur and check out the Jean-Talon or Atwater market.
Overnight: Getting some shuteye at the Montreal airport might not be easy. Do your best, or at least try to caffeinate enough that you don't need to sleep. Failing that, maybe book a room at an airport hotel. These are the ones with airport shuttle service.
Vancouver International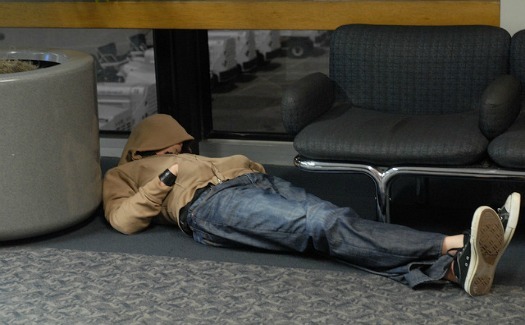 Image: Joshua Ganderson, untitled via Flickr CC BY 2.0
If you have three hours: Like the other airports in our guide, when it comes to leaving with only three hours at your disposal, you likely won't want to risk it. The Vancouver International Airport does have a convenient link direct to downtown but, because security lines can be unpredictable, it's best to stay put. However, all is not lost -- there's lots to see, do and eat while you wait.
If you have six hours: With six hours on hand you can definitely make a break for it. The Canada Line links YVR to downtown Vancouver in just 26 minutes and to downtown Richmond in 18 minutes, so you have your pick of sightseeing options. Getting off at Richmond-Brighouse Station, five stops from YVR, puts you close to Richmond Art Gallery, Gateway Theatre, pretty Minoru Park and the shopping and dining of Richmond Centre.
If you have 10 hours: Ten hours to kill? Even better. OK, not necessarily better, but you will have ample time to discover Vancouver. Hop on the Canada Line and get off at the Vancouver City Centre stop where you'll have access to Vancouver Art Gallery, shopping on Robson Street, heritage buildings along Georgia Street and shopping at Pacific Centre Mall, not to mention restaurants and bars.
Overnight: According to "The Guide to Sleeping in Airports", YVR nabbed fifth spot for best airport to sleep in for 2014 based on an annual survey. So that should be comforting if you're forced to bed down between flights. The site recommends the armrest free seating found at the gates as a good sleeping option
Overnight at the airport: How to stay (reasonably) sane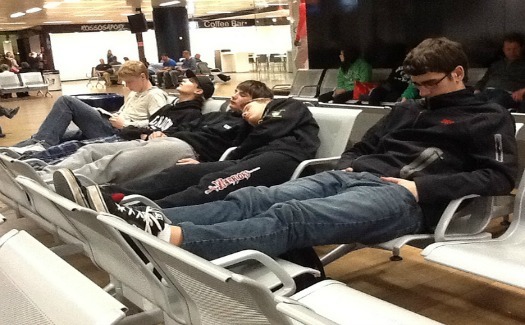 Image: Morag Riddell, apr9_13 via Flickr CC BY 2.0
If you've ever tried to sleep at an airport, even a nice one, you know you're up for a challenge. The average airport isn't exactly built to cater to people looking for a good night's rest. In fact, you might say airports are the opposite of comfort if you have to be in them for more than a few hours. That being said, it's still possible to grab a modicum of shut-eye at the airport. Here are some tips for doing so -- without losing your sanity in the process.
Wear layers: Many airports tend to have the thermostat set to "meat locker", so some extra padding is essential for not freezing while trying to sleep.
Use ear plugs: Airport announcements are LOUD. Don't let someone else's flight announcement get in the way of your beauty sleep. But you may want to set a vibrating alarm if you'll need a reminder of your own boarding time.
Create a makeshift bed: Use whatever you have -- jackets, sweatshirts, underwear -- pile it all into a cocoon-like nest that will be way more comfortable than whatever hard-as-concrete surface you've found to call a temporary home.
Caffeinate: You do not want to be that guy who misses his flight because he was fast asleep at gate 47C. Do not be that guy.
Hide out: Find the remotest, quietest corner that you can to camp out in, especially if you're saddled down with all of your stuff.
Use the buddy system: If you're travelling with someone, sleep in shifts so that someone is always keeping watch over the bags.
Read up on how to pass time at more airports across Canada at Cheapflights.ca.