franckreporter via Getty Images
From snow-capped peaks, to cozy cabins, to the closest you'll get to a European getaway this side of the Atlantic, Canada is chock full of romantic spots for that countdown kiss. But wait 'til the last minute to make plans and you'll end up dropping $100 on a ticket to some sweaty event with a guest appearance from someone who was on The Real World in 2007.
The best way to avoid the almost inevitable disappointment that comes hand in frostbitten hand with these overhyped occasions? Plan ahead. Here's Cheapflights.ca's list of 16 places across Canada to ring in 2016 with that special someone (or, you know, that special stranger... we don't judge).
Under the Northern Lights, multiple locations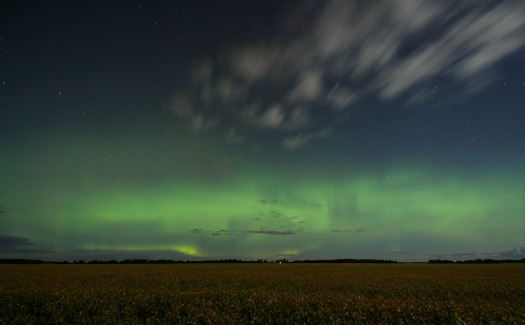 Image: Robert Linsdell, Northern Lights, St. Andrews, Manitoba via Flickr (CC BY 2.0)
Canada is one of the best places to see the Northern Lights, and with solar activity at a peak this year, it may be your best chance to see the aurora borealis, as the famous greenish glow is visible farther south than usual. Follow the tracker here to see where they'll be shining brightest come NYE, then pretend you just stumbled upon them come countdown time ("Oh, these old things?!").
Grande Allée, Quebec City, Quebec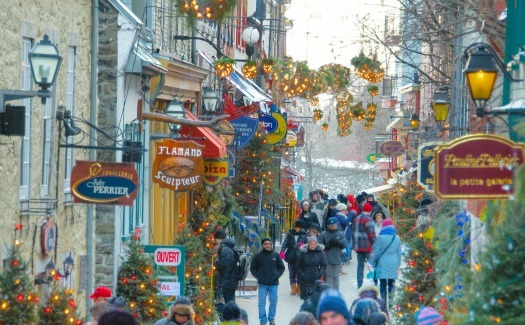 Image: Jamie McCaffrey, Basse-Ville (Lower Town) Quebec Carnival via Flickr (CC BY 2.0)
It can be minus 30 degrees out, and yet Quebec City manages to be the coziest place on earth between Christmas and New Year's. Outdoor heated patios stretch into the streets, merlot and fireplaces warm hole-in-the-wall restaurants, lovers walk arm-in-arm in giant parkas down cobblestone alleys -- it's the most romantic place this side of Europe for that countdown kiss. Afterwards, dance the night away on the Grande Allée strip, which turns into a giant outdoor party complete with live music and fireworks.
The Vancouver waterfront festival, Vancouver, British Columbia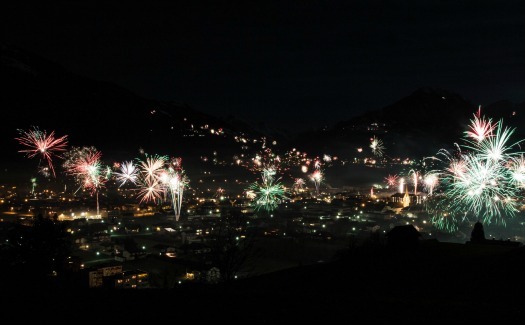 Image: Mathias Erhart, New Year's Eve via Flickr (CC BY-SA 2.0)
For the first time in a decade, Vancouver will play host to a free outdoor New Year's Eve street party along the waterfront with fireworks, food trucks, live music -- the works. Download the viewing area map to get a prime spot for that 3-2-1 smooch.
The Biggest Bash in Niagara Falls, Ontario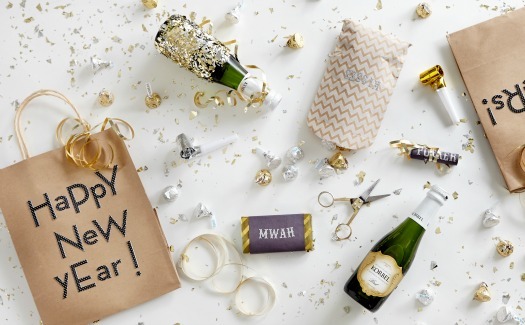 Image: Shari's Berries, New Year's Eve Party Favors via Flickr (CC BY 2.0)
They're not kidding with the title -- last year, this party played host to Keith Urban, Nick Jonas, Lights and Shawn Mendes. While this year's headliners have yet to be announced, kissing as the fireworks burst over the Falls to the dulcet tones of a Jonas would be a hard scene to beat.
Dwayne Gretzky at the Danforth Music Hall, Toronto, Ontario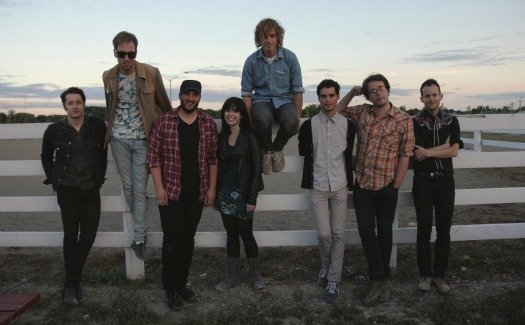 Image: Daniel,Dwayne Gretzky via Flickr (CC BY-SA 2.0)
Toronto's favourite nine-piece supergroup is the epitome of fun, playing covers ranging from Fleetwood Mac to your favourite '90s Big Shiny Tune. If ringing in the New Year covered in confetti, kissing the semi-stranger with whom you've danced the night away sounds ideal, this party is your jam (pun intended).
At that restaurant where you can never get a table, Winnipeg, Manitoba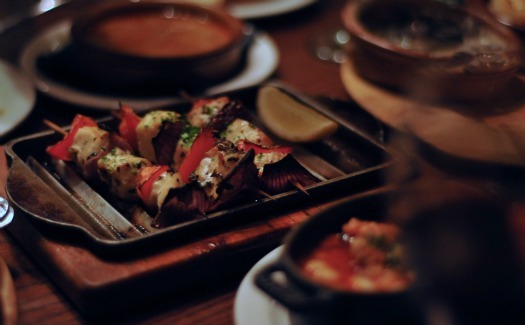 Image: Ben30, Tapas via Flickr (CC BY-SA 2.0)
You may recognize Segovia in Winnipeg from many a best-of list -- it never takes reservations, except on New Year's Eve. Spend the last couple of hours of 2015 living the foodie dream with your date, eating your fill of patatas bravas and pintxos for the price of a three-times-inflated event ticket. Regret nothing.
A chalet in Mont Tremblant, Quebec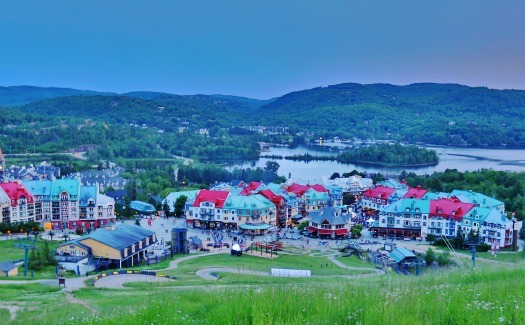 Image: Rennett Stowe, Mont Tremblant Quebec via Flickr (CC BY 2.0)
With some of the best skiing (and parties) in the Canadian east, the colourful chalets of Mont Tremblant are far from sleepy come December 31. Pack a bathing suit, it's almost guaranteed this night will end in a hot tub.
A Haligonian beer garden, Halifax, Nova Scotia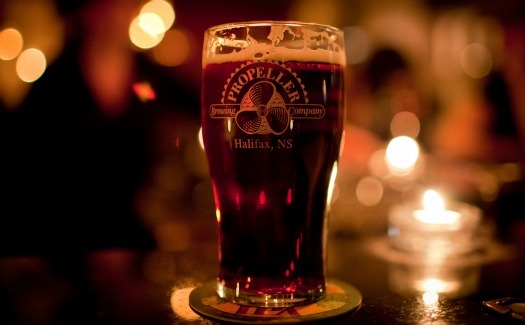 Image: gLangille, Obladee Wine Bar Halifax Gavin Langille via Flickr (CC BY 2.0)
Playing "Where's Waldo" with the singles of Nova Scotia? We're willing to bet you'll find one or two at Stillwell, a bar and beer garden in downtown Halifax. They've yet to release any ticket information on their New Year's event, but Internet rumour has it that it will be one to remember.
L'Auberge Saint-Gabriel, Montreal, Quebec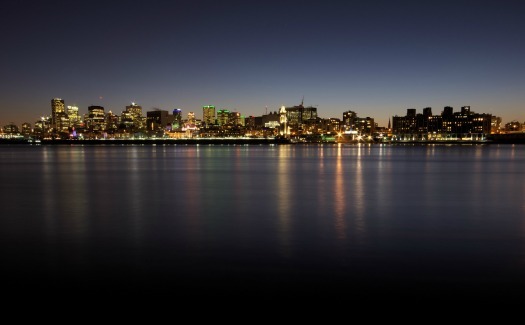 Image: Maelick, Sunset Over Montreal via Flickr (CC BY-SA 2.0)
Sometimes your best bet is to go ticket-free into that good night -- except when you're in Montreal. Maybe it's the ethereal themes, or maybe it's the meals, but the stone-walled Auberge Saint-Gabriel has earned its reputation as one of the hottest tickets in the city for New Year's Eve. This year's theme: Paradise Lost. Just go with it.
A winery in Niagara-on-the-Lake, Ontario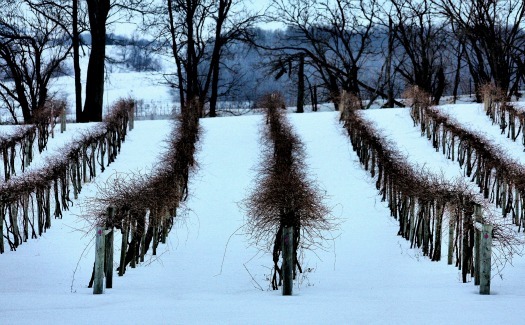 Image: Phil Roeder, Vineyard in the Snow via Flickr (CC BY 2.0)
From the Okanagan Valley to Niagara-on-the-Lake, Canada is crawling with wineries, cideries, distilleries and breweries. Some of the best times to visit are during winter when the crowds subside and the NYE feasts and tastings begin. Some even have special winter tours, like the Peller Estates 10-Below Icewine Lounge made entirely of ice, or the 66 Gilead Gin Distillery, where you can conduct your tasting tour by snowshoe.
A cabin in Algonquin Park, Ontario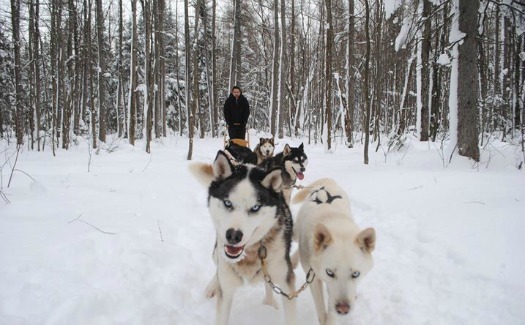 Photo by Chelsey Burnside
Whether it's a cooking class, a snowboarding lesson or an especially adventurous poutine, there's something romantic about trying something new with your significant other to cap off the year. Plan a wintery weekend getaway to one of the many chalets in Algonquin Park, where you can learn to dogsled on the backcountry trails before cozying up by the fire. Mush!
A Nordic spa in Chelsea, Quebec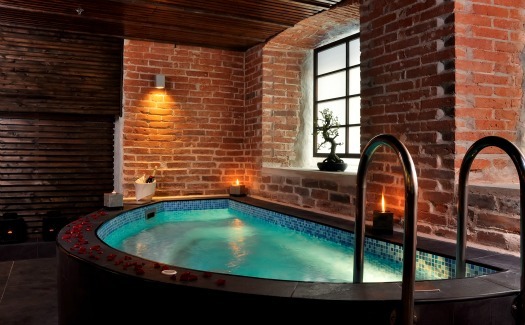 Image: Unique Hotels, Zen SPA Japanese Pool via Flickr (CC BY-SA 2.0)
Carved into the idyllic Gatineau Hills in Quebec, Le Nordik Spa-Nature is the largest spa in North America -- and they're hosting a New Year's Eve event including a four-course meal, wine pairings and access to the outdoor thermal baths, saunas and fire pits. Watching the snow fall, champagne in hand, while lounging in a steamy hot tub? Yes (or should we say, oui) please.
A boutique hotel, multiple locations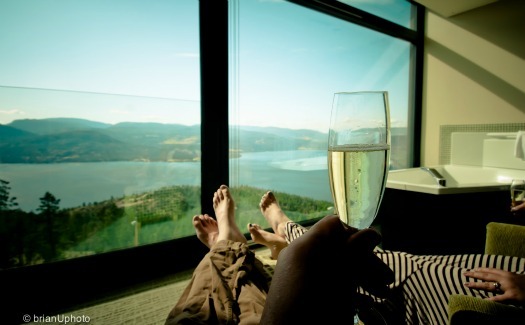 Image: Brian Uhreen, Champagne to set the mood via Flickr (CC BY 2.0)
From the Drake Devonshire Inn in Prince Edward County, Ont., to the Sonora Resort in B.C., Canada is home to some seriously stunning boutique hotels, most of which host perk-fueled parties for guests come New Year's Eve. Wake up overlooking a lake, use last night's leftover champagne to whip up a couple of mimosas, and you've got an NYE for the (guest)books.
Quidi Vidi Lake, Newfoundland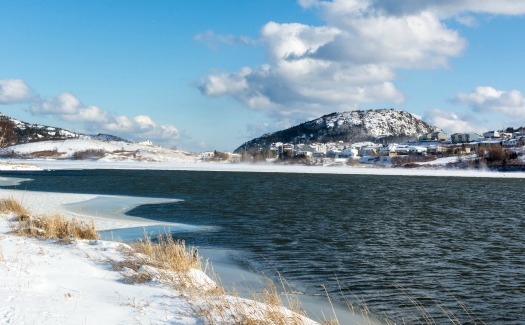 Image: Jeremy T. Hetzel, St. John's 2014 via Flickr (CC BY 2.0)
Be the first in North America to ring in the new year as fireworks rain down on the icy banks of Newfoundland's Quidi Vidi Lake.
Skating at the top of Grouse Mountain, Vancouver, British Columbia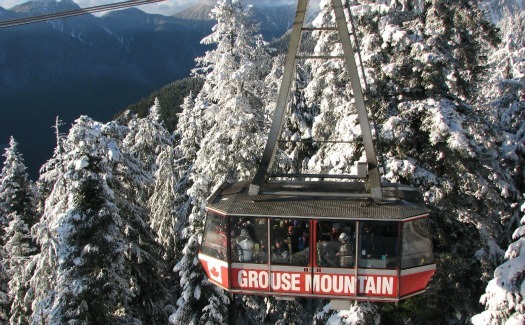 Image: Andrea Schaffer, Grouse Mountain Skyride via Flickr (CC BY 2.0)
With tobogganing hills, snowshoe trails, and s'mores galore, Grouse Mountain is the spot for those who prefer a PG, all-Canadian New Year's Eve under the stars. A romantic gondola ride, followed by an arm-in-arm skate on a 745-square-metre mountaintop ice rink? Kinda hard to beat.
Bar hopping in Whistler, British Columbia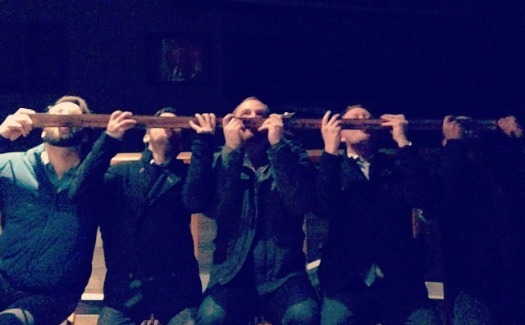 Image: Andrew Budreski, It was only a matter of time before the #shotskis returned... #nye2015 via Flickr (CC BY 2.0)
Twinkling lights, snow-capped mountains, Shotskis -- Whistler is what the rest of the world pictures when they think New Year's in Canada. From the rowdy cabin parties to the legendary bars, a five-stop pub crawl through Whistler's idyllic ski village is almost guaranteed to land you a messy kiss. Or five.
MORE ON HUFFPOST:
Top 16 places in the US for a New Year's Eve kiss