Marlene Ford via Getty Images
Camping is a quintessential Canadian summer activity. There are campgrounds of all shapes and sizes offering a whole host of different activities and amenities from hiking to birdwatching to canoeing. But, come summertime, one of the best amenities you can find at a campground is a beach. Luckily, there are quite a few options for Canadians looking to pitch their tent near a stretch of soft sand. If camping with easy access to a crystal clear body of water is your goal this summer, Cheapflights.ca has you covered.
Tips for beach camping
Campsite options are limited as are their capacities so make reservations well in advance.
Apply for camping permits (if needed) in advance.
Prepare for any type of weather.
Pack proper supplies like a bear canister to keep raccoons and other animals from eating your provisions; sunscreen; insect repellent; screen tents for shade and insect protection; and long tent stakes to anchor tents in the sand to withstand wind.
Watch the high tide level and camp well above that.
Consult with park rangers for details on hiking, weather conditions and campsite conditions.
Plan ahead of time how to pack camping gear if you are flying.
Sandbanks Provincial Park, Ontario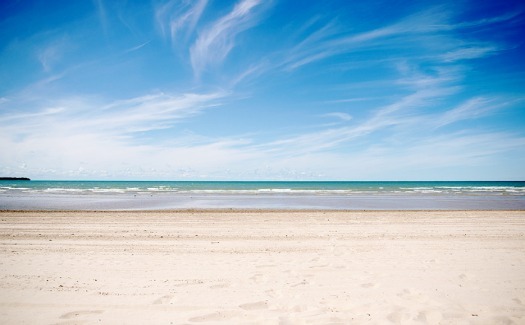 Image: Ron Bulovs, Sandbanks Beach via Flickr CC BY 2.0
There are many reasons to book a campsite at Sandbanks Provincial Park and one of the best is the park's three sandy beaches. The park has 500 car camping sites, many of which are on the waterfront. The beaches here are known as some of the best in Canada so you're sure to find a plot of sand that suits you. In addition to beaches, Sandbanks is home to the world's largest baymouth barrier dune formation, which makes for hilly and shady contrasts to the flat stretches of shoreline. While at the park, you can also hike one of three trails, go canoeing and, during the summer, there are interactive educational programs offered.
Grand Beach Provincial Park, Manitoba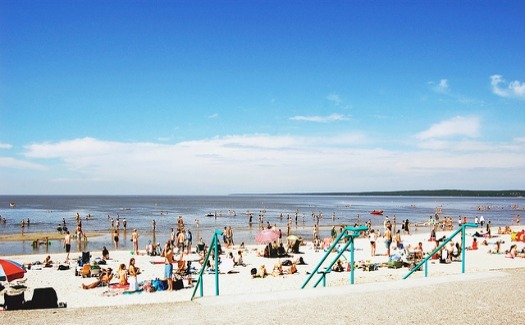 Image: Justin Ladia, Grand Beach via Flickr CC BY 2.0
Located on Lake Winnipeg -- the sixth largest lake in Canada -- Grand Beach Provincial Park is another spot that features impressive sand dunes and an expansive beach. The dunes here are 12 metres high and there are three kilometres of beach to explore. Booking one of the 350 campsites also puts you close to nature trails, jackpine forest, a spruce bog, tennis courts, birdwatching opportunities and a boardwalk for scenic strolls. If you happen to visit in August, you can check out the Grand Beach Sand Castle Competition, the longest running and largest sand castle competition in Manitoba.
Pinery Provincial Park, Ontario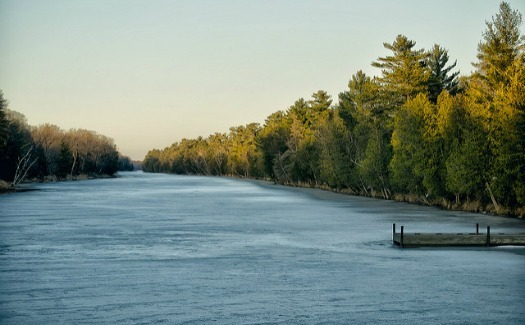 Image: phrawr, Pinery Provincial Park via Flickr CC BY 2.0
Get your beach camping fix this summer at Pinery Provincial Park in Grand Bend, Ontario. This is where you'll find an incredible 10 kilometres of sandy beach on the shores of Lake Huron. When you're not beach-hopping, Pinery is a great spot for bird watching since the park's rare habitats attract hundreds of different species. There are also 10 hiking trails of varying lengths, a biking trail and canoes, kayaks, paddleboats and even hydro bikes to rent. Don't forget your camera - the sunsets at Pinery were ranked as one of the top 10 in the world by "National Geographic".
Prince Edward Island Provincial Park, Prince Edward Island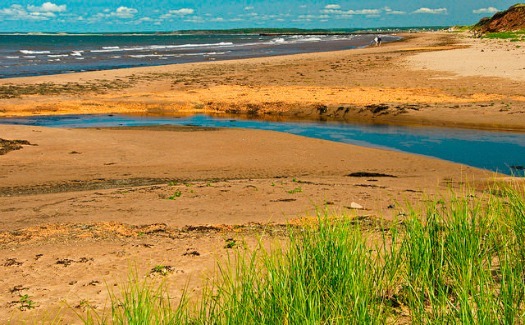 Image: Dave Bezaire, PEI National Park via Flickr CC BY-SA 2.0
Prince Edward Island is known for its abundance of beaches, and you can find seven of them in Prince Edward Island National Park. There are two campgrounds in the park, and Cavendish campground boasts an exclusive supervised white sand beach open only to campers. Explore 50 kilometres of hiking and cycling trails or go for a canoe or kayak ride. There are several picnic areas on site as well as a popular golf course nearby.
Pacific Rim National Park Reserve, British Columbia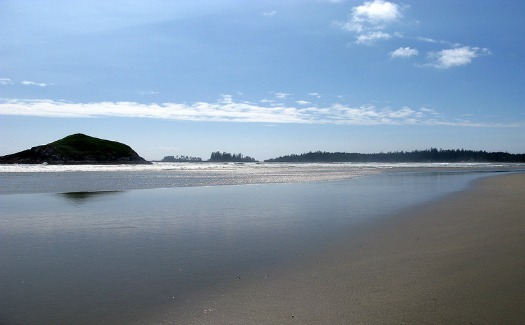 Image: Kyla Duhamel, Long Beach Pacific Rim National Park via Flickr CC BY 2.0
Looking for a spectacular stretch of sand? How about Long Beach in Pacific Rim National Park Reserve, which clocks in at nearly 16 kilometres. Green Point Campground offers direct access to this extensive beachfront, which is ideal for swimming, taking long walks, surfing or exploring one of the most scenic areas on the west coast. Camping in Pacific Rim National Park Reserve is a chance to truly get away from it all. Beautiful beach aside, the park has numerous hiking trails and an indoor theatre where educational evening programs are offered during July and August.
To discover more spectacular beachside camping spots for Canadians go here.