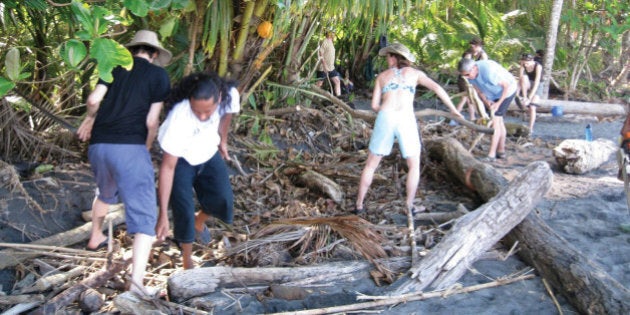 Many of us have volunteered during our travels before, and it seems that many more are considering it with each passing day. For good reason, too. However, choosing which program to participate in requires far more critical thought than choosing which all-inclusive in Mexico to drink at.
When one chooses to volunteer over the course of their holiday time, they are faced with important decisions. Some of these decisions are easier than others, but the RIGHT answers vary from person to person. I remember having a sommelier tell me "There is no such thing as a bad wine, so long as there is someone that likes it." I am not nearly naive enough to believe that this is the case for all volunteer projects. It's not. It should illustrate however, that there are inherent differences in "value proposition" from person to person. And that is perfectly OK.
Some of us look for opportunities that balance more contemporary comforts within their experiences, while others look for more 'iconically' representative options, which can be hosted in more challenging and/or intimate environments. Either way, there are only two pillars of decision making, and they are based on how an organization's philosophical and operational standards match with your personal needs and interests.
The first pillar must address what it is driving you to choose a volunteer holiday. Is this to grow your skill set? To give back and address an issue? Is it to increase social awareness? To improve your CV/Resume (let's be real here). Or is this simply a 'good' holiday alternative? Ask yourself this core question first. It will help steer your course.
Remember, there are no wrong answers, but there are certainly better choices.
As the grassroots participant, you must find your own 'perfect' match, and it must be based on your own criteria, and your own behind-the-scenes research. If there is one thing I have learned in my 13 years in tourism, it is that travellers are amazing communicators, they hold back no punches, and they share their experiences openly. Be sure to include independent blogs in your homework. It adds much needed transparency.
The second pillar, or philosophical question to consider, is if the project aligns with your personal belief system. Don't be afraid to speak to an organization and stress the "intangibles" that are important to you. You may ask yourself; does this decision support my religious faith or moral compass? Does this organization have the best interests of its local community and stakeholders at heart? If you are paying money, ask where the money goes; it's often OK if there are margins, organizational growth through net income can enact greater change and create true sustainability. Most importantly however, you need to answer what will become of your footprint, and what will you have supported, enabled, or empowered in the process?
The operational decisions must address health, wellness and organizational deliverables. You need to ask about contingency plans, proximity to medical centres, local crime rates, vaccination needs, travel restrictions, and cultural norms (such as dress, food, night life, and alcohol). Wearing bikini tops outside of the beach can be both insulting, and dangerous in some places -- that's the real world folks. It's not good, it's not bad, it's just different.
You must also ask what you need to do before you leave home (some vaccinations need to be administered weeks/months in advance), and what timeframe does this need to be happen in? What do you need to pack? What happens when you arrive at the airport, and what happens if there is an emergency? Who is your support network, where can you find them, and what is the crisis management plan.
Use these questions as starting points only, and make sure you address the two pillars of decision making separately. It is right to have expectations, and you need to use early questioning in forming them.
Remember, if it doesn't feel right, don't do it, and that in itself should be the most important decision you make.