Yoshinori Yamazaki/AFLO via Getty Images
I'm an Irish girl so I have a bit of a familial obligation to go all out for St. Patrick's Day. You know -- green beer, dollar store accessories, and questionable decisions. The usual suspects. But let's be honest: I'm not a first year University student anymore. I can barely make it through a second pint of Guinness, never mind stay up until 3 AM taking green body shots out of a 22 year old's navel. So hangovers? Ya, they don't suit me so well.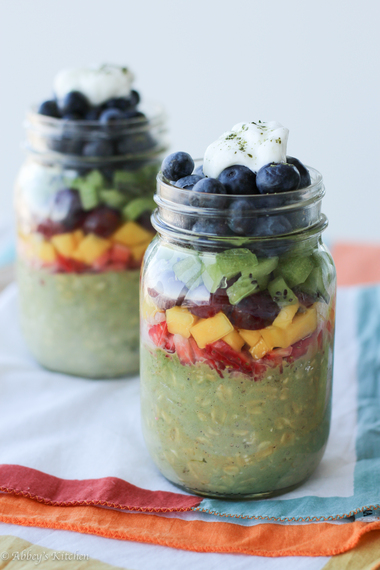 Thankfully, what I lack in beer pong skills, I make up for in the kitchen making a mean post-St. Paddy's Day hangover breakfast. This Matcha Green Tea powder Rainbow Overnight oats recipe is perfect for nursing a hangover thanks to its crazy big dose of antioxidant power. And I know what you're thinking. Where's the grease, girl? Sorry to discredit your excuse to visit McD's -- grease after a hangover is probably not going to help you out. If anything, you should have eaten that Big Mac before you downed a 26er in jello shots since the fat would slow the absorption of the alcohol. But after the drinking festivities, it's best to refuel with water-rich foods, electrolytes and antioxidants. And with 6 different kinds of colourful fruits and matcha green tea powder, you can bet you're getting your fix with this recipe.
What's so Special about Matcha Green Tea?
Aside from turning these overnight oats a thematically appropriate green hue, matcha green tea powder is packed with recovery polyphenol antioxidants that protect your cells from damage. It also has a kick of caffeine to get your morning started, along with l-theanine which has anti-stress and relaxation properties. And you might need that depending on where you wake up the next day. Just saying. Matcha has also been linked to a reduction in bad cholesterol, coronary artery disease, stroke, and improved cognitive function so it's not a bad little add in for any time of year.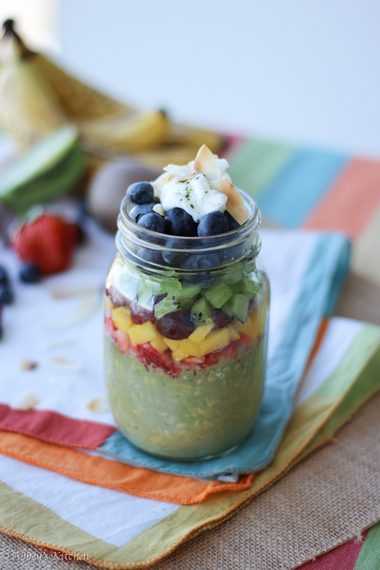 This post- St. Paddy's Day breakfast is best prepped before you head to the bar so that you can wake up the next morning, and get food in your mouth without having to barely open your swollen eyes.
You can watch me make it in action in this fun YouTube video collaboration on my Youtube channel with Matt Basile of Fidel Gastros here:
What are you planning to eat after your St. Paddy's Day night out? What foods help cure your hangover? Tweet to me or leave me a comment on my blog with your brunch plans!
Magically Delicious Matcha Rainbow Overnight Oats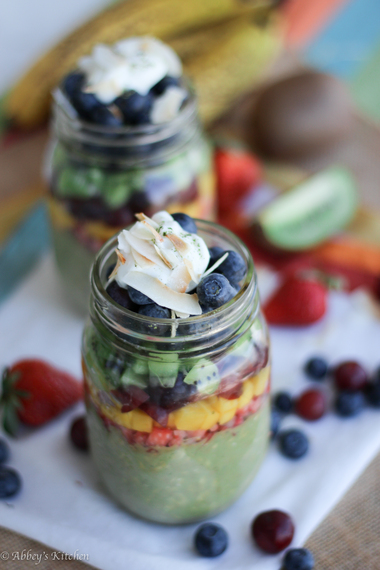 Cures 1 Hangover
½ cup rolled oats
½ cup unsweetened vanilla almond milk
1/3 cup plus 1 tbsp plain 0% Greek yogurt, divided
1/2 very ripe banana, mashed
1/2 tsp chia seeds
1 tsp powdered matcha green tea
Honey, if desired
Pinch of salt
2 tbsp. Blueberries
2 tbsp. Strawberries, finely minced
2 tbsp. Mango, finely minced
2 tbsp. Kiwi, finely minced
2 tbsp. grapes, quartered
Shaved toasted coconut, for garnish
1. Add the oats, almond milk, 1/3 cup of yogurt, banana, chia seeds, matcha green tea powder, honey, if desired and salt into a mason jars. Stir or shake to combine. Transfer to the fridge over night.
2. The next morning, layer with blueberries, strawberries, mango, kiwi and grapes. Garnish with a dollop more of Greek yogurt, a sprinkle of matcha and the shaved coconut.
Follow HuffPost Canada Blogs on Facebook