Happy New Year! I hope your 2016 is full of joy, fun, and just as importantly, great food!
During the entirety of 2015, I was putting together my list of Foods You Should Eat in 2016. I tried a lot of duds -- maple water and cashew yogurt, I'm talking about you -- but eventually narrowed down the list to my favourites.
This list is a mix of cuisine types, product recommendations (which I have NOT been paid to promote here, just to say that now in case any of you are wondering), and general foods.
This isn't a 'food trends of 2016' list, because there are so many of those out there right now and they all seem to be saying the same thing. Some are even listing foods that I had on my 2015 list (go me!).
I chose each item on the list because it met certain criteria: it has to taste good (not like dirt, ahem heartnuts and acai), it has to be reasonably accessible in most major centres, it should be healthy and or/add something to your overall diet. Some of these items you can make yourself, and some of them are kitchen staples (or should be).
Here we go:
Marsala Wine: I've talked about Marsala quite a bit in my blog, and that's because I think it deserves a permanent place in your kitchen. Go to the liquor store and pick up a bottle for 10 bucks, and use it -- in vegetables, sauces, braises, or anywhere that could use that je ne sais quoi...it adds that amazing liquor-y flavour to your Thanksgiving turkey gravy and beef stew. Chicken Marsala is easy and delish. I'm telling you, you will not regret having a stash of this ready for when you need it.
Coconut Manna: Coconut has good fats in it, and I think it tastes amazing. If you love coconut like I do, you need to try coconut manna. Made of ground up coconut meat, it's not the same as coconut oil (which is simply coconut fat), but is sold under some labels as coconut butter. I like the Nutiva brand in the jar, having tried several other brands. Spread this stuff on toast, or use it in smoothies, baking, or even in curries. Stuff it into huge Medjool dates for a snack. Basically anywhere you would use nut butter, coconut manna has you covered. Heat it up to make it spreadable, and you're good to go. I found coconut manna in the health food store and the supermarket too, now that coconut is totally a thing.
Pichuberries: Oh pichuberries, how I love you. These little orange orbs, also called goldenberries, cape gooseberries, or physalis, are sometimes sold with a papery calyx around them. They're native to Peru, Colombia, and Ecuador, but are available widely in the U.S. and Canada. Goldenberries are a good source of vitamin E, A, and B -- including the elusive B12 (paging all vegans!). They also contain protein, and extremely high levels of antioxidants.
Pichuberries also have a large group of compounds called withanolides, which display significant properties such as being antimicrobial, antitumor, anti-inflammatory, and antibacterial.
They taste like a sweet-tart orangy-tomato and are awesome on their own, in yogurt, or even dried in trail mix.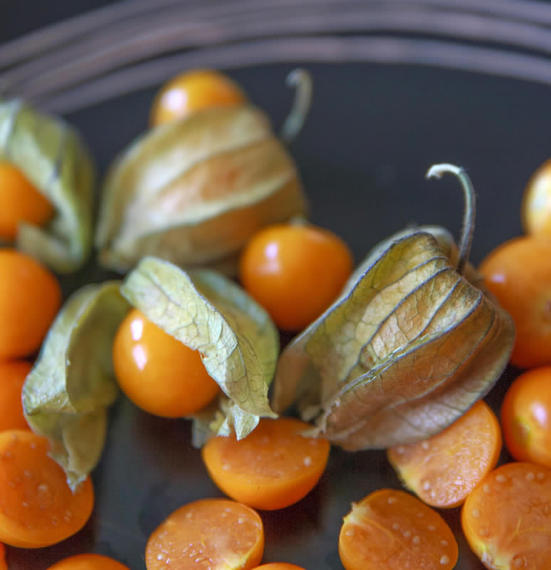 Photo credit: theeggfarm.com
Hawaiian Food: I'm not really talking about Spam and rice (sorry -- that's also not traditional Hawaiian food per se) -- more like fresh, beautiful food that tastes and looks gorgeous. Tuna poke (raw tuna with salt, green onions, soy sauce, garlic, chili, and sesame oil), Kalua pork (smoky slow-baked lean pork -- I've made it in a slow cooker), lomi salmon (raw salmon with tomatoes and onions), lau lau (fish or meat wrapped in leaves and slow-cooked), and poi (mashed taro root). The thing about Hawaiian food is that even though there are plenty of unhealthy traditional Hawaiian dishes (but still yummy I'm sure), traditional Hawaiian dishes are comprised of fresh food that is grown on the island or fished from the ocean around it, and minimally messed with. Fresh and beautiful -- what food should be.
Preserved Lemons: Another one for the 'kitchen staples' category, these are super easy to make -- basically you put ½ cup salt into a large mason jar, then squish as many quartered fresh lemons into the jar as you can and fill it to the top with more lemon juice and a bit more salt. Then you let the lemons sit there on your windowsill for a month. Preserved lemons last for a really long time, and you can use them in sauces, roasted potatoes, meat dishes, tagines, and marinated feta like my recipe that's awesome, BTW. They also look pretty in your kitchen, curing away in their brine. The other day I combined some of my preserved lemon with mayonnaise and lemon juice to make a dip for steamed shrimp. So good.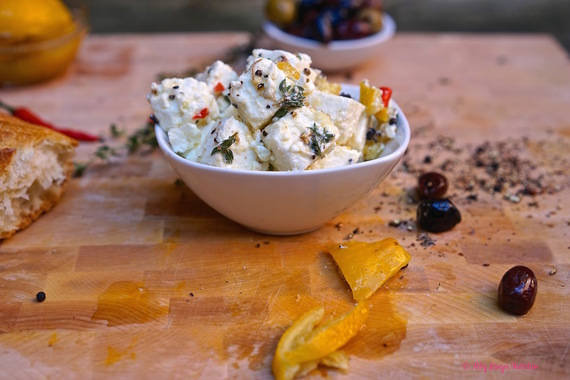 Black Bomber Cheese: I'm including this cheese as one of my very specific favourite products. Made by the British Snowdonia Cheese Company, this extra mature cheddar cheese is award-winning, and deservedly so. It comes in a little black wax-coated wheel, and all I can say is that if you come across it, scoop it up. Everyone in my household knows to stay away from my stash or suffer consequences.
Haskap Berries: These little purple fruits look like elongated blueberries, and taste somewhere between a raspberry and a blueberry. Mostly available dried and in jams, you should start seeing them in their fresh state soon enough when supplies get a bit bigger. Haskaps are huge in antioxidants -- in particular the anthocyanin variety -- and are a better source of nutrients like iron, calcium, and vitamins A and C than most other fruits. You can find more information about haskaps here.

Photo credit: Haskapa.com
Raw Beets: Sure, they'll stain your hands (unless they're the golden variety). But that's a small price to pay for the crisp, sweet deliciousness that are raw beets. Peel and slice or spiralize for yummy salads. You can start off by grating some raw beets into a salad for color. Rich in antioxidants, beets have also been shown to aid muscle recovery after tough workouts.
Sprouted Grains: When people ask me what bread to buy, I always tell them one with sprouted grains. All sorts of sprouted grain products, from crackers to chips, are readily available. Grains that are sprouted have more vitamins B and C, folate, and fiber. They also have some of the essential amino acids often lacking in grains, such as lysine. People with grain protein sensitivities may be able to tolerate sprouted grains better than unsprouted ones. My favourite sprouted grain bread, by the way, is Ezekiel 4:9.
Date Syrup: I make this thick, deliciously sweet syrup myself by boiling Medjool dates in water for an hour, straining out the dates, then boiling the remaining liquid until it thickens. Date syrup rocks for giving an earthy, supersweet flavour to my oatmeal, granola, baking, or anywhere you'd use honey or maple syrup. It's low glycemic and unrefined. Love.
Sorghum: Maybe you've never heard of sorghum. It's a gluten-free grain that's visually similar to pearled barley, but with a more neutral taste. Sorghum flour is popular amongst gluten-free bakers, too. Sorghum is cooked just like any other grain -- basically in a 1:3 ratio with any liquid you'd like -- or pop it like popcorn! This little grain has tons of antioxidants, and is a good source of fiber, iron, and protein. Try my sorghum tabloule - it makes the perfect meal or side dish.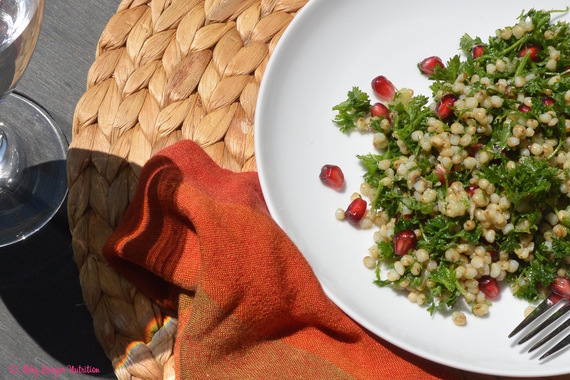 Sunchokes: Otherwise known as Jerusalem artichokes, the interesting thing about these sweet tubers look unassuming, but are actually prebiotic due to their inulin content -- which means they're great for your gut! Sauteed, steamed, or boiled and mashed, sunchokes are super easy to prepare and they taste amazing.
Savory Oatmeals: Everything sweet is now savory. Yogurt, ice creams, and yes, oatmeals, are being trotted out reborn with herbs, vegetables, and other non-tradtional additions. I love this trend -- especially with oatmeal, which I sometimes find sickly sweet, in particular for breakfast. I did a trio of savory oatmeals on my blog, which you can check out here.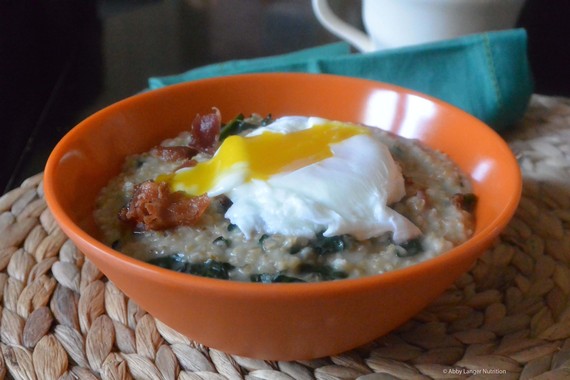 Seaweed: Once reserved for sushi rolls -- and delicious in that form, for sure -- we are just discovering the benefits of seaweed. A recent Danish study suggests that we should be incorporating seaweed into everyday foods such as pasta and frozen pizza (not that I would want to call that an 'everyday food'), because of seaweed's high nutrient content. Loaded with antioxidants, minerals, fiber, and unsaturated fats. It may reduce cardiovascular disease too! Seaweed also contributes flavour to foods. You can eat more seaweed by sprinkling it into soups and salads or snacking on roasted sheets of it. Be careful though -- the hijiki type of seaweed is known to contain arsenic (I personally would steer clear of this type because of that), and other seaweeds like Kombu can be high in iodine, which may overload your thyroid gland. Examine.com has a great primer on which seaweeds you should choose, and how much.
Black Rice: The fact that black rice has six times the antioxidants of brown rice is only one reason why you should choose this delicious grain. Naturally gluten-free, beautiful to look at, and versatile -- I make it as a side dish for savory meals, cook it into a black-rice pudding that's gorgeous and scrumptious, and a breakfast bowl that's equally amazing.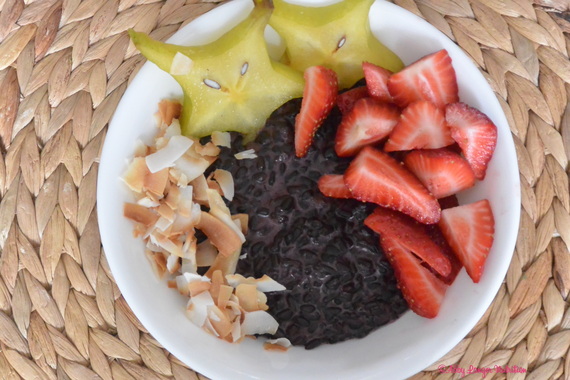 Veggies as Mains: It used to be that meats and fish were the stars of the show. Now more people are (finally!) adopting vegetables as meals in their own right. Cauliflower 'rice', spiralized carrots, huge salads with all sorts of yummy add-ins, and roasted squash with dates are only a few of my favourite ways to showcase seasonal, delicious vegetables.
Yes, you should still have a protein with your meal -- one of my go-to solutions to that is to put a poached egg on whatever I'm eating. Vegetables, as you know, are essential for good health -- and the more of them you eat (you should be having five to seven servings a day), the better. Being innovative with the thousands of vegetable recipes out there -- just take a look at Pinterest, you'll see what I mean -- can make a vegetable lover out of anyone.
Have a fabulous 2016, everyone!
ALSO ON HUFFPOST: