Celebrity chef Corbin Tomaszeski is on a mission to improve school lunches, and he's rolling out something revolutionary.
Being a husband, the father of three boys, and working full time, Corbin knows what it's like to be stuck for time but still wanting to feed your kids healthy food. For Corbin, eating healthy was something he grew up doing, mostly because he had no other choice. Raised on a farm in Alberta, he had what he would call the '30 yard diet' - the meat the family ate had roamed in the back pasture; the potatoes they ate were dug up in the garden. There was no processed food anywhere in the house, and everything was made from scratch. Organic food? Everything the family ate was organic. It wasn't a choice or a trend; it was real life.
The rules were strict, too - dessert was a treat, not a daily occurrence. You ate what you were given - no short-order cooking if the kids didn't like what they were served. Corbin learned how to cook at an early age as well, standing next to his grandmother and mother in the kitchen on the farm.
It was through this lifestyle that Chef Corbin grew up with an appreciation for how food should taste, and how important
it is for kids to grow up knowing about food and how to cook.
As Corbin puts it, the younger generation knows convenience products too well. Parents are sacrificing a 'building block' of life, which is cooking, by raising their kids on those foods. 21% of high school students are obese, and one of the identified ways of preventing and treating this is by teaching kids to cook and eat healthy foods.
Corbin believes that cooking with your children is not only a way to teach them about food, but also to spend quality time with them. "If you don't cook with your kids, you rob them of childhood memories", he states.
Corbin believes that cooking should be simple, using fresh ingredients. He understands that parents are busy, but says: "There's always going to be that part of cooking where you need convenience, but when it takes over and becomes the entire meal, you get what we have now", which is a society that consumes far too much processed food and that cooks for themselves far too little.
All of this is why when Chartwells Canada, a division of Compass Group Canada, approached Corbin about helping to revamp their secondary school lunch menus, he immediately jumped on board.
Developing menus for secondary school students can be difficult, since kids that age are notoriously selective when it comes to their food preferences. Many of them leave school grounds at lunch, preferring to buy their meals at local fast food restaurants and convenience stores. Corbin realized that he had his work cut out for him, but he decided to take a different approach from the usual menu development strategy. He knew that the way to create a menu that would be successful was to get the students' buy-in by making them part of the process and the change.
Corbin put together a panel of students from different grades in different secondary schools. He asked them what they kinds of food they wanted, as well as what are they not getting that they would like to see in their cafeterias. Surprisingly, the students asked for foods that are not associated with the typical cafeteria fare: spicy items, bold flavors, and multicultural foods such as Latin American and Asian cuisine.
The fact that the new menu items were healthy didn't even make it into the conversation with the kids. "Convince them because it's fresh and tastes good, and make them feel like they're part of the process and it's their idea. In the end they don't need to know it's healthy", says Corbin, echoing what Registered Dietitians have been telling parents for years. Sort of an 'if you build it with them, they will play' idea.
Most of the ingredients for the new menu items were actually foods that the cafeteria was already using, and there was no additional labor involved. Therefore the new menu was not only healthy, but also cost-effective to implement.
Menu items also had to comply with the Ontario Schools Food and Beverage Standards, which meant that none of the foods could be deep-fried or contain high amounts of fat, sodium, or sugar.
After he created the new menu items, Corbin brought the food to the kids for a taste test. Not surprisingly, the students were happy with the results. Chicken lollipops rolled in crushed vegetable chips and baked in the oven, oven baked panko-crusted zucchini, kale Caesar salad made with a lighter dressing, and black bean and chicken tostadas were a few of the selections.
And like most chefs, Corbin is only too aware of how presentation plays into the whole experience of a dish, so the food was presented in new ways - on sticks, or served in Chinese takeout boxes with gingham waxed paper wrap reminiscent of food truck fare. The kids loved it.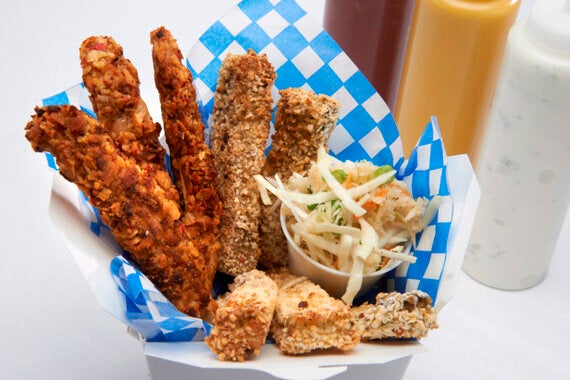 Photo Credit: The National Post
All the meals are priced at $5, which Corbin believes is competitive with the fast food meals that the students have been eating. The menu items are offered in 255 Ontario schools, and if the program is successful, the plan is to roll them out next year in over 600 schools across Canada.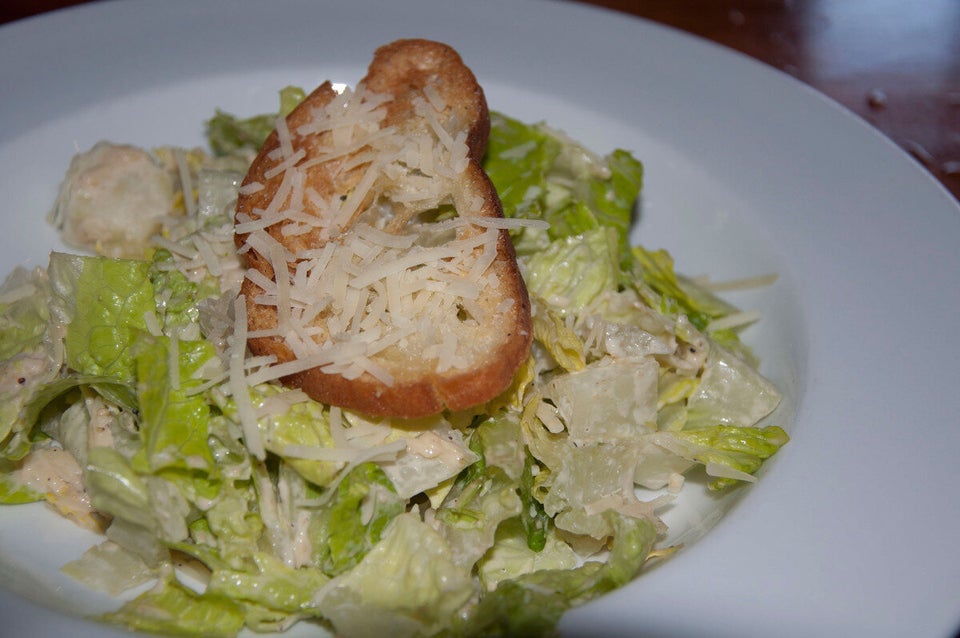 Healthy Lunch Substitutes