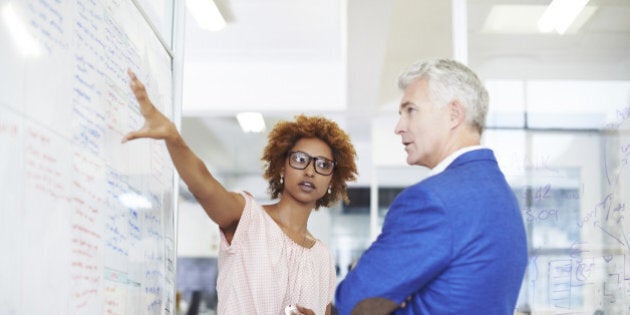 On International Women's Day, when countless statistics will be cited and discussed to highlight how far we've come towards gender equality, there's one number that keeps me awake at night. Twenty-one. Despite our best efforts as an incubator for tech startups in Canada, only 21 per cent of our founders are women -- nowhere near bidding farewell to the gender gap. With over 50 per cent of our management who are women, and 60 per cent of our staff who are women, we know that sitting at only one fifth women founders isn't good enough. It's a number that begs the question: how can we do better? How can we lead?
To tackle these questions, I drew upon the experiences of women on our advisory council and our entrepreneurs. The results of my conversations were eye opening, but clear. When it comes to increasing the number of women founders, there is no one solution to the problem, but there are several core areas in need of immediate support to accelerate change.
1. Increase our level of transparency and be brutally honest with ourselves. As Sabrina Geremia, managing director of integrated solutions at Google Canada put it, "the gender gap is not a woman's problem to be solved by women -- it's a priority problem for everyone to solve."
Part of how Google is tackling the problem is to publish their diversity data, illustrating the trends to openly understand where one's biases are coming from by using tools like the Unconscious Bias quiz. Geremia suggests, "one of the most significant tools an incubator could introduce is to help startups ensure that this kind of training and consciousness is baked into their DNA from day one. It's much easier for new companies to start from a place of awareness than it is to retrofit large established companies."
2. Support a woman's non-business goals. As Nazmin Gupta, chief marketing officer at Greystone Managed Investments Inc., put it, "for women who are looking to start both a family and their own business, creating the right village of support and network of advice is important to help give them the confidence they need to set themselves up for success."
While we've made every effort within our incubator to think through the resources entrepreneurs require to establish their businesses from accounting to legal to sales support, if we truly want to help more women start and scale businesses, we can't ignore the other side of the coin: women (and men) need resources that will allow them to pursue their personal goals while running companies at the same time. Ultimately, we need to complement our coaching, mentorship and capital-focused efforts with understanding of and support towards an entrepreneur's non-business goals.
3. Inspire others by celebrating both female and male role models. As Huda Idrees, founder of Dot Health, put it, "successful women sometimes forget how hard it was and how many challenges they had to overcome. We need to be role models to other women by sharing these experiences honestly so that we create an environment where women are comfortable talking about the issues and the solutions and helping one another."
We also benefit from male role models, as Gupta shared from her experience being hired in a senior role at five months pregnant. "When my boss at the time hired me, he told me that he had four children and that having a family was an incredible and important part of his life. I never forgot his confidence in me." Continuing to create platforms to celebrate role models, spotlighting women leaders in the tech community, and sharing their inspiring stories and the challenges they're facing will remain a priority for our incubator.
4. The need to cultivate community groups that encourage women to speak up.Kirstine Stewart, chief strategy officer at Diply, cites that the imposter syndrome, when a woman feels undeserving of a role, is a state unique to women that can be deeply self-limiting. "Women aren't always great at raising their hands," says Stewart. "Creating a place where women can talk about their successes, make their voices heard and feel encouraged will help give women greater confidence that they belong." We have an incredible community. Fostering stronger networks and more inclusive environments that allow for equal opportunities and exposure is our priority.
5. Making STEM curriculum within the early education system a top priority. "Whether you're an engineer or an artist, technology is an integral part of our day-to-day lives," says Stewart. "We need to improve our system to include more tech-based courses and provide greater access to equipment for all." By re-framing technology as a 'life tool' rather than a tool for the tech inclined, added Geremia, we can encourage the next generation of women to embrace the possibility of technology and of starting their own business from an early age.
Clearly the steps needed to increase the number of and support for women entrepreneurs within our organization and throughout the country are significant. And while International Women's Day gives us all the opportunity to shine a spotlight on this gap, it's important to recognize the depth of the issues and the commitment necessary to take actions -- big and small -- every day of the year. Perhaps through this commitment, real change, and even a better sleep at night -- are possible.
Follow HuffPost Canada Blogs on Facebook