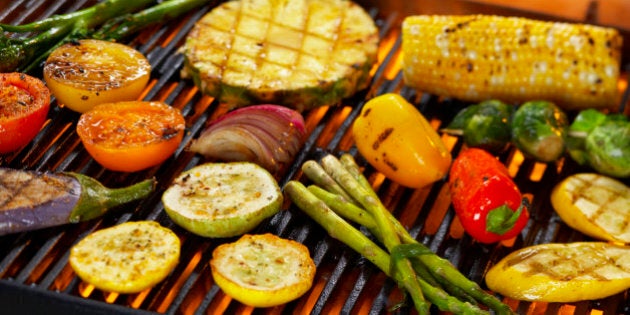 The weather is getting warmer, the days are getting longer and summer planning is in full effect. For most of us, this means an increase in beach days, barbecues, backyard parties, weddings and drinks on the patio.
All of this fun can make it really hard to maintain healthy habits. So here are five simple tricks that will help you keep a healthier lifestyle in check this summer while still soaking up all the awesomeness that this season has to offer.
#1. Meal Plan and Eat Outside
Set aside some time at the start of every week to look at your calendar and plan out your meals. When you leave this simple task undone, it leaves you unprepared and much more likely to be reaching for junk food.
Select meals that use seasonal produce and can be made up in batches so you can eat it throughout the week, like this chickpea, avocado and feta salad. Take your meals outdoors whenever possible. Nature is scientifically proven to do our mental health a ton of good!
#2. Grill Up Some Local Produce!
Nothing makes me happier than fresh, local summer produce. Peaches, nectarines, tomatoes, corn on the cob, oh my! Every week something new is coming into season, so get out there and support your local farmers.
Grilling up vegetables like zucchini, bell peppers, tomato, red onion and mushrooms give them a delicious, smoky flavour and will help to fill up your plate with nutritional goodness. You can throw them directly onto the grill or use a grilling basket. Try tossing them in a bit of olive oil, balsamic vinegar and crumbled goat or feta cheese after grilling for some extra deliciousness.
#3. Infuse Your Water With Seasonal Fruit and Herbs
Be smart about the way you quench your thirst this summer and steer clear of empty calories from things like sugary iced tea and lemonade. Sure that stuff might taste good, but it will only leave you feeling tired and craving more in the end. Instead, stick to water or sparkling water infused with things like grapefruit and thyme, strawberry and lemon, or blueberry and lime.
#4. Contribute Something Nourishing
Summer parties and potlucks are inevitable, and health-consciousness will vary among guests. So make an effort to contribute something to the food table that will help everyone feel amazing mind, body and soul. My go-to is this vegan, gluten-free and dairy-free mac 'n' "cheese." It is always a hit at any party.
#5. Get Your Workout Done First Thing in the Morning
Scheduling time to work out in the summer can be super tricky. But the later in the day you leave your workout, the less likely it is to happen. So set your alarm a bit earlier and get that workout done first thing in the morning. Even a 20-minute jog will help rev up your metabolism for the rest of the day and get those feel-good endorphins flowing. No excuses. Just get up and get it done! You won't regret it.
That Clean Life is a meal planning platform that makes eating healthy simple and fun. Sign up to grab our 21-Day Tune Up Program, three weeks worth of meal plans, grocery lists and prep guides to help get you feeling awesome for summer!
Follow HuffPost Canada Blogs on Facebook