If you are looking to lose weight, have more energy, save money or just feel better about the food you are putting in your body -- look no further than your good ol' slow cooker!
I've been a slow cooker fan for years, and have even created an entire meal plan around this handy appliance. It seriously helps make eating healthy simple and fun on a regular basis.
Here are 8 simple ways your slow cooker will help you eat healthier:
#1. A Slow Cooker Will Help You Lighten Up Meals By Cutting Back on Oil
Oil is delicious, but it sure increases the caloric load of a meal in a hurry.
When you cook things in the oven or on the stovetop, you tend to need more oil as the environment dries things out. But the slow cooker creates a moist environment, which means you can cut back on oil to lighten up your meals.
#2. A Slow Cooker Will Help You Prepare in Advance and Stay on Track
Picture this: It has been a long, gruelling day at work. Everything that could go wrong, has gone wrong and you're feeling absolutely exhausted.
As you stick your key in your home's door and push it open, a sweet aroma jolts you into a state of bliss. Suddenly you remember that you threw Honey Garlic Chicken into the slow cooker this morning.
YES!
When a delicious dinner is ready for you when you walk in the door, you are far less likely to start uncontrollably snacking or hangrily order takeout.
#3. A Slow Cooker Will Save You a Ton of Time
After a long day of meetings, I used to arrive home to spend over an hour chopping vegetables, waiting for the oven to preheat and then for the dish to cook only to then spend another 20 minutes cleaning up.
Enter the slow cooker.
These days, when I anticipate it's going to be a busy day, I'll throw a meal into the slow cooker before I leave in the morning. I can use that extra hour I would have spent prepping, chopping and cleaning up to go to the gym or relax and catch up on my favourite show. Thank you, dear slow cooker!
#4. A Slow Cooker Will Help You Save Money
There is absolutely no doubt in my mind that you get more bang for your buck with slow cooker meals. For example, check out our Curried Chicken Crock Pot Stew.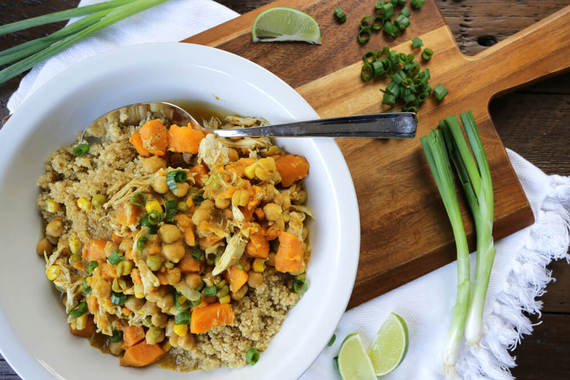 This recipe is affordable and ridiculously delicious. It uses just 2 chicken breasts but stretches them into 6 servings. What you don't eat this week can be stashed away in the freezer for one of those days you don't feel like cooking but want to keep it healthy. This is how you set yourself up for success.
And hey, when you have delicious leftovers on hand, you can pack them for lunch and avoid spending your precious hard-earned cash on eating out!
#5. A Slow Cooker Will Help You Get Ahead
A few weeks ago we wrote about "dump dinners" and how we prepared 6 meals in just 1 hour. Long story short, a dump dinner is a slow cooker recipe you've prepared ahead of time and stored in the fridge or freezer.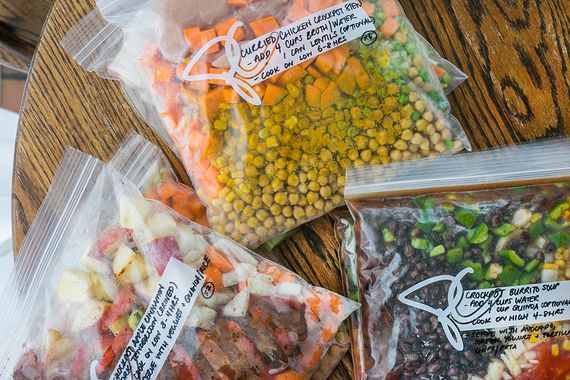 Simply combine all ingredients of your favourite slow cooker recipe in a large ziplock bag and label it with instructions. Then when you need it the most, just dump it into the slow cooker and wait for it to cook!
Dump dinners will keep you on track when you need it the most. They are perfect for busy families, a weekend at the cottage, helping your kids head off to college or when you're just feeling downright lazy.
#6. A Slow Cooker Makes it Easier To Get Enough Protein
What I love most about slow cookers is the ability to throw in any type of meat and for it to come out perfectly cooked every time. You seriously can't mess it up!
You can spend as little as $13 on a whole chicken, rub it with some spices in less than 5 minutes, throw it into your slow cooker and have meals for days. In fact, here's how we rolled one whole slow cooker chicken into a week's worth of dinners.
#7. A Slow Cooker Makes it Easier to Eat More Vegetables
One common gripe against slow cookers is that they aren't great for vegetables. They often come out limp and soggy, right?
There are a couple ways around this.
The first is to use the slow cooker for the protein portion of the meal and serve your vegetables on the side. For example, That Clean Life's Slow Cooker Chicken Shawarma cooks the chicken to perfection in the slow cooker, and then is served with a ton of fresh vegetables on the side.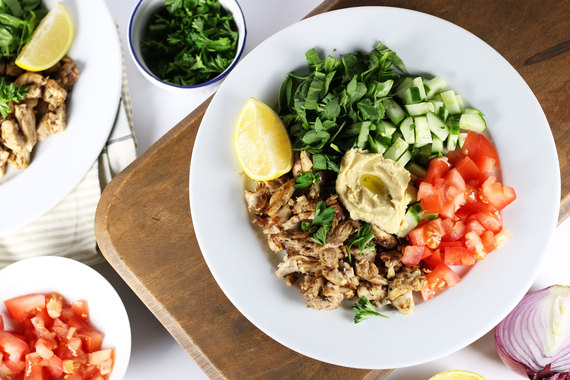 Or, you can wait until the end to stir in your vegetables. For example, right before you eat, remove the lid of your slow cooker and stir in a few handfuls of kale or spinach just until wilted then serve!
#8. A Slow Cooker Will Help You Cut Down on Clean Up
Throwing everything into the slow cooker means that you aren't using multiple dishes to prepare the meal. Less dishes to clean means more time to focus on the important things like family and friends (and Netflix).
Our Easy Peasy Slow Cooker Program will show you how to use your slow cooker to eat clean and feel awesome. You get a 1-week slow cooker meal plan, itemized grocery list, recipes, prep guide and access to our private Facebook support group. Sign up here!
Follow HuffPost Canada Blogs on Facebook