It is the perfect time of year to take advantage of local and seasonal root vegetables and this Warm Winter Buddha Bowl will help you do just that! We're roasting up cauliflower, carrots, parsnips, turnips and beets and serving it with sautéed kale, chickpeas and quinoa. This dish a serious nutrition powerhouse and the creamy lemon-tahini dressing takes it to a whole new level of deliciousness! This is true comfort food, perfect for a dark and stormy winter evening.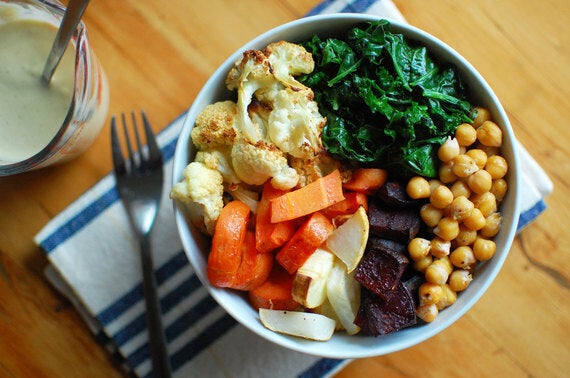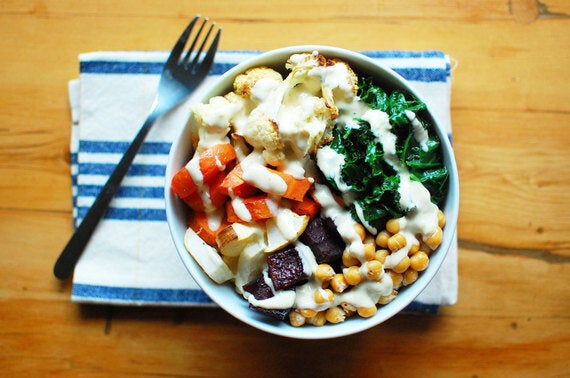 1 head cauliflower, broken into florets
1 large carrot, chopped into 1 inch rounds
1 large beet, chopped into 1 inch pieces
1 turnip, chopped into 1 inch pieces
1 parsnip, chopped into 1 inch pieces
sea salt and black pepper to taste
1 can chickpeas, drained and rinsed
1 cup quinoa, uncooked
1.5 cups water
4 tbsp tahini
3 tbsp extra virgin olive oil (plus some extra for roasting vegetables)
1 lemon, juiced
1 garlic clove, minced
1/4 tsp sea salt (plus a pinch extra for kale)
4 cups kale leaves, roughly chopped
Preheat oven to 420 and line a large baking sheet with parchment paper.
Place cauliflower florets, carrots, beet, turnip and parsnip in a large mixing bowl. Season with sea salt and black pepper to taste. Drizzle with a splash of extra virgin olive oil. Toss well and transfer to your baking sheet. Place in the oven and roast for 30 minutes.
Meanwhile, cook your quinoa by placing quinoa and water in a saucepan over high heat. Bring to a boil. Once boiling, cover with a lid and let simmer for 12 to 15 minutes or until all water is absorbed. Remove from heat, fluff with a fork and set aside.
Create your dressing by combining tahini, extra virgin olive oil, lemon juice, minced garlic and sea salt together in a small jar. Add 3 tbsp warm water. Put on a lid, shake well and set aside. (Note: If it is too thick, add extra water, 1/2 tbsp at a time to reach desired dressing consistency.)
Place the kale in a bowl and massage with a bit of extra virgin olive oil. Season with a pinch of sea salt. Place in a skillet over medium heat and sauté just until wilted. Transfer into a bowl and place the frying pan back over medium heat. Add chickpeas and sauté until golden brown.
Assemble your buddha bowl by dividing the quinoa between bowls and arranging roasted vegetables, sautéed kale and warm chickpeas on top. Drizzle with desired amount of dressing. Bon appetite!