The world is looking up to Detroit, Michigan.
Detroit -- that giant city of auto-makers, the birthplace of Motown, and yes, the largest municipality in US history to enter bankruptcy. That was 2013. The jaw still drops when one sees beautifully designed buildings abandoned and learns of the mass exodus of people and talent -- the population has dropped from 1.7 million in 1950 to 700,000 today.
But what a city, and one that is currently experiencing a revolution, to put it lightly. A revolution that is revealing a different side of the word 'city,' which derives from the Latin, civitas, meaning membership in a community. Indeed, Detroit's revolution is founded upon a bedrock of strong communal networks and values, including hard work and respect for elders.
This is a city that can forge and pursue a long-term vision, even when doing so involves painful sacrifices in the short-term, such as the decision by voters to absorb a property tax increase in order to save the immense Detroit Institute of Art. That takes guts. I certainly hope my neighbours would make a similar sacrifice in the name of cultural heritage and civic pride.
I was thrilled to participate in my first ever 'live' event as a Global Shaper of the World Economic Forum. But after hearing endless stories about the glamour of Davos, I certainly never expected that my involvement with the Shapers would bring me to Detroit to take part in the first ever SHAPE North America gathering along with over 60 fellow Shapers from 38 Hubs, representing cities in the US, Canada, Bahamas, Jamaica, Barbados, Trinidad & Tobago, Puerto Rico, Guyana, Suriname...and Switzerland for good measure. These Shapers are serious about community building, and they (we) were delighted to share our urban passion with one another, using Detroit as a case study in 'all cards on the table' transformation.
Over three days of nonstop exploration, meaningful conversation, and a dash of community service, I feel I have discovered a unique place that in many respects is ahead of the urban curve, hardly a place of rubble reeling from fiscal defeatism. Most striking is the entrepreneurial zeal that has emerged throughout the city. But successful entrepreneurs do not simply appear as if by magic; Detroit, in coping with its new realities, has channeled its historic industrial energy to fuel entrepreneurial ventures of every variety. Appropriately, SHAPE North America was held in Midtown at the refreshingly wacky Tech Town (see photo below), the largest business accelerator in Detroit, whose CEO, Leslie Smith, inspired us with her trailblazing work and vision for the city.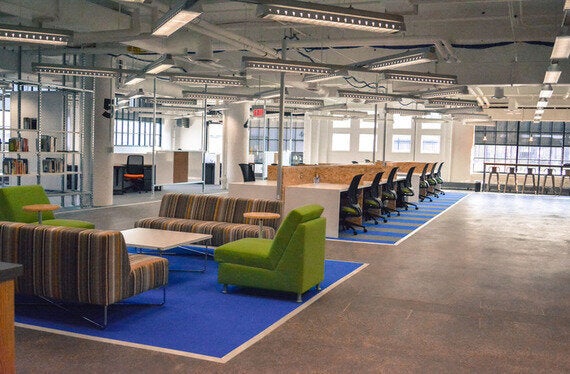 SHAPE North America had an appealing theme, "City Revolution: Built to Last." After experiencing a few days in Detroit, I have no doubt that the city, one of America's most renowned, was built to last. There is also no denying the revolution unfolding before our eyes, one which has captured the attention of cities in similarly precarious financial positions, such as San Juan, which was represented by three highly active delegates at SHAPE.
Yet a key question remains: is the city revolution itself built to last? In other words, will current community and economic development efforts yield sustained and durable improvements in prosperity and quality of life for the people of Detroit? There are others who are better positioned to make predictions in this regard, but I firmly believe that the 'Detroit titans' I met are in this for the long haul.
Most impressively, these young changemakers have developed meaningful relationships with some of Detroit's stalwart elder leaders. I was thrilled that the Hub provided us Shapers with an opportunity to meet a number of these pioneers, including Dr. Deb Rowe -- who, through ingenious coalition-building, managed to put sustainability on the agenda and in the curriculum for higher education in the US -- and Reverend Joan Ross -- a former McDonald's employee who offers spiritual guidance while at the same time connecting underserved individuals in the North End with job opportunities (and advocating for a transit system that can deliver people to these jobs!).
Most memorable of all was a meeting with Nettie Seabrooks, one of the first female and African-American executives at General Motors who later served as Detroit's Deputy Mayor and a key pillar of the movement to save the Detroit Institute of Art. Ms. Seabrooks' strength of character is impressive, and her words will be treasured by all of the SHAPE attendees. One of her mantras -- that a strong, honest organizational culture can "eat 'strategy' for lunch any day" -- continues to reverberate in my mind. These three women -- Dr. Rowe, Reverend Ross, and Ms. Seabrooks -- were inspiring for their resilience and bold leadership, and I was delighted to see first hand their willingness not only to mentor, but also to collaborate with Detroit's new generation of changemakers.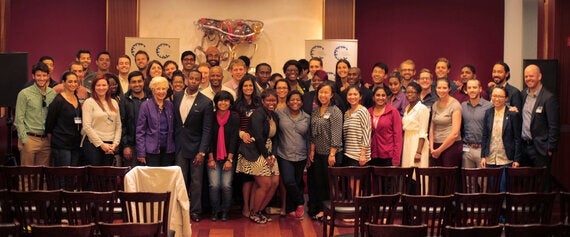 Above: Global Shapers with Nettie Seabrooks at Detroit's Max M. Fisher Music Center
I left Detroit with a feeling of tremendous gratitude -- not only for the opportunity to meet Shapers from across the Americas, but also for such an enriching experience in Detroit as it undergoes a period of transformative change, channeling its strong community resources for growth. The world is watching Detroit.