What does it mean to live with dignity? Are there ways we can work to protect and enhance the dignity of others?
Three years ago, a friend and I enrolled in a class called "International Human Rights Law and Policy" with Professor David Petrasek at the University of Ottawa. Neither of us were prepared for the minefield we encountered. We found ourselves wrestling with the complexities of the human rights system -- its origins following the Nazi Holocaust, the increasing politicization of human rights at the United Nations, and the never-ending debates surrounding the hierarchy of rights (should civil and political rights trump economic and social rights?).
Even with all of its challenges, I became hooked on human rights, leading me to study the subject in Rwanda as well as on Parliament Hill, and to volunteer in the realm of Holocaust education and genocide awareness. When people ask me what I want to do when I grow up, I still sometimes answer, "human rights lawyer, thank you very much." The invariable reaction: a contorted, effortful smile. Yet I have not been able to get past the limitations of a rights-based approach to human interaction.
Fortunately, there is a new agenda on the horizon, one that enables society -- particularly young people -- to move beyond the politicized human rights framework towards the concept of global dignity. Here the focus is on finding your dignity story and sharing it with others. Even more importantly, it is about listening actively to the dignity stories of those around us -- including those whose voices we rarely hear, from the elderly to the disenfranchised, from the Aboriginal residential school survivor who wants to be part of the reconciliation process, to the teenage cancer patient who wants to be recognized for her contributions to her community rather than her clinical diagnosis.
On October 16, I will celebrate my first Global Dignity Day as Ottawa Chair and a member of the National Steering Committee for Global Dignity Canada. I cannot help but feel a sense of tremendous excitement surrounding the dignity agenda and its potential to promote meaningful cross-cultural relationships grounded in mutual respect.
Global Dignity Day is celebrated each year on the third Thursday or October, with over 350,000 participants in 50 countries around the world, to date. Established in 2005, by Young Global Leaders HRH Crown Prince Haakon of Norway, Operation HOPE Founder, Chairman and CEO John Hope Bryant and Professor Pekka Himanen, Global Dignity is linked to the 2020 process of the World Economic Forum, in which leaders from politics, business, academia, and civil society join efforts to improve the state of the world. Based on five dignity principles:
The concept of global dignity is explained through five core principles:
Every human being has a right to lead a dignified life.
A dignified life means an opportunity to fulfill one's potential, which is based on having a human level of health care, education, income and security.
Dignity means having the freedom to make decisions on one's life and to be met with respect for this right.
Dignity should be the basic guiding principle for all actions. Ultimately, our own dignity is interdependent with the dignity of others.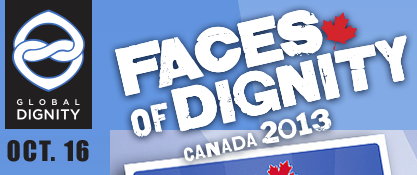 For me, Global Dignity Day is about creating spaces for young people across the country to meet one another, hear each other's stories and aspirations, and resolve to collectively build a better world.
Through events being held at over 60 schools from coast to coast -- not to mention an event on Parliament Hill that will be the anchor of a National Videoconference -- an unprecedented number of Canadian youth will have the chance to connect, not just through the sharing of dignity stories, but also through the arts and digital media. You are invited to observe the National Videoconference by visiting this link between 11:00-13:00 EST on Wednesday, October 16.
A fourth-generation Canadian student at Colonel By High School in Ottawa will be able to engage with Elizabeth Potskin, an inspiring Métis young chief who I met over the summer at Peace Camp Ottawa. At the same time, students at Nunavut Arctic College will have the opportunity to meet Jennifer Cloutier, a Harvard Medical School student and one of Canada's Top 20 Under 20 who is also a remarkable advocate for individuals with physical disabilities. These two inspirational young women understand that the promotion of dignity is central to the advancement of human potential.
In addition to the opportunities for cross-cultural exchange among Canadian youth, Global Dignity Day also offers participants the chance to engage with our outstanding National Role Models. They have diverse backgrounds but all share a commitment to the empowerment of youth through the concept of global dignity. Our 2013 National Role Models include the Honourable Minister of Health, Rona Ambrose, Liberal Leader Justin Trudeau, NDP MP Megan Leslie, the Honourable Senator Yonah Martin, Inuit youth activist Innosar Issakiark and Andrew Bennett, Ambassador of Religious Freedom.
We are also thrilled to be working with incredibly dedicated partner organizations, including the Canadian Commission for UNESCO, TakingITGlobal, Right To Play, YMCA Canada, the World Economic Forum's Global Shapers, and Adobe Youth Voices. Each organization is bringing a unique perspective and platform to the table.
Will the dignity agenda stick? Will it fundamentally affect the way we as Canadians and global citizens relate to one another? Will it -- as Colin Robertson suggests in his analysis of Canadian Foreign Minister John Baird's recent rhetoric -- radically transform our foreign policy? We cannot yet know the impact of Global Dignity on the leaders of today and tomorrow. What we do know is that this year's Global Dignity Day in Canada will be far-reaching, highly engaging, and ultimately uniting.
For more information about Global Dignity Day in Canada, check out www.globaldignity.ca. Teachers are invited to register their classes online to participate.