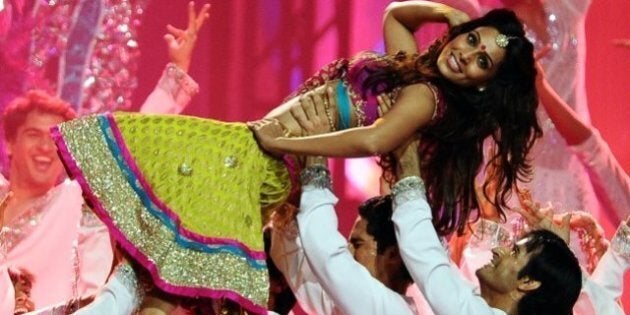 IIFA Toronto, a $12 million largesse of Government of Ontario helped build the "Year of India in Canada" excitement to great heights transcending the boundaries of different South Asian cultural groups and became talk of the town. The expectation of the world class event came crashing down with a mostly light line-up of Bollywood stars and a below average performance. Master of ceremonies dragged the event past 2 a.m., starting 90 minutes late and thought people came to see MCs perform. The super star SRK thought that giving the dance lesson to audiences or teaching the MCs how to do their job would be the best way to entertain audience.
It was clever use by IIFA of India hype and tourism revenue potential (nothing to substantiate from previous IIFA events) and politician's desire for ethnic voters in convincing gullible bureaucrats to get a disproportionate amount of financial support. Only 22,000 tickets were issued, despite the Rogers Centre's roughly 45,000 seating capacity, so it would appear that artificial scarcity of tickets was created. Hype as well as demand-and-supply worked its magic. Junior political staffers had the best of the seats and Canada's number one representative in India, High Commissioner Stewart Beck was given a corner seat in back while rightfully Indian Government representatives were in front and centre seat with Premier McGuinty. Hosting of the IIFA Global Business Forum was another farce with plastered words and Muskoka furniture on display and parade of two/three Bollywood stars with PowerPoint talks.
When will politicians learn that giving lollipops like this is not going to get them votes? Bureaucrats need to negotiate hard when they give such large sponsorship sum and should involve New Canadians to advise how to get the best deals from people like IIFA organizers. Compare IIFA with Caribbean Carnival or the Pride Parade that brings hundreds of thousands of people (100 plus million revenue) from all over North America and we don't even give them million dollar support. Giving four GTA municipalities $300,000 each for hosting IIFA parade and reportedly using that money to pay $50,000 to $80,000 to an actress to be on the float and meet and greet was sheer waste of money and in very poor judgement.
IIFA was not only unprofessionally organized and disappointing show but also political correctness gone awry when politicians forgot to do their job of questioning the sponsorship and mainstream media for not highlighting the poor performance and poor political judgement and mostly relying on glossy media briefs.
So, was Ontario¹s $12 million marketing exercise with the 2011 IIFA Awards in Toronto really money well spent?
Dalton McGuinty had good reason to smirk when flanked by Bollywood stars like Shah Rukh Khan and Anil Kapoor and speaking to a packed Rogers Centre. The IIFAs over three days in June showcased Toronto as a tourist and business destination to 700 million TV viewers in 60 countries. Ontario can't buy positive PR like that for $12 million. And sure, that trace of the fox in McGuinty¹s smile did betray a politician who knows how to count heads in a room as an election looms.
But that smile was also a plea for more trade between Canada and India. It was about leveraging the entrepreneurial and professional skills of Ontario¹s 500,000-strong Indo-Canadian community for local economic development in an increasingly globalized world. And while the media gushed over an IIFA Awards show that was mediocre and poorly organized, 400 business leaders and companies from India and Ontario behind the scenes explored doing business together during IIFA's global business forum.
If anything, those full-on Bollywood music and dance routines at Rogers Centre gave us another rub to eyes awakening to the huge potential for an exchange in talent and technology between Canada and India. McGuinty can¹t be faulted for smiling over the pot of gold that awaits Toronto when Ottawa and New Delhi sign a long-awaited official film co-production treaty.
Canadian and Indian film producers collaborating will mean more than Bollywood making movies in Canada, on Indo-Canadian filmmakers Deepa Mehta and Vic Sarin shooting their next auteur film in Mumbai or Calcutta. It will signal two different movie cultures coming together to grow
A co-production treaty will encourage young Indo-Canadians otherwise destined to become doctors, lawyers or engineers to go into stereoscopic 3D movie-making, mobile gaming or computer animation.
As Canada¹s newest filmmakers, they will tell our stories as they help shape this country¹s identity and economic destiny. Ontario, pat yourself on the back for the $12 million spent to bring the IIFA Awards to Toronto and Ontario's Indo-Canadian community into the cultural and commercial mainstream.
That $12 million wasn't just about paying Bollywood stars to show up in Toronto and build sets at Rogers Centre, before seeing what's left over for Wizcraft International, the Indian film award organizer. Standing at the nexus of nonsense and necessity, the IIFAs was Toronto¹s future and worth its price tag to Ontario.