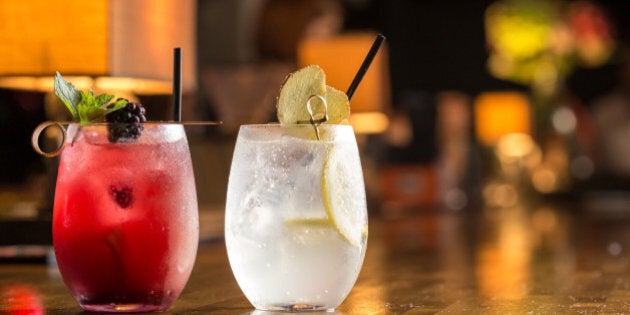 When you walk into a cocktail bar, you usually are met with a drink list that includes your standard concoctions as well as favourite inventions from the man or woman behind the bar. Not so at Toronto's Civil Liberties.
You won't find a menu at all. What you will encounter is a cozy space with fun-loving guys behind the bar with more than a little rebelliousness in them. Nick Kennedy, one of those bartenders and co-owners, says Civil Liberties chose the no-menu concept in order to facilitate conversation.
"Usually when you are behind the bar, the menu is the last interaction you have with the customer. You give it to them, they pick their drink and you serve it to them, and that's a lot of the times what it's about," Kennedy says.
But when there is no menu, customers will engage with Kennedy and the other bartenders. It leads to a lively atmosphere and, according to Kennedy, a more satisfying cocktail experience for his customers. His desire is to expand people's cocktail horizons, moving away from the standards of gin and tonic, rum and Coke, and vodka and soda, to trying drinks with more complex flavours, as well as less well-known products.
"We have a policy that if you don't like it, we'll drink it," Kennedy says of the drinks he mixes for guests.
When I asked for an Old-Fashioned, he served up one with Ancho Reyes, a liqueur made from ancho chile. The product of Pueblo, Mexico has 40-per-cent alcohol and has a distinct flavour that mixes sweet and spicy notes.
With the holiday season happening, many cocktails are being consumed. Bars such as Civil Liberties (878 Bloor Street West) give you the opportunity to broaden your drink selection, while also indulging in an atmosphere that adds to the merriment.
Here are three other Toronto cocktail bars to visit when you're in the mood for something different.
BAR RAVAL (505 College Street West) -- Cocktails, wines, small bites and share plates. Few places in the city are more comfortable and capable as Bar Raval. This ode to Barcelona by chef and owner Grant Van Gameren is about as good as it gets if you want great drinks and share plates in a vibrant atmosphere. The decor is Spanish, with textured wood panelling on the walls and moody lighting. The small tapas plates, or pintxos, include octopus, Iberico ham and a range of imported cheeses. The Morcilla and Egg ($11) is blood sausage topped with a fried egg served on toast. It's a rich dish foodies will adore. Perhaps the best part about Bar Raval is its hours. You could spend all day and night there as it serves good coffee and breakfast beginning at 8 am and turns into a party scene with music and lots of drinks pouring until 2 am on most nights. In its first year of operations, Bar Raval ranked No. 9 on the 2015 Vacay.ca Top Restaurants in Canada list.
dBAR (60 Yorkville Avenue) -- For those who enjoy some sophistication with their beverages, the lobby-level bar at the Four Seasons Yorkville is often bustling with activity -- including a few celebrities or notable professionals -- and has a wide selection of top-shelf drinks. Try #TheSix ($18), which is a reference to one of nicknames for Toronto. It features Stolichnaya vodka, Amaretto, pear juice, lemon juice, egg whites and Amarena cherries. If you're hungry, be sure to order the decadent lobster roll ($29).
RESPOSADO (136 Ossington Avenue) -- If tequila is your thing, then Resposado is your place. This trendy spot on the Ossington Strip is often teeming with guests looking for Patron, El Jimador and other fine tequila brands. You'll also find tapas plates on the menu and live music.
Follow HuffPost Canada Blogs on Facebook