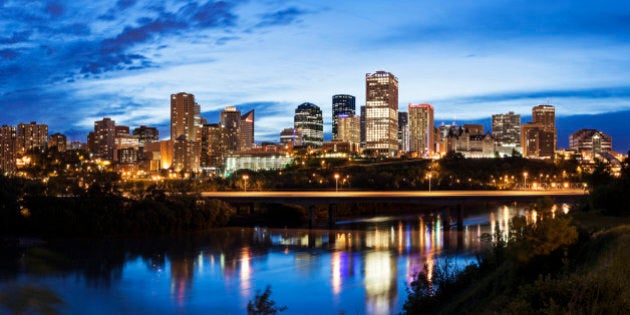 Lino Oliveira has been running his restaurant in downtown Edmonton since 2008 and says he has never seen as many patrons as he has this fall. Sabor, which specializes in Mediterranean dishes and seafood, served more than 250 diners one weekend night in October, a culinary feat for a restaurant that seats about 120 people.
The change is stark and dramatic in a city whose downtown core has struggled for vitality. Those fortunes changed on September 8 -- when Edmonton's sensational $480-million arena opened -- and the newfound wealth of customers, foot traffic and enthusiasm only appears to be beginning.
On top of that good stuff is a first-place team. The Edmonton Oilers are lighting up the NHL and when their fans merrily depart Rogers Place, the team's new home, they brighten the mood of Alberta's capital city. These days, Edmonton indeed has many reasons to feel like a champion.
"We have been packed on game nights. I've never seen anything like it. We almost couldn't keep up," Oliveira says of one of the early days in the 2016-17 Oilers' season. "There were 20,000 people walking by on game night, heading to the arena. They stopped traffic on the street, so everyone was on foot. It was something else to see. We are busier than we've ever been."
It's palpable, the energy that's building up.
While there had been discussion for years about relocating the Oilers from the north side, about 10 kilometres (6.5 miles) away from downtown, to the heart of Edmonton, no small-business owner could ever bank on the shift ever occurring. Now that the move has been made, downtown is filling up with people and businesses, including more places to eat. Daniel Costa, one of the city's most well-regarded culinary talents, recently launched a third establishment on Jasper Avenue, a main thoroughfare in Edmonton. Uccellino is a vibrant, contemporary Italian restaurant that wouldn't look out of place in Toronto's hip West Queen West district. It is a casual option to Costa's high-end Corso 32, which is two doors down, and next to his other restaurant on the block, the popular Bar Bricco.
While Costa's businesses and Sabor are getting more attention, the street with the most activity before an Oilers' game is destined to be 104 Street, which is across from the arena. Rostizado, a Mexican restaurant, has launched an $18 burrito-and-beer special for fans marching toward the gates. There's also a $12 take-out option at the restaurant's burrito stand, which it calls La Mision.
Daniel Braun, one of the co-owners of Rostizado and its sister restaurant, Tres Canales, says the changes in Edmonton's downtown have been taking place for several years and calls the opening of Rogers Place "the cherry on top of the cake" of that progress.
"We've been one of those businesses that have been committed to bringing the spark back to downtown. I think the change that's taking place started reaching critical mass six or seven years ago, when people just really wanted something fresh and different in where they live and what they can eat," says Braun, who is of German and Mexican descent. He moved from Mexico, where he was working in the restaurant industry, to Edmonton in 2001 after marrying a Canadian woman. When once he needed to get into his car to dine out or go on a shopping trip, his life "is now in a six-block radius and I don't drive hardly anymore."
Braun anticipates the dynamic of downtown life only becoming more exciting.
"It's palpable, the energy that's building up," he says. "In two to three years, you can see we will have the downtown Edmonton always wanted."
The Ice District promises to be the main anchor that pulls residents and visitors back to downtown.
The population shift is expected to increase rapidly in the coming years. Rogers Place is only the beginning of an ambitious 25-acre plan called the Ice District, which will include public sports facilities and an entertainment complex, as well as a JW Marriott hotel and a 67-storey office tower that will be the tallest in Canada outside of Toronto.
The Ice District promises to be the main anchor that pulls residents and visitors back to downtown, seizing them away from the massive West Edmonton Mall, which features a mind-boggling 3.8 million square feet of retail space and more than 20,000 parking spots.
The largest shopping mall in North America is a 20-minute drive from Rogers Place and a generation away from what is now relevant to consumers and travellers. Several people I spoke to during my visit to Edmonton cited the mall, which opened in 1981, as the reason for the sinking of the city's downtown.
All of a sudden, though, like the hockey team that calls it home, Edmonton is on the rise again -- in a big way. No other city in Canada is currently going through a build up such as Edmonton, and when it's complete the Ice District will be the catalyst that attracts more tourism business, including conferences and major sporting events, perhaps even a Winter Olympics.
"I've lived in Edmonton my whole life and the city has never had this kind of buzz," says Tim Shipton, the vice president of communications for the Oilers Entertainment Group, owners of Rogers Place and the land on which the Ice District will be built. "We are in the midst of transforming the downtown of the city for the better and that's very exciting to be a part of."
Follow HuffPost Canada Blogs on Facebook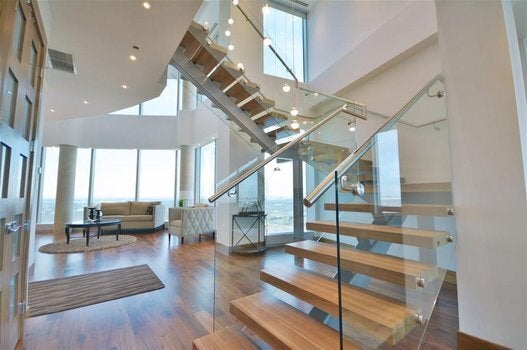 Priciest Condos Ever Listed In Edmonton