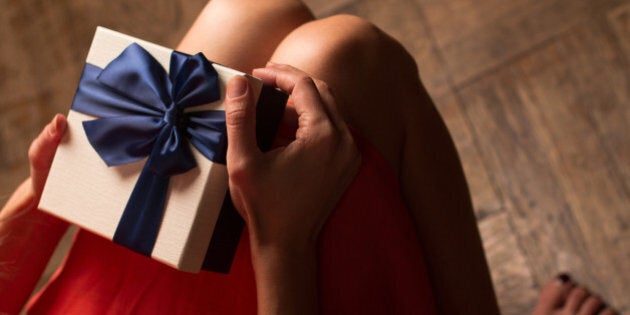 As it turns out, Canadian's aren't just polite, they also happen to be a generous bunch when it comes to gift-giving. Birthday gifts, second to wedding gifts, tops the recent Ebates.ca survey as some of the most expensive gifting occasions.
The annual gift-giving poll looked at Canadians' gifting habits for occasions including Valentine's Day, birthdays, anniversaries, baby showers, weddings, housewarmings, Mother's Day and Father's Day.
Gift giving is an on-going, year-round activity with eighty-four per cent of Canadians purchasing at least one gift in a typical month, up slightly from last year. When taking into account regional differences, the poll found that Canadians buy an average of two gifts per month, with Quebecers buying the most (three per month) while those in the Prairies buy the least (1.5 gifts per month).
Just how much are Canadians spending on gifts? The majority of people say that on average they are spending $120 on weddings gifts, followed by birthdays ($90) and anniversaries ($87). Canadians shell out equally for Valentine's Day and Mother's Day ($58 each), but a little less for dads ($54) and babies ($53), and the least for housewarming gifts ($43).
Love it or hate it, Valentine's Day is just around the corner and research findings indicate that the majority of Canadians are romantics at heart, with as many men as women agreeing that Valentine's Day is more than just a "silly holiday". In fact, while the average Valentine's Day gift cost is $58, Canadians have spent an average high of $200 on their beloved.
And if you're typically a last-minute shopper, you're not alone. One-third of Canadians admit to leaving their gift shopping to the very last minute. Looking for ideas for Valentine's Day or another occasion? Then you may find the following findings helpful when deciding on gifts for an upcoming occasion.
According to the poll, Canadians have a high desire to be suprised when they recive gifts from their loved ones! This shows to be particularly true for women. Whatever gift you decide on this coming Valentine's Day, or any other occasion, make sure you get creative with your gift giving.
If you are struggling with gift ideas, be sure to listen carefully to your loved ones. Research shows that a segment of Canadians drop serious hints as to what they would like to receive for gifts.
What do Canadians really want as a gift? The Ebates poll has the inside scoop! Depending on the holiday, many Canadians would rather just "gift" themselves. This may explain why, in the case of Valentine's Day, gift certificates top the list as the gift Canadians would most want to receive -- even if it's not exactly the most romantic. Also, think experiences! Whether it's a day at the spa with your spouse or a movie night out with your family, a gift certificate for a shared experience can be more meaningful, it just depends on how you deliver the message. A meal out ranks next on the list, followed by clothing and accessories and finally, tickets to an event or fun outing.
Adrienne Down Coulson is the General Manager of Ebates Canada. Ebates.ca is Canada's largest Cash Back shopping site. A busy mom of two and savvy online shopper herself, Adrienne and her team love helping Canadian families save time and earn money back while shopping online.
Follow Ebates Canada on Twitter for the best Canadian deals, Cash Back offers and online shopping tips @EbatesCanada