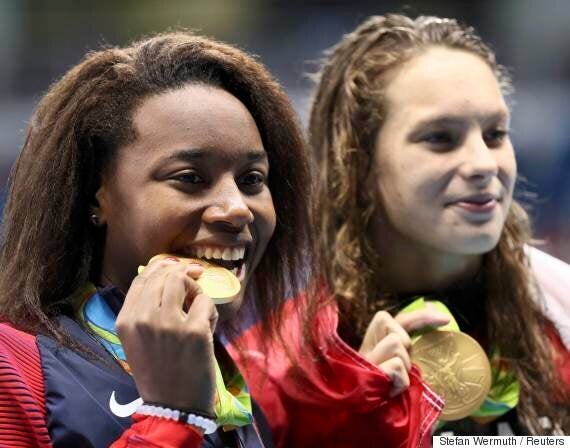 Simone Manuel of USA and Penelope Oleksiak of Canada pose with their medals on the podium. (Photo: REUTERS/Stefan Wermuth)
When Simone Manuel won gold in last week's 100-metre freestyle, it was a moment unlike any other. Not only had she tied for gold in the type of suspenseful race you might see in an Oscar-worthy movie, but the 20-year-old swimmer had also made history, becoming the first black woman to ever win in an individual Olympic swimming event.
As she stood on the podium, clasping her gold medal and fighting to hold back tears, the arena around her erupted into a deafening applause.
It was another Olympic moment of pure, unadulterated Black Girl Magic.
In the same Games, American gymnast Simone Biles stunned the world as she dominated the competition, winning three gold medals and a bronze. The 19-year-old Ohio native, already the most decorated female gymnast in world championships history, left her mark in Rio as she set the world record for the most gold medals won in women's gymnastics at a single Games.
There was shot putter Michelle Carter, who also won gold, becoming the first American woman -- black or otherwise -- to win the event.
And then there was Rafaela Silva, "the girl from the favela" -- poor, black and perhaps the most unlikely of athletes to win gold. But to the shock of many and the elation of even more, the Brazilian judo athlete placed first, winning her country's first gold medal this year.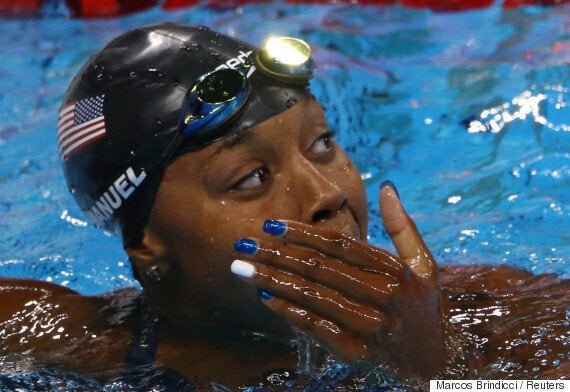 Simone Manuel of USA reacts after winning the gold and setting a new Olympic record. (Photo: REUTERS/Marcos Brindicci)
And who can forget Gabby Douglas? At the 2012 London Olympics, the American gymnast became the first black woman to become the individual all-around champion in the history of the Games. Returning to Rio this summer as part of the "Final Five," she helped her team win gold in the all-around event.
Though the mark these women have left on the Games is obvious, the impact their victories will have on future generations of young black women is irrefutable. While successful black female athletes have come before them, their latest achievements are perhaps the sweetest victory yet.
For many black children, access to competitive sports remains a significant barrier in chasing their Olympic dreams. Costs associated with competition fees, uniforms and travelling expenses are often unaffordable for even middle-class families, making it virtually impossible for children from low-income families -- often black or Hispanic -- to participate. For the lucky few who are able to foot the bill, they're quickly met with a new set of challenges, mainly a lack of representation.
Until recently, many Olympic sports like gymnastics and swimming have been kept "white-washed," the result of economic barriers and historically racist institutions. Only in 1992 did the first black female gymnasts make it to an Olympic game, while the first black woman to ever earn a spot on the U.S. swim team wasn't until 2004.
It's clear that though the stakes at the Olympics are high for any athlete, for women like Manuel, Biles, Carter and Douglas, the barriers are even higher.
It comes as no surprise then that only six per cent of American gymnasts at the amateur level are black (compared to white gymnasts who account for 74 per cent).
Athletes who aren't deterred by the lack of representation are often met with varying levels of racism, something Douglas and Silva know all too well. After being disqualified for an illegal move at the 2012 London Olympics, Silva was attacked with racial epithets. Douglas,on the other hand, has repeatedly faced intense public scrutiny for her hair texture and "hard" face.
It's clear that though the stakes at the Olympics are high for any athlete, for women like Manuel, Biles, Carter and Douglas, the barriers are even higher. But they overcame them, and the impact of this feat isn't lost on them. Speaking to reporters after her historic win, Manuel made a point of sharing her gold medal with future generations of young black women.
"This medal is not just for me," she said. "It was for people who came before me and inspired me to stay in this sport, and for people who believe that they can't do it. This medal is for the people who come behind me and get into the sport."
There it is again: Black Girl Magic.
Follow HuffPost Canada Blogs on Facebook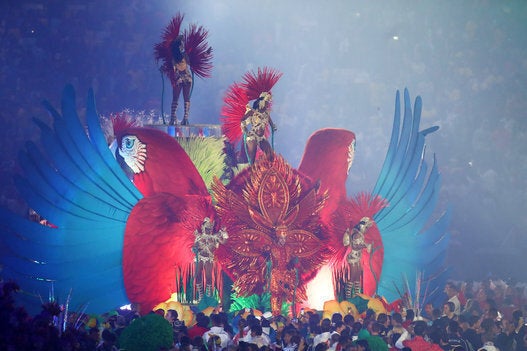 Mesmerizing Photos From Rio Olympics 2016