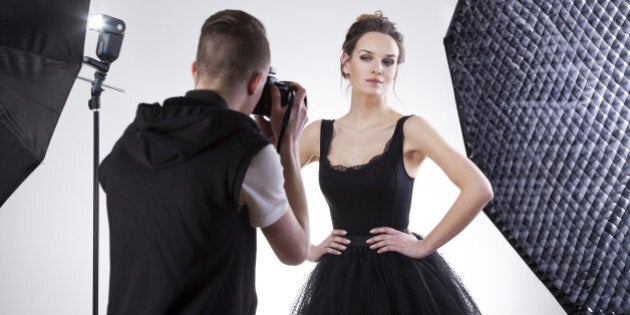 I'm certain I wasn't the only one to rip out my favourite fashion ads from the pages of major glossies, plastering them all over my bedroom walls and locker in my youth. I can still remember the gritty, greige CK images juxtaposed against the bright, ebullient and naughty Dolce & Gabbana shots.
Those ads were pure magic: instantly flinging myself far from fifth grade science class (where I would often sneak in magazines to read instead of following the far less illuminating lesson) I would revel in the delight of Gisele's exceptional ability to make me fall in love with textures and textiles I didn't know anything about, and began to truly appreciate Steven Miesel's sheer talent (also knowing nothing about the legendary photographer at the time; it was Versace's SS 1999 campaign).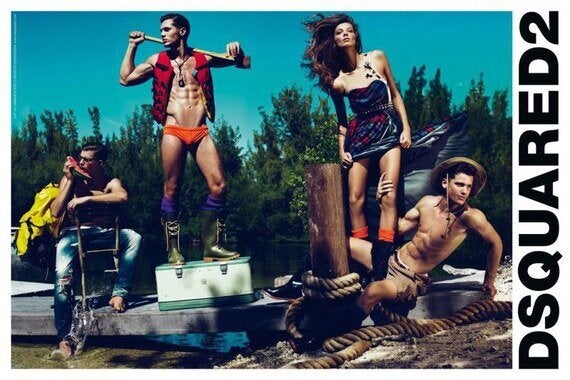 Fast-forward to 2010, and Dsqaured2's girls are languorously lounging in the cheeky, Canadiana-esque glamping collection across my MacBook's desktop background; today, I'm still in love with fashion ads. I've had the absolute pleasure to witness a few fashion magazine shoots firsthand -- previously working at some of those major glossies had its perks! But a fashion shoot for a spread is inherently different than a campaign shoot.
When I had the opportunity to learn how renowned, esteemed and amazingly talented and successful designer Alice McCall shot her Cruise Collection (available beginning October) campaign, I jumped at the chance to get a glimpse. Shot with mega model Lindsey Wixson by world-class photographer Emma Summerton at The Goldstein Residence in LA, the superfluously glamorous maison high up in the prestigious Beverly Crest (overlooking the illustrious Beverly Hills), this is how a fantastical fashion dream becomes a reality.
"I couldn't be happier with how everything came together," the designer, Alice McCall shared. "I think the most exciting part was working with such strong international creative team with the likes of Emma Summerton and Lindsey Wixson.
" But creating a fabulous fashion campaign isn't only joy and excitement; McCall describes the process: "We probably started planning 3 or 4 months before the shoot day. It all started with the photographer -- I knew I wanted to work with Emma; she is such a talented creative. We worked together years ago, so it was really nice to reconnect. With Emma locked in, we could really start brainstorming creative elements, such as talent and location. Emma is based in LA, so it made sense to shoot there from a perspective of convenience, and on top of that, the Resort collection really resonates with the city -- the colours are bright, and the fabrications are so detailed and intricate."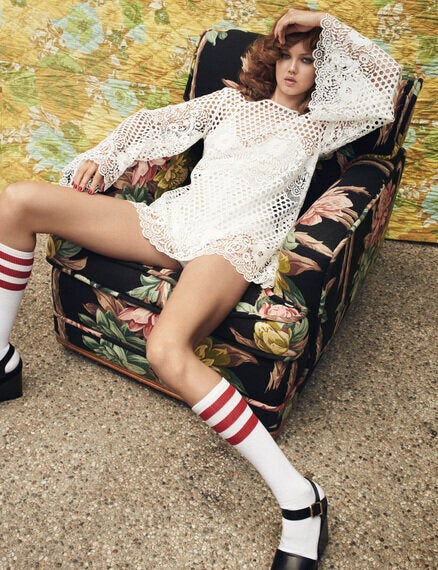 As for the quintessentially LA glam location? "Goldstein House is such an iconic estate. I really wanted the shoot to have this 1970s retro, skater-girl vibe with bright colours and lots of contrast, and I met with Emma the day before the shoot to discuss these creative concepts and what I wanted to achieve. We collectively decided that while Goldstein House is fantastic, the interiors were not quite right, so we ended up shooting the whole campaign outside on the driveway and tennis court. I styled the shoot myself, so a lot of prep work went into that side of the campaign, too. It was all about the socks -- it really helped achieve that quirky girl meets 70s skater girl vibe I was looking for."
Working with such a highly respected and experienced model was a highlight, too: "for talent, Lindsey was always a favourite -- she is the epitome of cool girl meets high fashion. She was a dream to work with, and really encompasses the Alice-girl. For one of the shots, we had the image in the first shot! I have never really seen that happen before."
And it's evident Wixson is far from the only one emulating the Alice-girl these days: "right now, the brand is stronger than ever. We're now stocked in major international department stores, including Saks Fifth Avenue, Neiman Marcus, and most recently, Liberty. I really wanted this campaign to have an international appeal, and to coincide with this recent expansion."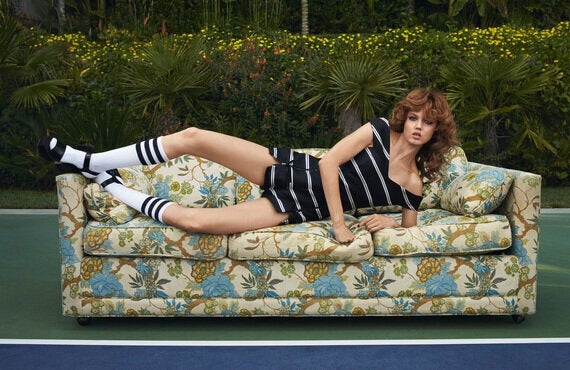 To get the Alice-girl Cruise Collection look down, Los Angeles based hair stylist (whom the likes of tremendously fabulous tressed Nicole Richie, Emily Ratajkowski and Kate Bosworth trust their strands with) shares how he created the look on set: "I started off by prepping Lindsay's hair with Bumble and Bumble's Thickening Spray, and using a medium-sized round brush to set the hair for volume. Next, I sprayed her hair with Oribe Superfine, and then curled 1-inch sections using a 3/4-inch marcel curling iron. Once her hair was curled, I sprayed Sachajuan Volume Powder throughout and raked it through using my fingers to finish the look and add fluffy texture. The collection is very 70s, so it only makes sense that Lindsey's hair look would be inspired by some of the classic beauties of that era, like Bianca Jagger and Jerry Hall."
As for channelling that Alice-girl glow? Backstage pro and profound protégé of makeup God/ess Tom Pecheux and Pat McGrath, Natasha Severino details the products and method she used: "Lindsey's skin was prepped using Sisley Paris skincare products. First, we started by gently buffing her skin with a Clarisonic and Sisley's Cleansing Milk with Sage to polish and 'wake up' the skin. The cleanser was removed using the brand's Floral Spray Mist, which is a product that is also great for refreshing the face throughout the day. Sisley's Express Flower Gel and Eye Contour Mask were applied for all day hydration in the hot Los Angeles sun, and their SUNLEYA SPF 50 was used on top to protect skin from the sun. We also used Sisley's Nutritive Lip Balm to moisturize lips throughout the day."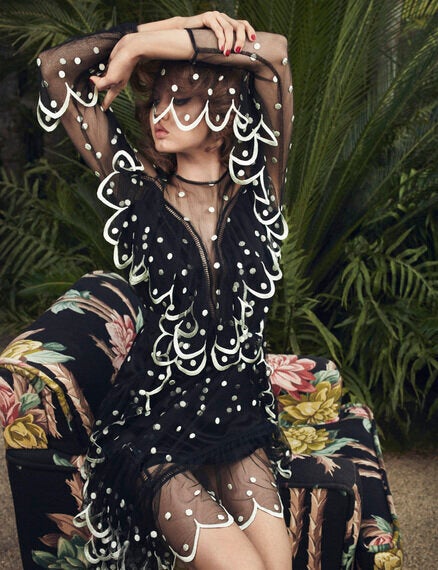 As for cosmetics, "for a dewy and creamy effect on the skin, Cle de Peau Radient Fluid Foundation and their concealer was used to eliminate any redness and to conceal any darkness under the eyes. For any imperfections or blemishes, I used Bobbi Brown's Creamy Concealer. For the eyes, a wash of MAC Era eyeshadow was used all over. Then, I lined the top and bottom lash line with MAC Chromagrafic Pencil in Black, and rubbed a brush and cotton tips back and forth to lend a sultry, worn-in look. Intensity and shape was added to the top lash line using MAC Creme Liner, and lashes were loaded with MAC Haute and Naughty Mascara in Black Black. For cheeks, I softly contoured with MAC Taupe, and lips were stained with MAC Brew and Frou Frou."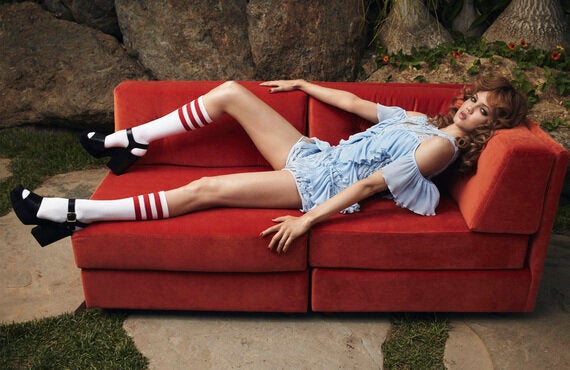 Creating the beautiful, playful and exuberant images was an enjoyable assignment for everyone involved, Serevino conveyed: "Working with Alice and Emma on this shoot was great fun! There was a very free and organic flow to the day and how the images evolved. On campaign shoots, there is often a lot of pressure to deliver a certain amount of images, which can affect the quality of a shoot. Alice wanted to keep a very calm, creative energy to the day, allowing Emma the freedom to let pictures naturally evolve for the campaign.The team was amazing and the images are beautiful, and a great day was had by all!"
Follow HuffPost Canada Blogs on Facebook