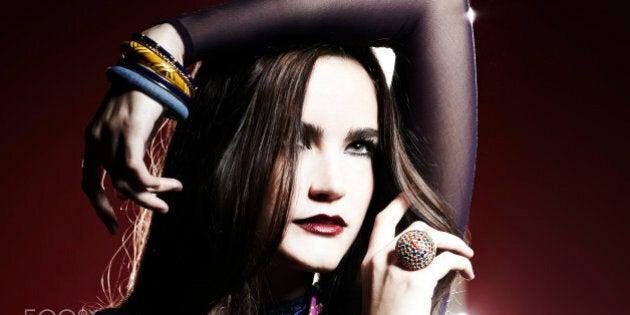 If it seems like the fashion world is completely turned upside down right now, that's because it is -- there is debate and divide amongst the industry's leaders regarding how to continue to present and sell collections to both buyers and consumers alike. Change is already swiftly sweeping the business in its entirety; forward-thinking trailblazers like Christopher Bailey and Alessandro Michele have already adjusted their approach and actions by presenting currently available collections and combining men's and women's presentations, respectively.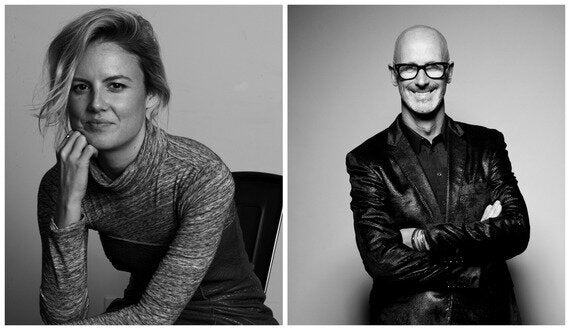 But it's an exciting time, and here to help us better understand the nature of the changes are two exceedingly accomplished and astute individuals, Simon and Kirsten Lock. Offering a great significant hand in shaping the industry from their impressively influential endeavours -- Simon founded Mercedes Benz Fashion Week Australia over 20 years ago; Kirsten cut her teeth in publishing, directing notable titles such as Harper's Bazaar and Marie Claire -- they've come together and founded ORDRE, an innovative, international online wholesale buying platform. This groundbreaking approach continues to allow their incredibly intuitive intelligence help the fashion world continue to move forward. Catching up over champagne/ tea at Mercedes Benz Fashion Week Australia, they share their insights, below.
On ORDRE and how it's changed the way fashion folk do business:
For the majority of the last 20 years, I've been producing Fashion Week's, including Australia, throughout Asia, the Middle East, and more recently, working with IMG in New York. We saw a change in the way the industry was operating; buyers weren't travelling as much to attend Fashion Week's, and they're looking to reduce costs and find more effective ways to do business.
At the same time, we're seeing the advent of social media where designers are realizing that the content on the catwalk is really valuable and that can translate to generating consumer demand. They're starting to put more clothes on the catwalk that are available for consumers to buy, but the industry still has a need to be able to sell its wholesale collections.
But again, buyers and designers don't want to travel; there needs to be a better way. That's the essence of what ORDRE is all about -- creating digital, online showrooms that are beautiful and very detailed. It allows buyers from international department stores, online and multi-level boutiques to see the whole style collections from the best designers in the world and be able to place orders with them.
There will always be runway, but it will be more positioned towards a social media outcome. We always say we don't want to detract them from the normal ways of doing business, so we always recommend they [the buyers] go to the show, or go to the showroom to meet the designer and see the collection up close. But at the end of the day, our online platform is so strong and so easy to use; it's an added value for them to be able to place their orders online, at home at the convenience of their schedule.
They may want to go and see the collection from the designer, place an order, put it through the system, but with their time constraints and back-to-back appointments and shows, they can now do it at home at another time at their convenience. We say [to the designers and buyers], "this won't affect your regular schedule and the way that you do business; it's just an add-on to make your lives easier."
On some of the most notable changes with the digital age both for Fashion Week's and the industry as a whole:
At the moment, I find it's very exciting because so many of our designers we're speaking to are changing their business practices. Gucci is combining men's and women's, so that's huge. Everyone's changing what they're doing. They're bringing social media into their fashion week strategy.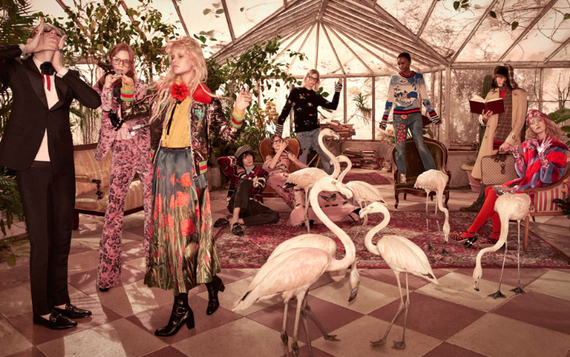 Gucci to unify their men's and women's collections; photo courtesy of thefashionlaw.com
I'm so excited to see if Karl's going to leave Chanel, or who's going to take over Dior... there are so many spots that need to be filled right now, it's all very exciting. There are so many creative directors who have left and new ones have been appointed, like Justin at Brioni -- he came from MyTheresa and was in a buying position, and now he's creative director. There are so many great things happening right now. It's sort of like, we were in the dark ages for a while. Nothing changed for half a century. I think it was the 1920s when the first fashion week was established. And now it's completely changed, it's an exciting time.
It's not so much a coming of age; it's more a generational shift, or clash -- the see-now-buy-now versus wholesale. It's an interesting time. Changes at this event [Mercedes Benz Fashion Week Australia] over the past 20 years? I guess the industry has learned a lot. When we started in 1996, the Australian designers didn't really know how to produce fashion shows, so as an organization, we had to produce every show for them.
We brought in the best producers from around the world, including Marco Maccapani [famed Creative Director for fashion shows and events designer] -- he's Margherita Missoni's father -- he taught many people here how to produce shows, and then slowly the designers realized how to do it on their own and get their own teams together. That's really been a big change -- now IMG doesn't produce any shows, all the designers do.
The good thing about the event is that it continues to shine a very important spotlight on the Australian industry. And quite frankly, I think the biggest outcome of this event is generating more support for Australian consumers for Australian designers. I think it's helping to make the local industry more famous here in a very important retail market.
On a modernistic approach to the industry:
I think designers globally are more interested in going, "ok, I have my new collection, and I need to develop digital content out of it. Should I do a fashion film? Should I do a catwalk presentation? Show I do an artistic presentation?
We went to some presentations in Paris this year that were incredible. There was this one where they took over an old, ruined hotel. Upstairs it had the old dining room that was beautifully set up, and they had all the models in there. In another room, there was a band with more models, and they really gave an artistic, multi-media presentation of what the brand was. We're also seeing a lot more fashion films than ever before and in runway.
But in essence, both consumers and wholesale buyers want to see how the clothes fit and what they look like on a model. That's the essence of selling fashion. What does it look like? So there will always be runway, but it could be in a film that's digitally created. You want to see clothes on people, but how is it executed?
I love the excitement of it [the changing industry] because at the moment, it could end up anywhere. You never know what a designer is going to do, because they're showing something new all year round. Despite all the change, I'd say the biggest trend is flash blacks to different decades. I think the best example of that would be Vetements in Paris; they've got that whole 90s cool heroin chic thing happening. Other brands that have embraced that whole thing is Koché in Paris, as well as White Project.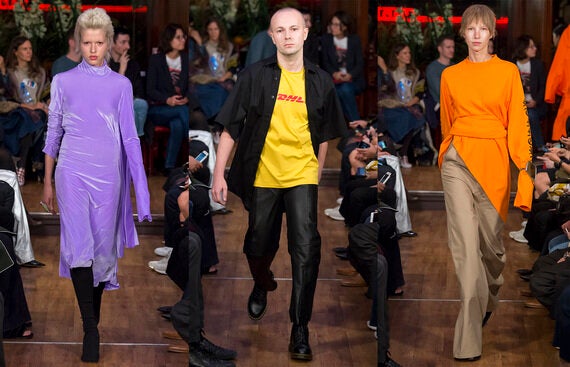 Vetements S/S 2016; photo courtesy of businessoffashion.com
Another example of a vintage throwback is Alessando at Gucci, who went back even further to the 60s and 70s with all that wallpaper, the sunglasses, the silhouettes, --it's so amazing. Again, I feel fashion is so exciting because you can almost put any decade on the catwalk, and it works from the 20s right through to now with a new outlook; it's the way you put it together and merchandise it. The collection that Alessando did, there are always elements of that in other collections, but the way that he did it was so over the top and amazing. I think everyone around the world was in love.
Another standout example of a vintage inspired collection was the couture show by Hedi Slimane. It looked so 80s! And it was his last one... there's talks of Chanel. I think if he went there it would be amazing. I mean, I think the brand is in need of a shakeup. I love Karl, and I love what he's doing, but I'm over tweed! I'd like to see something else and a reinvention of Chanel. I think he'd [Slimane] really breathe life into the brand. He made Saint Laurent his own, completely. But I don't think he took away the soul of the brand, he just made it more relevant for the youth of today. It's very LA, very cool, very new.
I think it's good for a brand to have a shakeup. I'm also in admiration of him; he knows exactly who he is. If you could bottle his creativity, that's the Slimane bottle, you know what that is. When he designs for a house, he wants it all to be his own and that's fantastic. It's also scary for a brand, because if they take him on, he's so powerful and cumbersome. And he maybe doesn't include enough of the house's DNA, so it would take a leap of faith. But it did great things for Saint Laurent and boosted sales immensely. He really did make it relevant.
On social media, influencers, and the future of fashion:
When you fly someone like Bella Hadid over [Hadid notably opened and closed Misha Collection's presentation], everyone wants to come and see the collection, and it's going to be tweeted about and regrammed and regrammed over and over and over, so you're getting the social media outcomes, and basically what you paid for. It's definitely worth it. It grows the business profile, which means more people will see it [the collection], thus business grows from all of the exposure and brand awareness.
I think evidence of how successful social media is is Burberry. Christopher Bailey now uses his fashion week show to put clothes that are available on the runway and purely communicate that through social media to drive people in store and online. There's a direct commercial outcome.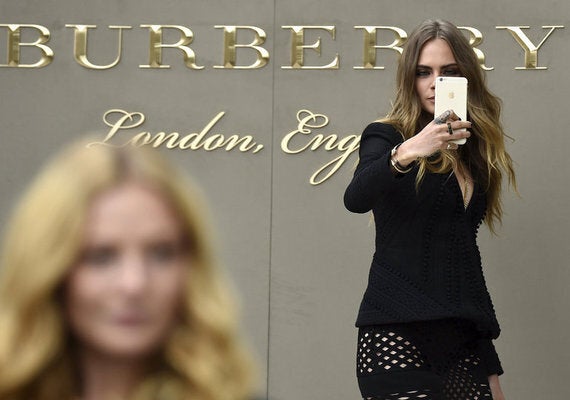 Cara Delevingne as she arrives for the Burberry show in September; photo courtesy of nytimes.com
Also, we're moments away from our social media feed. If you look at Instagram today [pulls out phone and opens Instagram app], this guy just had his photo taken outside a minute ago, and in a very short period of time, you'll be able to click on that [points at the clothes in the photo], and it'll take you straight through to the site where you can buy it. Shoppable social media is here now -- soon Snapchat is going to be shoppable.
That's what the industry is deciding at the moment. Should the clothes that are put on the runway give people the ability to click and buy them, or should they be sold to the retailers first, and then they sell them? That's the whole conversation that's going on at the moment. But here's the thing: the fashion industry, for basically 100 years, has been telling every consumer, as soon as you see something, go and buy it!
You open the pages of Vogue, you see something beautiful and you want to go to the store and buy it. It's no different with this. You've just seen something, you want to go and buy it. Social media isn't doing anything new, it's just making it more easily accessible to consumers. And the industry is realizing very quickly this is the future -- the British Fashion Council is supporting a see-now-buy-now philosophy. The CDFA and New York Fashion Week recommended the same thing. About half the designers here are presenting collections that are shoppable. So social media has just changed the game in some sense, but it's also always sort of been this way.
Follow HuffPost Canada Blogs on Facebook